Scotty Scott, the chef behind Cook Drank Eat, is a local exemplar of the social media influencer.
He shares his passion for cooking through several outlets: Instagram @cookdrankeat, Twitter @CookDrankEat, YouTube @CookDrankEat, and his website. When he isn't storytelling online, he's reaching realworld folks via pop-up dinners and private events. I can attest to his cooking skills firsthand. He was the first chef and host in a series of art/chef mixers organized by the nonprofit Art Tooth. As several guests perused modern art pieces, Scotty labored away in his kitchen, masterfully preparing a spinach-, Asiago-, and mushroom-stuffed steak. His other culinary creation that night, fried grits and shrimp, was equally a hit.
Scotty told me his love of cooking started in childhood. His first memories of food were of "watching my mother in the kitchen and my father on the grill," he said. "They were both cooks in their own right. My mom worked two jobs [so we traded turns making dinner]. My mom demanded we ate all the basic food groups."
He picked up cooking again after college, hosting dinner parties for friends and dabbling with the possibilities of sharing his passion through the then-new platform of Instagram. As his followers grew —He know as more than 14,000 Instagram followers— Scotty realized he needed to grow beyond his go-to dishes.
His self-described "unconventional" approach to developing new recipes involves browsing grocery stores where he often stumbles upon new ingredients and exploring seasonings by grabbing spices from his collection, taking a whiff, and imagining the possible outcomes. He has this advice for the culinary unwashed.
"Pick up a cookbook, and don't be afraid to fail" at times, he said. "Don't rush it. Everything needs to be done for a reason. If you're cutting corners, you won't have the result you want."
His list of cooking essentials include a cast iron skillet, blender, and a quality chef's knife.
"I didn't realize the benefits of [a good knife] until recently," he said. "It's much more enjoyable to use a sharp knife than to muscle your way through [cutting]. It's safer. When you're cutting herbs, it doesn't bruise the herb."
I'd be remiss if I didn't share a few tidbits about how Scotty creates those pristine images that regularly garner 1,000 likes and dozens of comments. His main piece of advice is to use natural light. Adjusting for poor exposure using software dilutes the quality of the images, he said. Personally, he prefers up-close shots. His goal is to capture every detail and to give the impression that the food is tantalizingly close enough to eat. Finally, he'll take 50 or so images before honing in on the winner.
Fort Worth's food scene is really coming into its own, he said. You can meet Scotty August 19 at Great Harvest Bread Company on West Magnolia avenue where Scotty will be the guest chef for a pop-up collaboration. Balancing social media accounts, a day job, and growing as a chef puts significant demands on Scotty's freetime.
"It's hard work," he said. "I'll try to knock out three or four recipes and videos a week. I love the social media aspect of it. Ultimately, I want people to taste my food. That's what it's about."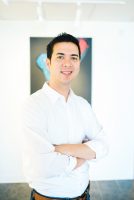 Edward Brown is a writing tutor and piano teacher. He is also an award-winning writer for the Fort Worth Weekly and volunteers for numerous Fort Worth nonprofits.