With the late spring morning sunlight heating up at Woodbine Flower Farm, Katie Toon gracefully walks among the splendid assortment of blooms she has nurtured into existence with her shears lazily dangling from her hand.
Enumerating a wide spectrum of seed and flower varietals, in both scientific and colloquial nomenclature, she effortlessly snags lolling blooms and snips them with precision, gathering as she goes an impressive bundle of flowers. Clearing clover and other invasive growth, she leads the way from one row to the next. "We started the farm in the winter of 2016, but I've been doing wedding flowers for over 10 years." She clarifies that harvesting is done in the morning before the heat diminishes bloom quality, which Toon describes as "getting crispy".
Within her practice as an occupational therapist, Katie Toon performed well and quickly rose to run a program which trained OTs. Perhaps her knack for balancing long and short-term goals with an extraordinary level of care may have been frustrating because, in the end, plants are far more reasonable than the corporate world of therapy. When the program was shut down, she was presented with a great opportunity to chart a new course towards what she always wanted to do. Without hesitation, she knew growing, cultivating, and arranging flowers, as well as teaching regional, eco-friendly techniques for beautiful flowers was for her. "I was just dumb enough to think I could do it." More than growing flowers, Toon is inviting folks into a way of life.
Two years ago, Katie Toon and her fiancé, singer-songwriter Jacob Furr, started dating. Today, Furr carries out much of what Toon conceives and will gladly testify to the level of her brilliance. "Immediately, I realized this woman is incredible. She's highly intelligent, wildly creative, hyperenergetic. She was out here when it was four degrees, doing whatever she could to keep the plants warm. Covering things up and making sure there was heat under everything. It is very peaceful for her to go out to the farm and work. All by herself, pulling weeds and planting stuff. As much as any of us are supposed to be doing anything, she's wired to be out here."
The original garden, with daffodils, marigolds, and sunflowers has continued to evolve through a series of expansions into an acre of neatly arranged plants grown in succession to ensure fresh flowers throughout the season, complete with testing grounds and seed trials. The planning for successive yields functions two seasons ahead with bulbs and seeds, rendering better results. As an example, "Sunflowers are like clockwork, blooming for about sixty days continuously. If we plant them every two weeks, we never end up with seven thousand sunflowers today and none next week." Farming is in Toon's blood; her engineer grandfather started a successful pecan plantation later in life, leaving Katie a tractor and plows from another era which are used at Woodbine Flower Farm.
Now into Year Two, Katie and Jacob's work is clearly seen in the rows of the beautiful flowers at various stages of their life cycles. With summer heat already creeping up, Toon shows off the seed blocks pressed into trays, which allow plants to grow away from the hot ground in tightly compacted cubes of soil. "It allows a more concentrated root system to be established, which is more conducive to the short-term planting." Trials distinguish between the growth and health of those planted directly in the ground and those prepped in soil blocks. Each row of plants holds myriad stories: the seed pods of the nigella, with star-like blooms, will soon be collected; the bright colors of the zinnia are a crowd favorite; poppies and strawflower are preparing for summer blooms. "Sweet peas have been a surprise, so we'll pick those pods too." Names catch the ear like Teddy Bear sunflowers, Chinese forget-me-nots, or the edible bachelor's buttons.
Planting is tedious, spent on one's knees in the dirt, and it appeals to a certain type of person. Furr, as a songwriter prefers a project, so he builds out the irrigation system and trellises or sprays fertilizer. When asked the farm's capacity, Furr metaphorically scratches his head, "Well, I put in three new rows the other day, that gives us eleven 200-foot long rows." The style of succession planting they practice optimizes space. "Everything grows, then dies, and we immediately put something in the dirt." Past the native feathertop grass and the coreopsis, also known as "tick seed," and the plot where phlox had recently flourished, there are trials of new rose varieties for consideration.
For Toon, trials are integral to Woodbine's project of perfecting seeds and methods to produce the loveliest buds and sturdiest stems. "I baby new varieties, because I don't know how they'll respond. I keep really intensive field notes, so we get a good sense of what works and what doesn't." Growing is constantly educational, and Toon is pleased by moments of refinement. For example, she explains, "After learning a few hard lessons, we now plant at night in order to give new plants a fighting chance when the sun comes up. How else are you going to learn?" Toon has been guided by ecological principles to find plants that thrive in the heat of Texas and credits her father with this influence. "He believes it is irresponsible not to take care of the environment, and that starts in your house, in your garden, and on your farm. Our gardens growing up were organic; we ate organic food. My parents were really intentional about that." Water conservation is a key, so they use a well as well as weed cloth and drop tape. "We never do overhead watering, so the evaporation factor is really low."
The sense of balance on the farm is lovely, and there amidst the blooms, it is awe-inspiring to think of the lifetimes invested in perfecting seeds and the methods by which they are grown. Climate, soil, and water nurture plants as well as other lifeforms like ladybugs and beneficial nematodes, none of which are more splendid than the bees. Passing the pincushion bloom of the heat-loving scabiosa, Toon notes a little green metallic native bee at its heart. In addition to native bees, and solitary bumblebees, Woodbine has a feral hive of approximately two thousand bees in a nearby tree. "Nature knows how to take care of itself if you learn how to work with it. We're really proud of our bees; they get a whole area of the farm devoted to them, to eat and drink. Pesticides can be especially harmful for them because they are taken back to the hive and can kill the hive. It is also important to use organic pesticides because these flowers are handled. We're very careful about what we use. Without bees, farming flowers would be impossible. We try to make it a really nice place for them." Recently, CBS 11 Meteorologist Jeff Ray did a segment at the farm on the importance of bees and some of the ways everyone can contribute to supporting bee health.
Woodbine is growing medicinal plant varieties like echinacea, as well as herbs. Pausing at a healthy dill plant, Toon says enthusiastically, pointing to a caterpillar, "Check out our mascot; they only live on dill plants, and they grow into Black Swallowtail butterflies." There were a number of these utterly charming light green striped caterpillars on the branches. "We call them Dillapillers; we'll have t-shirts and everything."
Partnering with local businesses like Stir Crazy, Melt, Shipping & Receiving, Anthropologie, and Craftwork attracts folks increasingly who not only love flowers but want to learn how to grow them beautifully. To support these interests, Katie will be teaching local growing courses at the Woodbine Flower Farm, as well as at locations in the community. "Teaching is totally where my heart is. I want people to have flowers in their yards that support our ecology and diversity of life. This is how we get such gorgeous plants, so people are eager to learn more about it." An e-book on fall growing in Texas is forthcoming, which will be accompanied by seeds and bulbs from the farm in September.
In addition to farming, Katie has been doing the serious work of arrangements for large weddings, growing to a capacity of ten weddings next year, often featuring ebullient cosmos or anemones, whose name means "daughter of the wind." "We are expanding so we can work with more brides who are interested in eco-friendly, locally grown flowers." Arrangements are also now available as part of six-week subscription packages, picked up weekly at Craftwork Coffee. "It allows people to buy a share of the farm. People come in, get coffee, and pick up their arrangements."
With each new cycle, Katie has continued to research plants for her farm, which she says has led her to know where to direct her questions and search for answers. Woodbine Flower Farm will soon have a nursery license, allowing them to package their own seeds for distribution. "We'll be able to sell our own Woodbine seeds, which we have tested and know we like. And we'll have plants available to sell in the fall." As each season passes, Katie Toon's dream is flourishing.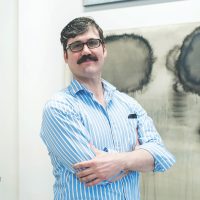 An Austin native, Lyle Brooks relocated to Fort Worth in order to immerse himself in the burgeoning music scene and the city's rich cultural history, which has allowed him to cover everything from Free Jazz to folk singers. He's collaborated as a ghostwriter on projects focusing on Health Optimization, Roman Lawyers, and an assortment of intriguing subjects requiring his research.