The New Year reminds us of all the things we want to be: successful, good parents, loving, kind, and healthy. That last one can be a little tricky, especially with kids, work, and all the other curve balls life has an inevitable way of throwing our way.
But tucked away near the Tanglewood neighborhood (and my go-to, Trader Joe's) is Profile by Sanford. The franchise's Fort Worth location isn't a weight loss company, it's a better lifestyle company. And it uses scientific research alongside technology to provide its members with one-on-one support to reach health goals that might have seemed like only daydreams.
That starts with the idea of "non-scale victories." Those are big life changes members experience that have nothing to do with how much they weigh. Those victories are things like mood improvement, increased energy, mental focus, and sleep. Now, let's let that last one really sink in and think about sleep — the kind of rest that makes the next day amazing and gives people the energy to be productive and live their best lives.
According to Harvard Medical School, research suggests that sleep plays an important role in memory creation and inadequate sleep negatively impacts mood, judgement, and ambition to do things — like getting off the couch! Good sleep matters, and losing weight and changing the way you eat can make life so much better.
"Our big thing is why wait?" said Molly Williams, Manager of Operations. "The best time is now."
Easy to say. Hard to do.
Change of any kind takes work and support. Even when we know it's the "right thing" to do, all the "wrong things" we normally do get in the way. For me, that's a copious consumption of chocolate and sitting for hours in front of my computer. Or going out and buying a new dress when I need to save the money for a new car instead. Alas, change.
True change means forming new habits and keeping them up for an extended period of time, says Molly. The biggest challenge her members have isn't losing weight, it's being ready for change. "Our most successful members coach with us long-term through all the phases even after they hit their goals," said Molly. And long-term commitments makes those changes stick.
Molly and her team work with over 200 members to accomplish life goals that are much greater than any number on the scale."I hear members say, 'I want to be here for my grandchildren. I don't want to be like my parents,'" said Molly.
Those members are people like Robin McLarry.
Robin, 49, joined Profile in March of 2019 and has lost a total of 72 pounds so far in her journey. "I joined Profile because I needed help losing weight and getting healthy before I turn 50 in April. This program has worked for me because I've had to hold myself accountable — meeting with the coaches each week has helped me stay that way," said Robin. "My problem was that I was eating out way too much; I just let myself go," she said. "And I was one of those people who didn't want to workout."
Robin joined a gym in 2019 and gradually started working out more with the help of her support system at Profile. "I have pushed myself out of my comfort zone; now I go to the gym four-to-five times a week."
Even though the majority of members at Profile are women, young men like Zane Miller are changing their lives early on by changing their lifestyle. Zane, 20, has lost 107 pounds. The college student no longer has hypertension, and his blood pressure has stabilized.
"The biggest reason I would say it worked is the biweekly meetings with my coaches. It really pushed me to be the best I could be with the constant positive affirmation from Coach Kelsi and Coach Molly," said Zane. "Staying committed to the process and becoming serious about my weight loss journey were big factors in making it all happen."
He says one of his biggest challenges (and food temptations) was Sunday lunches. "Since moving to Texas, we travel every Sunday back to eat with my grandparents. I would see myself getting tempted to make the wrong decisions. At the beginning, the major personal challenge would be just getting into the mindset of doing the diet. Really, choosing to start the diet was just the beginning, following the diet was when it got serious," Zane said.
Getting serious about living your best life, for Zane and Robin, started with Profile. And that start was a new beginning in more ways than one. These Profile members are now healthier, happier, and look forward to each day in a new way.
Membership to Profile is like a partnership for success. It includes your food, smart body scale, a precise DNA test, a water bottle, blender bottle, cook book, journey book, and one-on-one coaching — and that one-on-one coaching makes all the difference in the world.
"Everyone has the potential to make healthy lifestyle changes," said Kelsi Matlock, Profile Store Manager. "But with the one-on-one coaching, we are able to help facilitate, encourage, and hold the member accountable to these changes so they last a lifetime.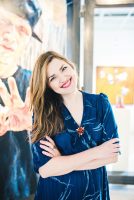 For more than a decade, Sarah Angle has worked as a Texas-based writer. She began her career as a daily newspaper reporter and photographer, and now splits her time between journalism and marketing communications. In 2014, she won first place from the Association of Alternative Newsmedia for her feature story "From the Land of the Lost." The following year, she earned a fellowship from the Investigative Reporters and Editors organization and became a board member for the Society of Professional Journalists, Fort Worth chapter. Currently, she teaches in the School of Strategic Communication at TCU. Sarah lives in Fort Worth with her darling daughter and a house full of books and mid-century modern décor.