So you've searched through and read every post in Tanglewood Moms about kitchen remodels: tile guys, plumbers, which person to use for what job.
You (hopefully) read my post last month about The Kitchen Source and how they are focused on making your kitchen the heart of the home. What I didn't cover in that article was the extreme amount of attention to detail they put into every material and product they use. They meticulously hand select products from vendors who do the same. When you decide to work with The Kitchen Source, you are entrusting them to help you with every aspect of the project, start to finish, they will ensure you will end up with a home you and your family not only love, but, one that functions the way you need it to.
From the tiles selected for your backsplash to the grout color, from the plumbing fixtures to the appliances – The Kitchen Source knows their "kitchen stuff". They can source your entire kitchen from kitchen islands, carts, trash cans, cabinet organizers, counter tops, furniture. Literally everything you can think of – including the kitchen sink.
When you partner with The Kitchen Source, they will pair you with one of their experienced designers who will talk with you about your goals for your kitchen, bath, or living space and get to know and fully understand your ideas and needs for your space. Then, together, you will explore options. You will walk away with a completely customized and inspired design plan. They will help you select materials and finishes ranging from locally-sourced and hand-crafted custom cabinetry, professional grade appliances, premium-grade surface materials (hello, gorgeous counter tops!), exquisite fixtures, lighting, and hardware.
Their high-end kitchen appliances include refrigerators, ovens, dishwashers, ranges, and more. Whether you entertain often or just make meals for the family, they can provide you with the perfect appliance package for your lifestyle. The Kitchen Source preferrs appliances come from Wolf, Sub Zero, and Miele.
The focal point of most kitchens and bathrooms are the counter tops. The Kitchen Source features many options and the knowledge behind what works and looks best in your space. Natural stones like granite and marble, wood, metal, quartz, or even glass are all options for your home remodel project. In the design stages, they will work with you to determine which surfaces are ideal for your project. Their preferred sources of natural stone and custom hard surfaces are: Silestone, Caesarstone, Zodiac and Cambria. If you think the counter tops are spectacular, wait until you open the cabinetry and find all the hidden gems inside from organizational items, interior lighting and even walnut interiors.
The Kitchen Source also offers premium grade fixtures, both lighting and plumbing fixtures that add the final pop to your kitchen or bath. No matter your design style, whether you are channeling your inner Joanna Gaines, or you tend to go more modern, fixture selections add the finishing touch to your home.
Not only do they have your appliances and counter tops covered. They will also source flooring and tile. When choosing a floor, The Kitchen Source recommends you consider maintenance, durability, and overall impact. They will ensure that your selection is not only beautiful, but also functional for your space. When selecting your tile, pattern and finish selection play key roles in how your tile looks and performs in your space. Your designer will help you discover what will work best and provide the most visual impact in your space.
When working with The Kitchen Source, you can feel confident that with every design and material selection you make, you have considered each option carefully and the end result will be not only gorgeous, but you will be confident that you made the perfect choice for you and your family. Cheers to that!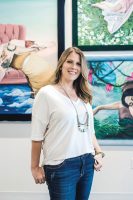 Angela Weaver is a native Texan, raised in Keller, but she got to Fort Worth as soon as she could. At 17, she joined the Marine Corps and served four years active duty. After her military service ended, she went to work for a hedge fund and then a whiskey distillery, both in Fort Worth. Her most important role started in 2009 when she became a mom. She lives with her husband and two boys in Fort Worth and spends as much time as possible on fun adventures with her kids. She loves to spend her time with her boys outdoors getting the full Boy Mom experience, even if that means being covered in dirt, catching fish, or shooting BB guns. She loves the sense of community she has found in Fort Worth and can't wait share that with our readers.