If you are anything like me, you get totally overwhelmed when faced with a design decision for your home.
Something even as simple of a task as wandering the aisles at Home Goods or Target to decorate my mantel for the holidays gives me anxiety. Do I want to go with the restrained, muted colors of fall or full-on Halloween-Had-Exploded-All-Over-the-Place? I mean it can make or break your living room, you know!
Your home is so important and the way it looks and feels should always make you feel happy and comfortable. I could really spend countless hours scrolling through my favorite interior designers Instagram pages for inspiration. Pinterest has cost me too many hours of my life to count. All of this research, and I still can't narrow down a design or make a decision without second-guessing myself. I don't know that I could survive a remodel and all the décor decisions involved without help. Should I go modern, clean and simple, colorful and fun, trendy, or classic? Do I want timeless elegance, mid-century modern, eclectic, contemporary, traditional, bohemian, or a combination of a few styles? A quick internet search, and I am right back where I started – overwhelmed and unable to make a decision.
Enter the Kitchen Source. At their locally-owned-and-operated store, you will find a full turn-key design and remodel firm dedicated to providing their clients the best experience possible. Whether you are remodeling your existing kitchen or designing your dream bathroom, their award-winning team of designers will be with you from start to finish. Their meticulous design process ensures the delivery of an exceptionally finished product that anticipates and responds to the needs of you, the client, whether it is a kitchen, bathroom, or custom home space.
The Kitchen Source will work with you to hand-select products including Wood-Mode custom cabinets, Sub-Zero and Wolf appliances, Kohler fixtures, and much more. Once your dream kitchen, bathroom, or other space has been designed, their team of installers and remodelers will work to ensure that the transformation is completed to the highest of standards. If you already have a builder, interior designer, architect, or general contractor, they will partner with them throughout your remodel.
While this process can seem daunting, the Kitchen Source makes it simple. Once you are ready to get started, you will begin by doing a walk-through of your home or construction site. Together with the design team, you will then explore your ideas, go through magazines, look at pictures you've selected. Once your ideas are on the table, you and your designer will assess the style you want for your home. You will carefully discuss and analyze the optimal function of your space and begin creating your design plan. You will go over and establish a budget that you feel comfortable with. Once you are comfortable with all aspects of the project from style and design to budget and function, you can retain your designer and rest easy knowing your space will be fabulous once finished.
If anyone is looking for me, I'll probably still be roaming the aisles of Home Goods until we are ready to pull the trigger on a new home. When that happens, the Kitchen Source will be one of my first calls.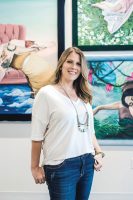 Angela Weaver is a native Texan, raised in Keller, but she got to Fort Worth as soon as she could. At 17, she joined the Marine Corps and served four years active duty. After her military service ended, she went to work for a hedge fund and then a whiskey distillery, both in Fort Worth. Her most important role started in 2009 when she became a mom. She lives with her husband and two boys in Fort Worth and spends as much time as possible on fun adventures with her kids. She loves to spend her time with her boys outdoors getting the full Boy Mom experience, even if that means being covered in dirt, catching fish, or shooting BB guns. She loves the sense of community she has found in Fort Worth and can't wait share that with our readers.