I know very few people that spend a great deal of time wondering about their dental care. It's simply not something that folks want to spend a lot of time on. We do our daily brushing/flossing routine and usually call that good. If we're very conscientious, we'll get our teeth cleaned every six months. Beyond that, dental care is often reserved for emergencies and significant problems. This is kind of a shame. New dental technology and procedures offer beautiful, confidence-inspiring smiles that are easier than ever to obtain. There have also been advances in pain-free dentistry (a personal touchstone of mine) that allow for dental procedures to be no more stressful than a haircut. In short, the dental game is changing at a rapid pace, and many of us don't understand how beneficial this can be to our lives. The era of years-long braces and retainers are rapidly disappearing and being replaced by clear trays and near-invisible straighteners. Advancing practices and changing customer service methodology are providing us with easier decisions when thinking about our dental health and appearance.

Doctor Kelly Blair is a native of North Texas, born and raised in Denton. As part of her education, she attended the University of North Texas and received her Doctorate of Dental Surgery from the University of Texas Health Science Center at San Antonio. Dr. Blair and her family moved several times over the years, allowing her to gain valuable experience with various customer bases and to refine her practice to best reflect her training and enthusiasm. Dr. Blair is very active in continuing education, to stay on the cutting edge of dental technology and practices. Her focus is to provide top service with state-of-the-art methodology. She strives to educate her patients in the process and provide confidence and a feeling of security during the entire process. Primary focuses in Dr. Blair's practice involve cosmetic and painless dentistry. The proper application of veneers, crowns, and dental implants are offered to provide the patient with a reconstructive process that grants a new confidence and sense of image that can grant a new sense of self and well-being. Dr. Blair also offers the "6 Month Smiles", a technology that uses near-invisible alignment system that has a very minimal visual impact. The office also provides Invisalign, a clear tray retainer system that is less involved than traditional alignment systems.

Dr. Blair's practice offers the most advanced dental techniques available today. Painless dentistry (including IV sedation) are offered to make every visit stress-free and comfortable. The days of "dentist = pain" are over. We are now granted access to procedures that were once very involved and restrictive. Advanced methods allow Dr. Blair and her staff to provide the services that we might have only dreamed of. The staff is dedicated to quality service and quality products. Staff member Brandi Kapka stated, "We are determined to partner with the best providers in town", stating that the office will find the best solution for an individual's needs, full stop. This is a customer service aspect that is somewhat rare, but it is ultimately invaluable. Dr. Blair's website can be found at (www.drkellyblair.com) and further information on treatments available are easily found through links on the site.

It becomes easier to find the smile that we want to show to the world. Cosmetic dentistry has made quantum leaps in the last few decades and the we have yet to internalize the options that lay before us. Those of us that needed braces as teens but rejected them now have the option to retrofit our smiles. The grin we give when we first meet someone is often the most impactful impression we have a chance to make. It is easier than ever to tune our smiles to what we want them to be.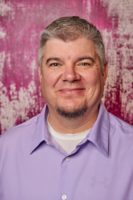 Originally from Oklahoma, David Geurkink is a recent transplant to Fort Worth. A former zookeeper with Fossil Rim and recently married to TWM's Lee Virden Geurkink, he is enjoying learning about all that his new city has to offer.