Color is "the property possessed by an object of producing different sensations on the eye as a result of the way the object reflects or emits light" (Oxford Living Dictionaries.) Color possesses great power. It has proven to have the ability to evoke a feeling, recall a memory, affect behavior, and even alter perceived tastes and odors. How much thought have you given to the color that in your home? If you feel compelled to make a change and don't know where to begin, let us steer you in the right direction. Donnia and Jeff Olesko of Modern Maison Interiors are Fort Worth's premiere color and design experts and would be glad to give you a hand.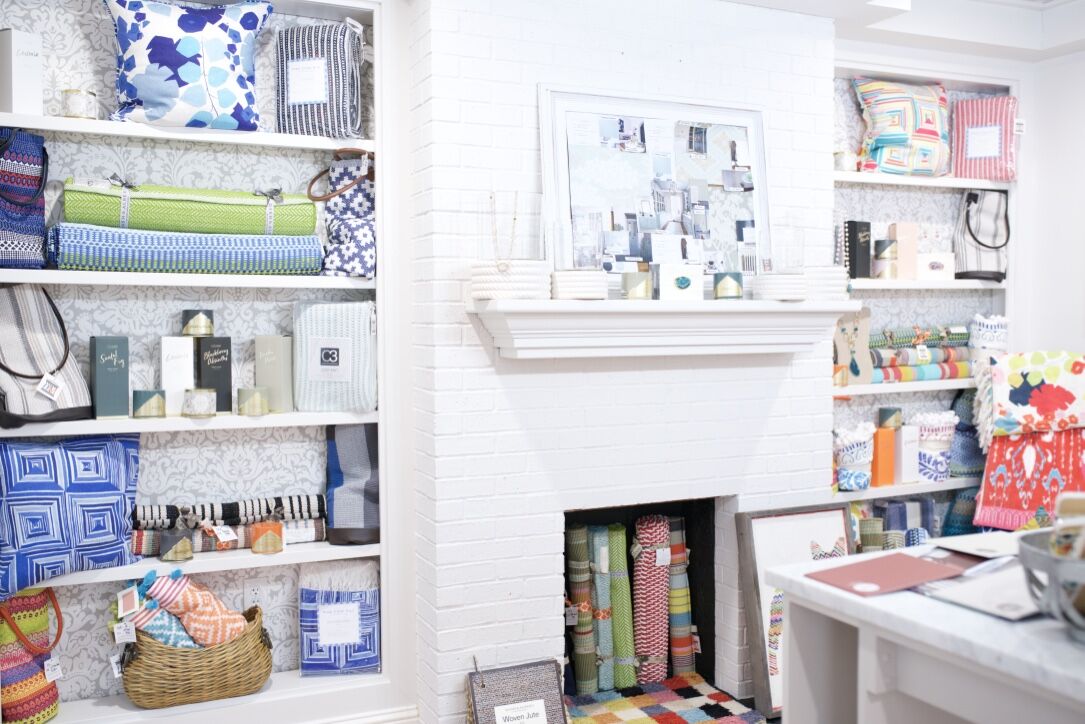 The Oleskos had no intention of opening a brick and mortar showroom, but after working on their own remodels throughout the years (and discovering they're pretty darn good at it), they pursued the opportunity to expand their small business. Their beautiful showroom on Crestline, blocks from the Museum District, is a color feast for the eyes. The first room is bright and airy and features some of the shop's décor and home furnishings. The next room, dramatic in color and absolutely stunning, is where we had our little chat. Donnia explained to me that Modern Maison is not a group of designers, but a showroom featuring artisan-crafted paint, paper, and décor. Husband Jeff is a master at home remodels, from kitchens and bathrooms to custom woodworking. The Oleskos are particularly proud of being THE exclusive stockist of Farrow & Ball artisan-crafted paint and wallpaper in Fort Worth.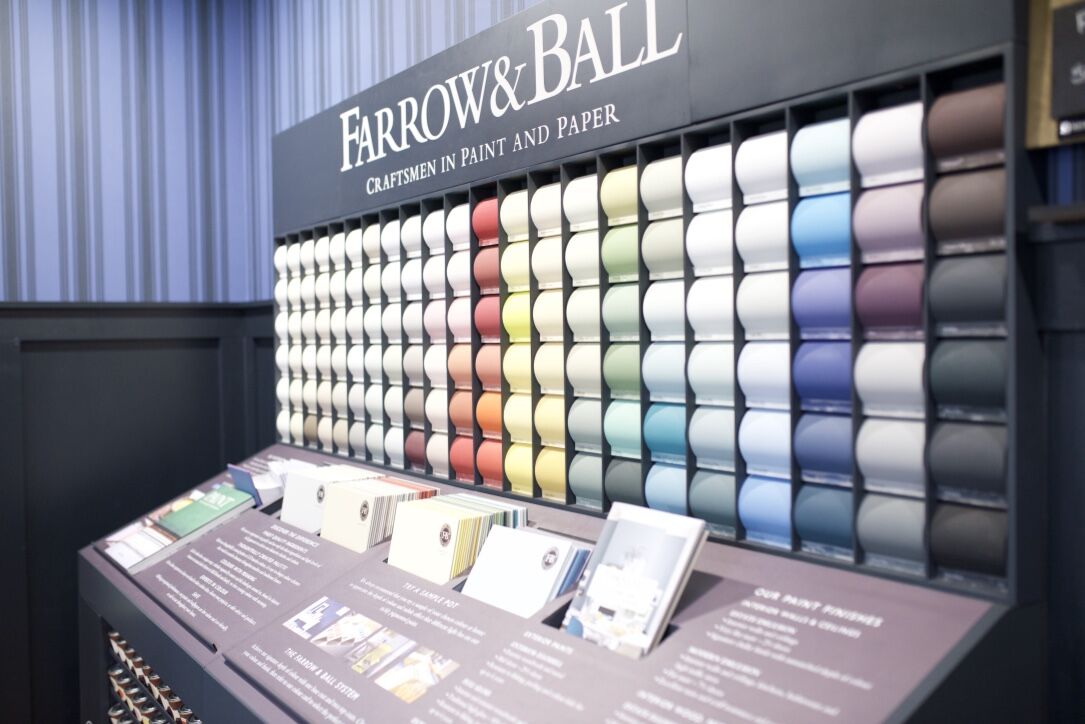 The gorgeous paint and wallpaper is exhibited throughout the space. Samples and swatches are prominently displayed. I had to ask, why Farrow & Ball? What makes this product so special? Donnia gave me a lesson in paint. Farrow & Ball originated in England in the 40s, and its 132 paint colors and wallpapers are very unique. First of all, they are virtually impossible to re-create, though people have tried. Their colors are inspired by 'old world' Europe, each with its own back story as reflected in its name. You simply can't match these colors in any other brand paint.
Second, the quality of this paint is top of the line. A bucket of Farrow & Ball goes 30% further than American paints, and because of its unique composition, it is extra durable. Third, it's versatile. There is a color and finish for every taste and style you can conceive of. Finally, it's eco-friendly. Farrow & Ball is 100% water based, low odor, and safe to use in every room in the house, even your child's playroom.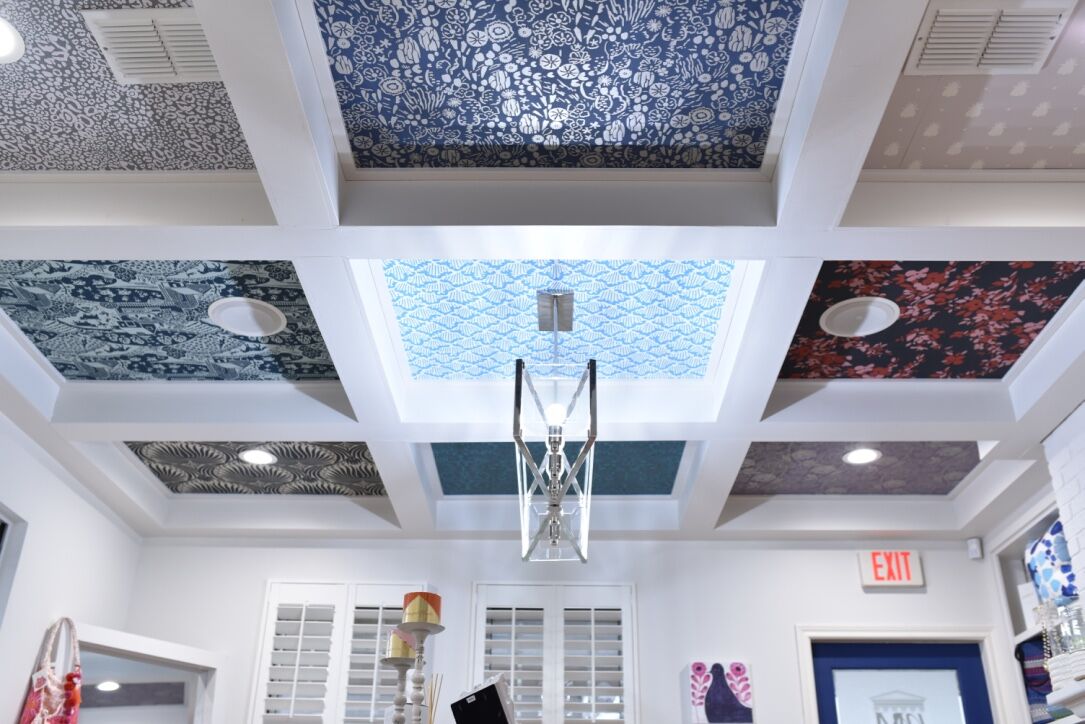 What goes really superbly with amazing paint? Amazing wallpaper! You will find that Donnia can also order you Farrow & Ball handcrafted wallpaper, printed using F&B paints and the traditional trough and block printing methods. Your paper is guaranteed to complement your paint, and there are over 300 patterns, plains, and stripes to suit any design need.
I asked Donnia what plans she and Jeff have for Modern Maison. She says they probably see a Grand Opening event in their future (stay tuned for that), and perhaps, if demand justifies it, they may take on a second remodeling team further on. Whatever the future may bring, their main focus is to give each individual client the personalized and quality service they they deserve. This is the main reason why they are truly happy with being a small, family-owned and run operation. Visit the showroom or call to schedule a free in-home consultation to discuss your color, décor, and remodeling needs with the experts at Modern Maison.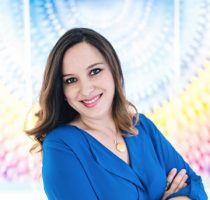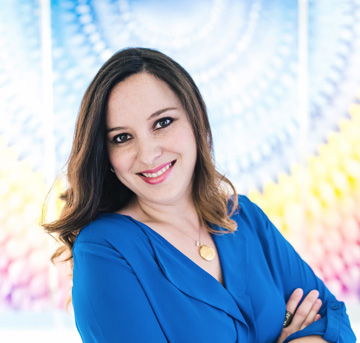 Christy Ortiz is a Fort Worth native, and is proud to say so. She earned her bachelor's degree from UT Arlington in Interdisciplinary Studies. She taught for FWISD for eight busy years before switching gears to stay home with her two small children. Her hobbies are interior decorating for friends, photography, and flying kites with her kids. Her South American roots and love for the Spanish language and Latin cultures add to the diverse voices of our group.