Jennifer and Sam Demel are on the cusp of offering Fort Worthians a new approach to drinking wine. It's a concept that's familiar to many on the East and West Coasts: affordably priced wine samples. The new venture, Thirty Eight + Vine (212 Carroll Street), will offer 1-, 2-, and 5-ounce pours beginning December 21 during the wine bar and tasting room's soft opening. The grand opening is January 9.
I caught Thirty Eight + Vine co-founder Jennifer over the phone on a recent morning. With her young daughter in the back seat of the car, the busy mother of two (safely parked) recounted how a move to Arizona renewed her love and appreciation of quality vino. Her husband recently retired from Major League Baseball.
Several years ago, his career led him to a stint with the Arizona Diamondbacks. Frequent visits to nearby California informed the TCU grads and Texas natives (Jennifer being from Graham, her husband from Houston) on wine-drinking trends. Folks on the West and East Coasts, they learned, enjoyed the option of sampling quality wines before committing to a full bottle.
"We've always enjoyed wine," she said. "With our time visiting California, our passion grew. The [Thirty Eight + Vine concept] was happening on both the coasts, East and West. It was only a matter of time until someone brought it to Fort Worth."
The Foundry District-based wine bar will have 42 varietals that can be accessed via a long wall where patrons can self-pour after swiping a card. There will also be a sizable selection of Champagne and other bubblies on tap, something that is often missing from Fort Worth's wine bars, Jennifer added.
"We wanted to make wine approachable," she said. "It can be intimidating. People don't always know their palate or what they enjoy. We wanted to make wine enjoyable, something that everyone can experience. You can go in and taste different things. You are spending a minimal amount on a one-ounce tasting, so you can explore the wine."
The bar and tasting room will sell a wide range of bottles, including many that aren't on the tasting wall. Jennifer said the general manager Ryan Sussell has went to lengths to find an international selection of vino that will please the connoisseur, college graduate, and casual wine drinker. Filling out the experience will be special events, classes, and themed tastings.
After living outside of Texas for several years, Jennifer is glad to be back in Fort Worth where the "small-town feel" lends itself to raising a family. Opening a wine bar while raising two children is possible, she said, because Sam equally partners with her on child rearing and business tasks.
Sometimes, it's chaos, she said with a laugh. "We make it work. The children are involved in everything we do. [Thirty Eight + Vine] has been a year in the making. All of a sudden, it's here. We're excited to open the doors to everyone. We hope people enjoy it."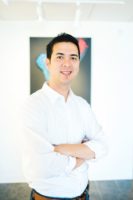 Edward Brown is a writing tutor and piano teacher. He is also an award-winning writer for the Fort Worth Weekly and volunteers for numerous Fort Worth nonprofits.