Your kids squeal with glee, pulling you into a real-life fairy tale. Cinderella's Castle looms in the distance. You follow their mouse ears towards the whimsical blue spires, weaving between colorful balloons and feel-good whiffs of buttered popcorn. The sun is shining and your entire family is smiling. Together. Even the air seems special – you can literally feel the magic. Your kids can barely contain their excitement, and neither can you.
From unforgettable theme parks to decked-out cruise ship adventures, Disney makes vacation dreams come true. Your family will be talking about this vacation for the rest of their lives. But you don't want to be paying it off quite that long – and you don't have to!
Check out these insider tips from Angie Garcia-Lavin, a licensed travel agent and certified Disney vacation specialist who's been going to the parks for 40 years. "There's nothing like the Disney experience," she gushes. "There's just something magical about it from the moment you get there."
5 Disney Hacks: Get the Best Value on Your Next Family Vacation
Breeze through the airport with the Magical Express. You'll check your luggage at DFW airport and then it will magically appear in your Disney resort room. Hop on the air-conditioned motor coach after your flight and hit the park in minutes!
Keep an eye out for new deals – even after you've booked. If a great package or sale comes along, you can ask for the better price. With Angie's free travel agent services, she'll watch for the prices to go down for you and can easily modify your original booking. Such a time-saver!
Go for the FastPass and learn how to use it. Speaking of time – it's absolutely precious on vacation. You don't want to spend it waiting in line. Plan ahead with FastPass reservations and make the most of the quality time that you have together. Angie can handle your FastPass and dining reservations for you; simply give her your wish list and like a fairy godmother, she'll make it happen!
Sail the high seas on a Disney cruise. Mickey and all the characters are on the boat with you, and it's only a 10-15 minute wait to see them (vs. one hour in the parks). "The service is outstanding, and the food is amazing," Angie says. "If you love the whole experience of going to Disney, then you need to go on a Disney cruise."
Let an expert travel agent like Angie handle all the planning – for FREE! Angie charges no fees. Disney already has the travel agent commission built into its prices, so you're going to pay for a travel agent whether you use one or not. So why not?
FREE DISNEY VACATION PLANNING
Your kids love Disney, and you do too – but planning a Disney vacation can be confusing and time-consuming. There are endless options when it comes to accommodations, tickets, theme parks, and cruises. Deals come and go all the time.
It's easy to spend hours researching online and still not know what you want. Is this truly the best deal? Are those reviews really trustworthy? Do you actually need to wake up at midnight to grab the cruise excursions you want?
Sure, you can sort through all of this yourself in your free time – you have plenty of that, right?
Or you can let a Disney expert do it for you – for FREE. No fees. No kidding.
You Know What Time It Is: It's Mouse O'Clock!
Vacation planning is fun and easy with Angie, an expert on everything Disney. She knows all the Disney hacks that there are to know. She understands the ins-and-outs of all the parks and cruises, and she'll make sure that your family is prepared. "I'm here to build the dream vacation that you want," she says. "I love doing it, I get super excited! We love to celebrate and get our clients excited to go by mailing them a customer swag box with goodies to rev them up for their trip."
As a family vacation specialist, Angie also books other Orlando theme parks and all sorts of kid-friendly getaways, from all-inclusive resorts in the Caribbean to Hawaii and Costa Rica.
But Disney is her true love. "I want you to have so much fun that you just can't wait to go back!"
Contact Angie Garcia Lavin at Mouse O'Clock Travel and start planning the ultimate family vacation today.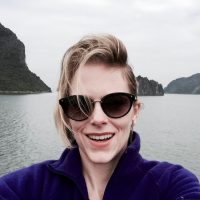 Raised in the Fort Worth area, Shilo Urban moved to Austin, Maine, Paris, Seattle, New Zealand, and Los Angeles before finding her way home a few years ago. Along the way, she has had over three dozen different jobs, including high school French teacher, record label manager, and farmhand for endangered livestock breeds. She's traveled to more than 50 countries and always has the next trip planned. Shilo has been a freelance writer for over a decade and has published in Fort Worth Magazine, Fort Worth Weekly, and Afar. Her interests include lost civilizations, jalapeño peppers, and Game of Thrones. She is currently writing a thriller and lives in Fort Worth with her two wiener dogs, Steve and Lenny.