It's a simple game.
Broken into varying parts, the participant assesses the length he or she needs to go, and determines the appropriate equipment needed to get them there. Through judgment and confidence, the players put out their best effort with the intention to beat expectations. Keeping one's eye on the ball, not holding on too tightly, and following through can result in a winning round of golf.
The same could be said about the game of life. At The First Tee of Fort Worth, we're using those golf analogies to coach our young people in the game of life. And we're doing that in more places and for more of Fort Worth-area youth than ever before.
The First Tee of Fort Worth incorporates Nine Core Values into golf instruction to help school-aged children ages 5 to 17 get "Good at Golf, and Great at Life." Since 2003, when the Fort Worth chapter received its charter from the First Tee national office, instructors have worked with hundreds of thousands of young people to instill integrity and putting accuracy, sportsmanship and the short game, and courtesy and driving techniques. The First Tee of Fort Worth offers more than just golf lessons. We provide learning for life that will carry far beyond the tee and the green.
"The First Tee is that golf camp, isn't it?" is an often-asked question. "Don't y'all give golf lessons throughout the summer?" is another. And, while both are relatively accurate, the opportunity to give more back through the organization's vision is what motivates so many of The First Tee of Fort Worth's coaches.
The mission of the First Tee of Fort Worth is to impact the lives of all young people by providing participation in The First Tee's Life Skills Curriculum and its Nine Core Values through the game of golf, thereby instilling life-enhancing values that encourage leadership, build character, foster community service, and promote wellness. Through an intricately-designed program, which participants can take part in throughout their youth, progression and competition are as available as they would be in little league baseball and competitive soccer. The First Tee of Fort Worth promotes the game of life and golf like the other 170-plus chapters throughout the US and other countries, and the national organization has just finished celebrating its 20th anniversary.
"But, where is it?" is a frequent follow up question. "And how do I get my children involved?" is another. Fortunately, those opportunities will exist in even greater numbers in 2018 than they did in 2017 – which was a record year for participation and support.
Nestled among the fairways and greens in the newly-redesigned Rockwood Golf Course, the First Tee of Fort Worth offers golf and life skills programming year-round at the Ben Hogan Learning Center. Opened in 2011, the Ben Hogan Learning Center offers the classroom space, practice tees, golf simulation lab, and putting greens necessary to help first-timers and scratch golfers. The Rockwood-based Learning Center features some of the best coaches in the game, from one of Fort Worth's golfing legends in Tony Arredondo to former Glen Garden pro Jason Rocha to the First Tee of Fort Worth's Executive Director Kevin Long. Long has served the First Tee of Fort Worth since 2006 and has seen the Fort Worth chapter grow from an instruction area at the end of Rockwood's driving range to an operation now expected to reach 100,000 young people annually by 2020.
Programming for the Winter Session began January 13 at Rockwood, and on January 20 at Squaw Creek Golf Course in Willow Park and will run until spring break. Each session costs only $65 for eight weeks of classes, and participants can begin at the PLAYer level and progress at their comfort level through the PAR participant range and into BIRDIE and EAGLE, each level with increasingly-challenging lessons in golf and life. Registration for the Spring Session will open online at 9 a.m. on February 15. Interested parents and grandparents can go to www.thefirstteeftworth.org to sign up their young ones.
An introduction to the First Tee's Nine Core Values begins in the first PLAYer sessions: Honesty, Respect, Perseverance, Integrity, Confidence, Courtesy, Sportsmanship, Responsibility and Judgment. Coaches work with the participants on one of the values as it pertains to that week's golf skill. And, they revisit – say, Judgment – in subsequent lessons to reinforce its importance.
"Did you use good Judgment in lining up that putt?" may be followed up with a lesson about a time in school when the participant was called upon to talk about a time in class that week where he or she used good judgment on a test. Or in time management. Or with their siblings.
And the lessons continue, both at Rockwood and in Parker County.
Announced in September, the Ben Hogan Foundation will partner with the First Tee of Fort Worth and Squaw Creek Golf Course to build a second Ben Hogan Learning Center at the Willow Park course. Part of the First Tee of Fort Worth's strategic vision to serve young golfers in over four counties, the Ben Hogan Learning Center at Squaw Creek will take the First Tee's Nine Core Values and golf instruction to participants in Parker County.
The First Tee of Fort Worth has also partnered with Fort Worth ISD and the Morningside Children's Partnership to offer the same programming and support for children in the Morningside Community at Briscoe Elementary School. Through support from Walter Rainwater's Morningside Children's Partnership, and the use of FWISD property, the First Tee of Fort Worth offers golf and Life Skills instruction to over 400 Briscoe Elementary Eagles through their PE curriculum. The First Tee of Fort Worth also offers after school programming to Briscoe Eagles and other interested participants in after school programming. Summer camps were offered in 2017 and will return in 2018 as well, with the goal of offering the First Tee's Nine Core Values and golf instruction to all children, regardless of income level.
"No child interested in The First Tee of Fort Worth can be turned away from our programming, regardless of their current situation," Long said. "Our strategic vision includes taking our programming north and south, as well as east and west, through our extended partnership with Squaw Creek and the Ben Hogan Foundation. We hope to deliver golf and Life Skills to over 100,000 young people annually by 2020."
"Sounds great! How can I get involved, or – better yet – sign up my child?" One of our favorite questions! Below are a few actions you can take next:
1. Go to www.thefirstteeftworth.org and select the "REGISTER" tab to look for the time and location that works best for your young golfer.
2. Also available at our website is the opportunity to volunteer, which is a great opportunity for those interested in the growth of youth to help our program coordinators throughout the week at our various locations. The application and background check is simple and easy, done online, and includes an informative information session held at the Ben Hogan Learning Center. There are various times for the volunteer information session, accessed at the calendar on our website, to fit your schedule. Volunteering to help with programming is one of the key ways those in Fort Worth and Parker County can help support our program.
3. Donating your equipment is another great way to help our golfers. This includes your gently-used bags, irons, golf balls – even gear that was sparingly worn. In 2017, The First Tee of Fort Worth repurposed over 800 sets of golf clubs to new participants thanks to the courtesy of our equipment donors. So free up your attic space or garage corner, and bring your gear to The First Tee of Fort Worth to help get a young participant in the swing of things!
4. Donating your financial support is also key, and can help offset the cost of classes and camps for our young people. The DONATE tab on our website is waiting for you to contribute $65 and cover the cost of class for a participant, or $100 for an Annual Fund contribution to help expand our coaching team. Additional amounts are welcomed and will go a long way to help The First Tee of Fort Worth's transportation goals of getting golfers to and from our locations.
Registration for The First Tee of Fort Worth classes is easily completed by entering the website at www.thefirstteeftworth.org and selecting the "Register" tab. Questions can also be answered by calling 817-420-9370. Additional resources are available for the parents and participants through the website. Classes – and camps in the summer – typically fill up quickly, so please plan ahead and act today to sign your children or grandchildren up for The First Tee of Fort Worth.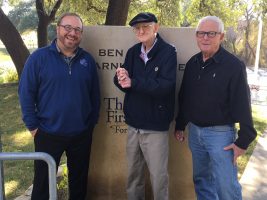 Mark Mourer (shown on the left with Ft.Worth golf legends Dan Jenkins and Vance Minter) is the Director of Development for The First Tee of Fort Worth. He has been professionally active in fundraising and personally interested in promoting the legends of Fort Worth golf for several years. He lives in Aledo with his wife, a nurse at Cook Children's NICU, and two daughters.