January's winds are blowing, which can make a day at the Fort Worth Stock Show and Rodeo quite chilly. Warm, homey restaurants get extra kudos this wintry time of year. Located only two miles from the Will Rogers Memorial Center on White Settlement Road, Clay Pigeon is perfect for a meal or drinks before or after the rodeo! I forgot about the ensuing cold front as I settled into my chair at Clay Pigeon on a recent evening. Several of the items on the menu seemed familiar enough, but I started with something I'd never tried before: the Roasted Bone Marrow.
The centerpiece of the appetizer was a hefty bone, roasted and split longways down its shaft. The first whiff reminded me of Korean spare ribs. The oily, lightly charred delicacy was served with several perfectly toasted slices of sourdough bread and a light fennel and parsley salad. Being a bone marrow novice, I carefully spooned the rich marrow and spread it over the bread. (It seemed like a good idea.) Bone marrow packs a culinary punch. Dense beefy flavors melded into a smoky, herb-laden experience. Having met my adventure quota for the day, I ordered something more familiar.
Clay Pigeon recently unveiled a new menu, which includes the bone marrow and my next choice — the CP Burger. I felt like I had won the burger lottery. The beef was grilled to medium. The soft and juicy patty formed half of the burger's girth, a welcome respite from oversized buns commonly served elsewhere. The toppings (lettuce, tomato, pickled red onions, and a buttery aioli) complemented without distracted from the meat. I was able to finish the burger without being overly stuffed. (I did take the fries to go, though.)
Chef Marcus Paslay graduated from the Culinary Institute of America in 2006 and cooked in some of the finest restaurants around the country. However, his Texas roots pulled him home, and he opened Clay Pigeon in 2013 as an homage to his memories of hunting and harvesting from the land. Since its grand opening, Clay Pigeon has won accolades from the national and local press and has played no small part in defining Modern Texas Cuisine.
In addition to being a great place for a pre-rodeo meal or post-rodeo nightcap, Clay Pigeon is offering a four-course Valentine's Day menu for $75 (plus tax and gratuity). Reservations are recommended, as seating is limited.
Don't forget that Marcas Paslay also owns newcomer Piattello Italian Kitchen. I ventured out to the already award-winning restaurant, nestled in the Waterside development, for a recent Tanglewood Moms article. While the cuisine is very different from Clay Pigeon's, Paslay's love to bringing people together around a table full of local foods prepared with real care as evident at Piattello as it is at Clay Pigeon.
Clay Pigeon deserves kudos for more than its warm environs and welcoming staff. The chefs approach their craft as true artisans. With only one visit, I can see why I'd heard about this place for so long.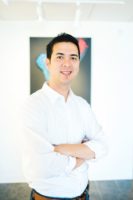 Edward Brown is a writing tutor and piano teacher. He is also an award-winning writer for the Fort Worth Weekly and volunteers for numerous Fort Worth nonprofits.