Imagine your child is diagnosed with cancer, or some other life-threatening illness, and the hospital with the critical services you need is miles from home.
Now imagine there's no budget to stay at a hotel and nowhere to turn. For parents experiencing these scenarios, life screams to a halt, and when faced with their child's illness, life can become overwhelming very quickly. They enter a world of fear and worry, and the stress of the illness is compounded by the stress of needing to be near their child while receiving medical care. Whether a family lives 500 miles away or five miles away, travel and living expenses can quickly add up. Frequent visits to hospitals and doctor's offices for treatments can lead to lost time on the job. The added concern of siblings and being far from family and friends places extra burdens on a family. The child's illness quickly becomes the family's illness – and it is in this circle where the Ronald McDonald House of Fort Worth (RMHFW) becomes a beacon of support for these families.
RMHFW pays tribute to the families who are unrelenting in the fight of their children's disease. Every day, we witness a level of courage, bravery and stoicism that is unparalleled, but we also see smiles, feel hugs and hear laughter because we believe that when families are together, they cope better. The Ronald McDonald House is more than four walls and a roof over your head. It is the intangible magic that transpires in shared moments, and Dr. Audrey Evans, renowned oncologist at Children's Hospital of Philadelphia and co-founder of the first Ronald McDonald House in 1974, knew that a place like the Ronald McDonald House would be the epitome of care for a family in the midst of medical crisis.
Dr. Evans says, "A family with a sick child is a sick family, so you must think about everyone, the mother, the father, the siblings. You have to remember they are part of a group, so you must remember the family." With this single-minded thought, Dr. Evans teamed up with McDonald's and Frank Hill of the Philadelphia Eagles in the creation of a family-centered support community. This one House was the impetus for what is now a worldwide organization of family-centered care programs. Ronald McDonald House Charities (RMHC) has 662 programs in over 43 countries and regions, including the 57-room Ronald McDonald House in Fort Worth and Ronald McDonald Family Room located inside Cook Children's Medical Center.
From the first day the Fort Worth House opened its doors in 1981, the organization has been focused on family. Our programs give a family with a sick child what they need most – each other. Casey Johnson was 12 in 1998 when he was diagnosed with acute myeloid leukemia. He lived in Wichita, Kansas with his mother and brother, but the best place for him to receive medical care was in Fort Worth at Cook Children's. That meant leaving his brother, his father and friends. He and his mother stayed at the House for almost two years while Casey received medical treatments. Casey visited RMHFW in spring 2018 and he says, "I know I wouldn't be here today if the House didn't exist. The House is not just a place to stay; it is a family where everyone is in this together truly supporting you to get better. It's a community, a small village of comfort and hope."
There are times when the news that your child has cancer can't be made face-to-face. Such was the case with Tiffany, who was a senior airman with the U.S. Air Force. Tiffany was deployed in Kuwait when she received the fateful call that her then 22-month-old daughter, Mariyanah, had been diagnosed with acute lymphoblastic leukemia. A grueling 36-hours later, Tiffany was able to see and hear her daughter saying, "Hi, mommy!" After a month at Cook Children's, Mariyanah was released to stay at RMHFW.  "The Ronald McDonald House of Fort Worth is a loving family that made me and my family part of a bigger family. The House made us part of a forever family and home that we will never forget," said Tiffany.
For a sick child, sometimes the best medicine of all is having family nearby for more hugs, kisses and I love you's. Our 57-room House provides safe spaces for families to be together yet only steps away from the hospitals. As part of the 57-rooms, we retain six transplant suites which are ideal for the cancer patient who has been released from the hospital but is not quite ready to be home. Additionally, the Ronald McDonald Family Room and newly-implemented Day Program allow families who are not staying at the House to receive the comfort and care of our mission, which offers a supportive, home-like community that eases burdens for seriously ill children and their families.
The Ronald McDonald House of Fort Worth has been a refuge in the storm of life for thousands of families over the years, and we are committed to serving thousands more in the years to come. Our mission is fulfilled by staff and a multitude of volunteers.
Ways to help the mission of RMHFW:
Volunteer – many shifts and opportunities available
Donate House Needs items such as toilet paper, paper towel, hand sanitizer and HE laundry detergent – purchase from the Amazon list and have the items drop shipped to RMHFW
Prepare meals for the families through the Meals from the Heart program – over 680 meals were served to families in 2018
Host fundraisers to benefit the mission – Facebook fundraisers are very popular and easy to coordinate
Collect pop tabs and donate them to RMHFW – aluminum is recycled and converted to cash to support the operating budget
Visit www.rmhfw.org to learn more about the items above and more!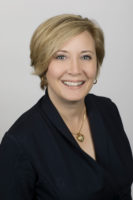 Beth Lamb, chief marketing officer for the Ronald McDonald House, has been in education and non-profit communications for almost 25 years. Beth is actively involved with the Fort Worth Chapter of Public Relations Society of America and currently serves as president. She is a graduate of Texas Wesleyan University and is married with two grown children.