Ask 10 folks what makes a great burger, and you'll get 10 different answers. For me, I love variety, originality, and quirky environments. This list isn't meant to be an exhaustive survey of "bunned-fun" in the 817. My goal is to spotlight some lesser-known joints while acknowledging the burger stalwarts.
Charley's Old Fashioned Burger
Like a lot of folks, I drive by Charley's Old Fashioned Burger at least once a week. The retro-y burger joint on Granbury Road harks back to 1950s and '60s America, a time when life was simpler and onions rings were big enough to double as disc golf putters. A light drizzle didn't put the damper on a recent stop. I ordered outside — Charley's does a lot of to-go orders — before going inside to perch on one of a handful of picnic tables. A plate of thickly battered onion rings overshadowed my cheeseburger. The rings were unseasoned and benefited from a dash of pepper and salt before I devoured them.
The burger fit the "old-fashioned" bill. Generous smatterings of mayo and mustard greeted my salivating palate. The thick, medium-rare patty was dripping with oil and juicy goodness. It was all I could do to finish off the burger in one sitting. I took the onion rings home, which served as dinner later that night.
Knife Burger
Knife Burger is building a reputation from the patty up. Chef Tesar works with 44 Farms, a black Angus producer renown for the marbling of its grass-fed beef. The burger joint occupies a smallish nook at Food Hall at Crockett Row. On a recent visit, I sprung for the Ozersky ($5.95) and fries ($2.99). The burger is a one-fister that won't leave you keeling over from gluttony. Knife Burger recommends keeping a bit of pink in the meat. A slice of American cheese and a few cuts of red onions didn't detract from the main attraction: the juicy, moist, beefy patty. When so much in the Texas culinary world nudges us toward bigger and bigger, the Ozersky is a welcome exercise in moderation and how to savor each bite.
M&O Station Grill
The Foundry District is home to one of the coolest-looking burger joints in Fort Worth. With a direct view into nearby Leonard Department Store Museum, M&O Station serves carefully crafted burgers like the Toluca Burger (patty stuffed with chorizo and topped with avocado and a fried egg). I tried the M&O Original with onion rings. The soft texture of the beef is what blew me away. There wasn't a dry morsel anywhere between the buttered buns.
The Bearded Lady's L.U.S.T. Burger
When the Bearded Lady reopens on South Main Street in the coming weeks, I plan to christen the occasion by ordering the L.U.S.T. Burger (and a beer, of course). The L.U.S.T. burger's patty is a half-pound of ground beef that's stuffed with poblano peppers and feta cheese. That diabolical mixture is then grilled and crowned with avocado, caramelized onions, curry sauce, tomatoes, and lettuce.
Fort Worth's Burger Hall of Fame already includes Tommy's Burgers (multiple locations), Rodeo Goat (2836 Bledsoe Street), Dutch's Hamburgers (3009 S University Dr), Fred's Texas Cafe (multiple locations), and Kindcaid's Hamburgers (4825 Overton Ridge Blvd), among others. Fort Worth isn't short on superlative burger options. My parting advice is to try something new because there's no one single right way to do a burger right.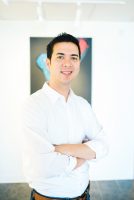 Edward Brown is a writing tutor and piano teacher. He is also an award-winning writer for the Fort Worth Weekly and volunteers for numerous Fort Worth nonprofits.