Diana Urbina's photos dutifully reflect her multicultural life.
On a recent visit to her grandmother's home in central Mexico, Urbina captured life south of the border on film, her preferred medium. Her images evoke a wide range of emotions from humorous to meditative. Vibrant color shots intermingle with stark black and white photos. Urbina is at ease with these different mediums, and she is at ease with life in general. At a recent interview at Avoca on West Magnolia Avenue, she told me she doesn't get worked up about when and where her works show. Picking up a camera brings her as much joy today as it did when she started shooting in her early 20s.
"I'm more of a candid photographer," she said. "If I'm hanging out and I see things, I'll shoot. I'm a slow shooter. The moment has to strike me."
"I try not to take posed shots," she added with a laugh. "I'm terrible at telling people what to do."
Urbina is as studious as she is humble. If there's a course on photography offered locally, she's probably taken it. Her curiosity has led her to study a wide range of artistic mediums, including jewelry making and design. She doesn't plan to stray from her first love, though.
Urbina, who was born in the United States and has immigrant parents, feels the pull of her two countries. At times, she questions where her true identity lies. She sees how people in Mexico and other Central American countries struggle to support themselves and their families. Misconceptions about men, women, and children seeking refuge in the United States frustrates her.
"A lot of people have to leave to the U.S. because there are no jobs," she said. "No one wants to leave their home and family. No one is looking for a handout. That's just not the case. My parents struggled when they came here in the 1970s."
Urbina is part of a young crop of photographers (Rambo Elliot, Donnie Williams, Chip Tompkins) who encourage and push each other. Fort Worth lacks an accessible dark room, she said. The photogs are weighing the possibility of creating one themselves. Photography has the curious distinction of being both revered and underappreciated as an art form. Urbina is aware that photographers such as herself and her friends have to continuously raise the bar for what local fine art photography can be.
Urbina said she tries to explore different perspectives in her own works. It's easy for photographers to get "stuck" in the same place and not progress.
"Photography is instant," she said, describing what she loves about the artform. "It's a moment you can miss if you don't document it right away. And then you immediately have something [physical]. Film remains an object throughout its entirety. You shoot, develop it, and it's another object. It's constantly giving. That's what draws me to film. I feel like I'll photograph for the rest of my life."
You can follow her photos on Instagram @thenuisance and @bad.lands.film
This article is made possible through a partnership between Tanglewood Moms and the artist-led nonprofit, Art Tooth.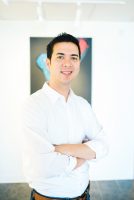 Edward Brown is a writing tutor and piano teacher. He is also an award-winning writer for the Fort Worth Weekly and volunteers for numerous Fort Worth nonprofits.