Fort Worth's Fall Gallery Night celebrates its 40th anniversary on September 8, and it is the perfect opportunity to plunge into Fort Worth's thriving yet intimate art scene.
Many Fort Worth galleries will stay open late until 9:00 p.m. with special exhibitions and live performances. You will also find wine tastings and food trucks to fuel your adventures. Chat with accomplished local sculptors, up-and-coming talent, and acclaimed painters from around the world.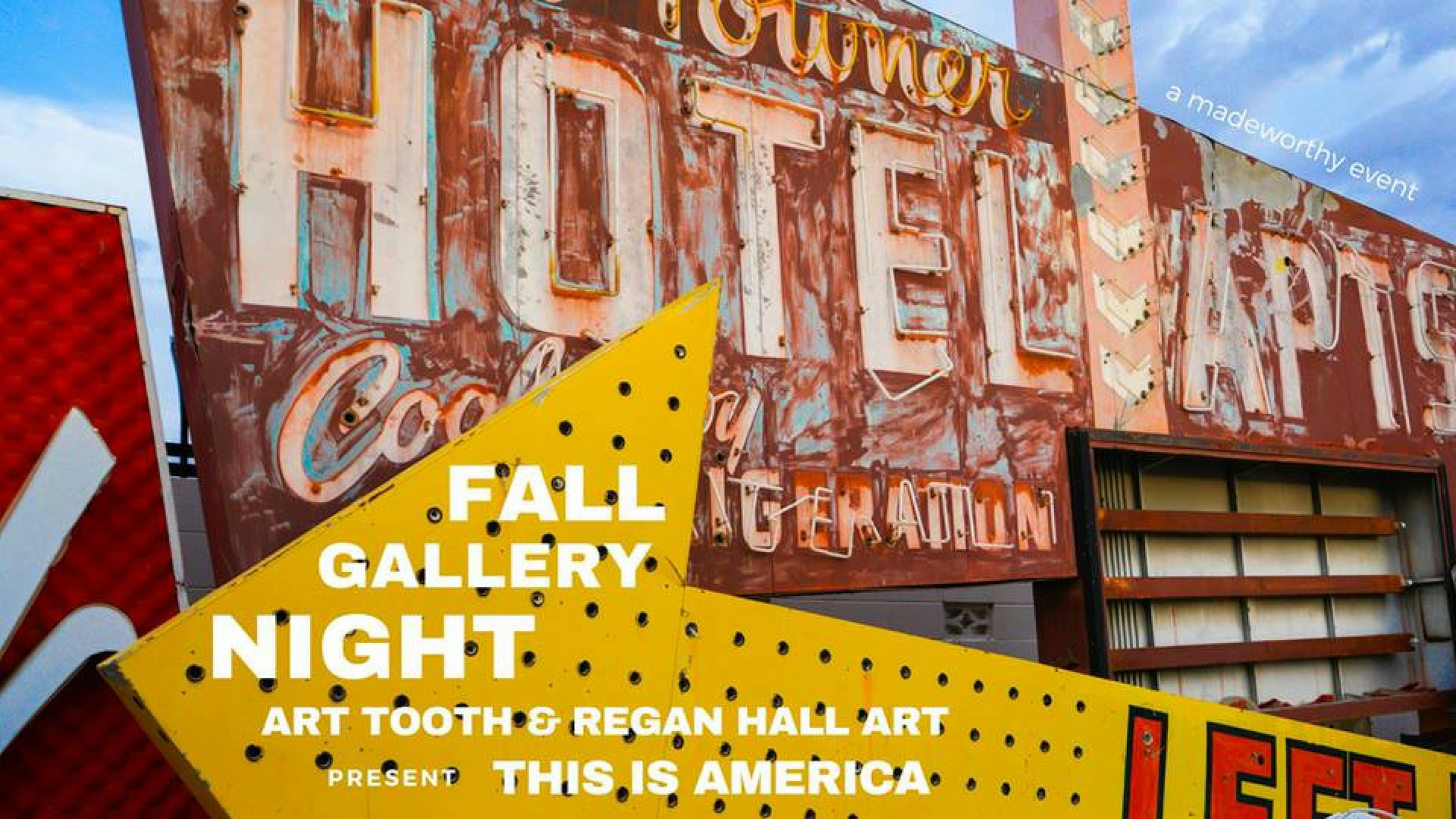 Start your Fall Gallery Night at one of the only photography exhibitions, the This Is America pop-up at WestBend. Madeworthy is excited to be partnering with Art Tooth and Regan Hall Art to present this pop-up gallery. See brave new works by local photographers, including Grace Pham, Penny Halcyon, Chip Tompkins, Jay Wilkinson, Roy Rivera, Jordan Ricaurte, Brian Hutson, and Regan Hall. This Is America will be open from 6:00 p.m. to 9:00 p.m. and is a stop on Art Tooth's (in)famous pARTy bus.
As you continue on your Gallery Night journey, be sure to keep an eye out for these artists and their works!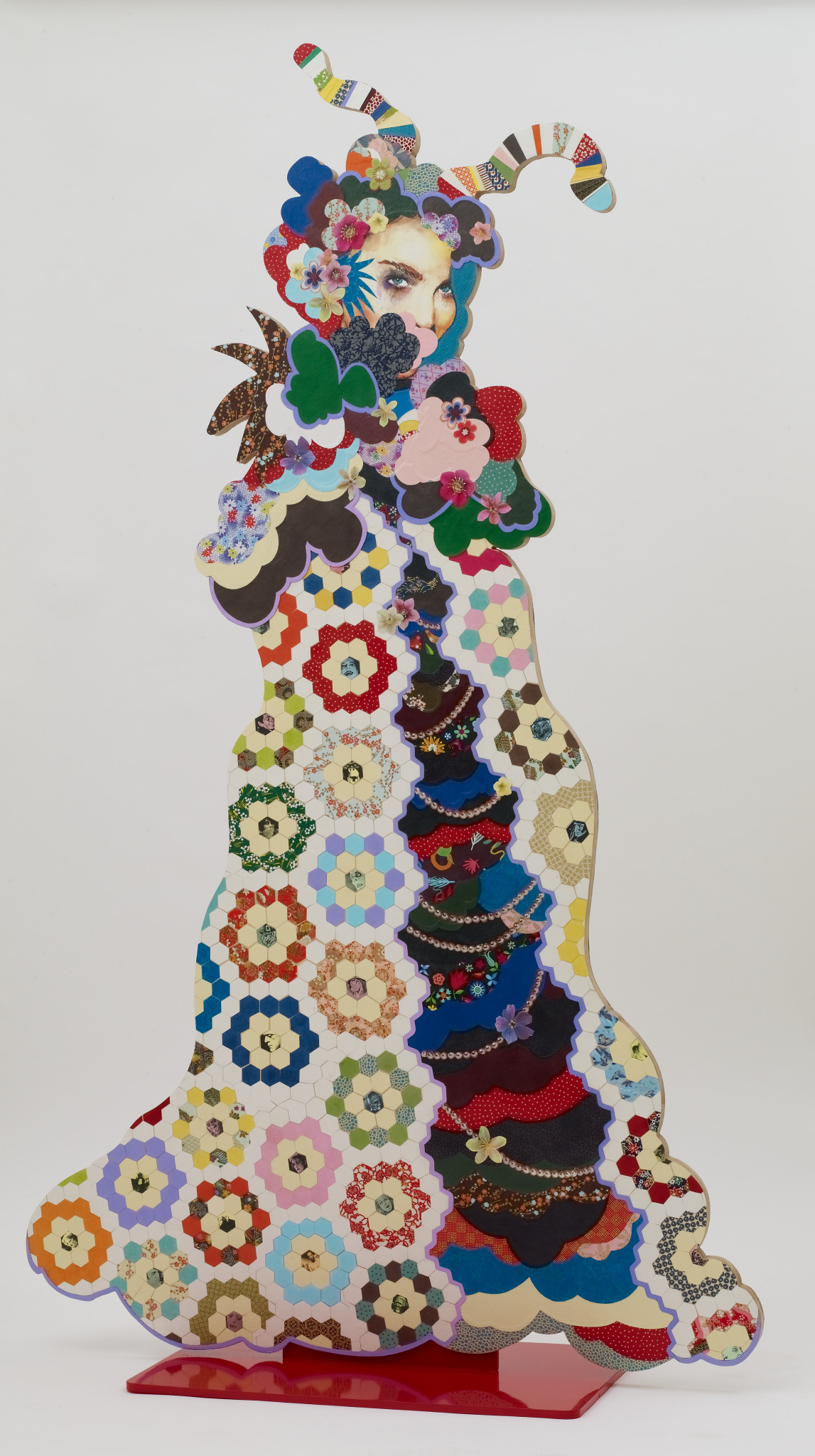 Explore the hybrid female figure through the colorful, collage-like sculptures of Alicia Paz. Her plywood silhouettes are enrobed in baroque costumes with intricate detailing. Each figure strikes a dramatic pose, powerful performers in their stories. Born in Mexico and based in London, Paz's work celebrates the multifaceted feminine identity. Paz joins six more international artists for the gallery's group exhibition Flâneuse, which considers the contemporary experiences of female flâneurs: aesthetes, wanderers, and passionate observers. Fort Worth Contemporary Arts, 2900 W. Berry Street, Fort Worth, TX 76109
Wood meets glass meets fire on Fall Gallery Night at SiNaCa Studios on Magnolia Avenue. Brandon Pederson works with wood, not glass, creating large-scale sculptures, which will serve as inspiration for SiNaCa's glassblowers to reimagine the sculptures in glass on Fall Gallery Night. Multiple pieces of glass will be blown in the hot shop and assembled into an entirely new work of art. Watch the process unfold to discover what the experiment will reveal. SiNaCa Studios, 1013 W. Magnolia Avenue, Fort Worth, TX 76104
Celebrate the opening reception for Familiar Strangers, Devon Nowlin's surreal new exhibition of photo compositions. Nowlin is a Fort Worth native and one of the city's most talented artists, with public art installations throughout the city. Saturated with color, her new series inspires questions of modernity, progress, and nostalgic aspirations. Meet Nowlin at Artspace111 on Fall Gallery Night, which also hosts the opening of another solo exhibition: Layla Luna's Desert: Over and Over. There will also be a food truck and live entertainment from Clint Niosi and Rage Out Arkestra. Artspace111, 111 Hampton Street, Fort Worth, TX 76102
Take a stroll down Chicano Ave to ponder street culture and self-awareness the new exhibition by Fort Worth artist Eric Villarreal. Villareal contemplates influences on the Chicano identity, poking at social and political themes with a hint of humor – and a profound admiration of Nuestra Cultura. Sip wine and nibble on cheese while chatting with Villarreal about his magnetic imagery and thought-provoking content. Artes de la Rosa, 1440 N Main Street, Fort Worth, TX 76164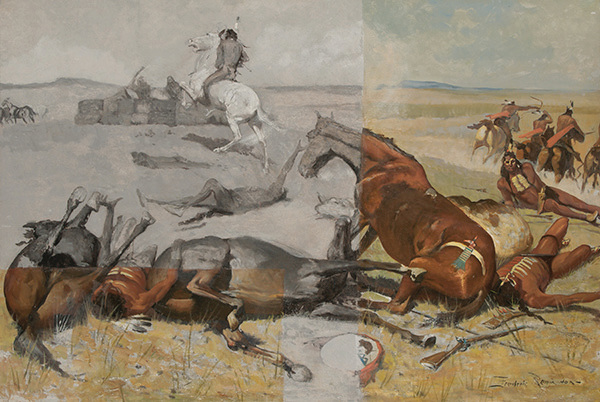 Frederic Remington is one of the most gifted artists of the Old West. His works are some of the most popular images of the era – and some of the most faked. Frederic Remington: Altered States examines the issue of counterfeit artwork through a collection of Remington paintings and sculptures that have been altered in some way, either by the artist himself or by others. Discover how science and scholarship are working together to reveal the truth about the art world's "fake news." Docents will be present on Fall Gallery Night from 5:30 p.m. to 7:30 p.m. Sid Richardson Museum, 309 Main Street, Fort Worth, TX 76102
Gloria Sepp's passionate, polychromatic abstract art infuses the canvas with a sense of energy and movement. Each piece feels like a celebration, a riot of intense hues that communicate the glow of strong emotion. Chat with Sepp on Fall Gallery Night, along with several other artists in the group exhibition including Jennifer Stufflebeam, Gale Johnston, Clara Williams, Loretta LaMothe, Bruce Love, and Bob Fox. Browse unframed artwork to buy and enjoy drinks and light appetizers. Art on the Boulevard, 4919 Camp Bowie Boulevard, Suite B, Fort Worth, TX 76107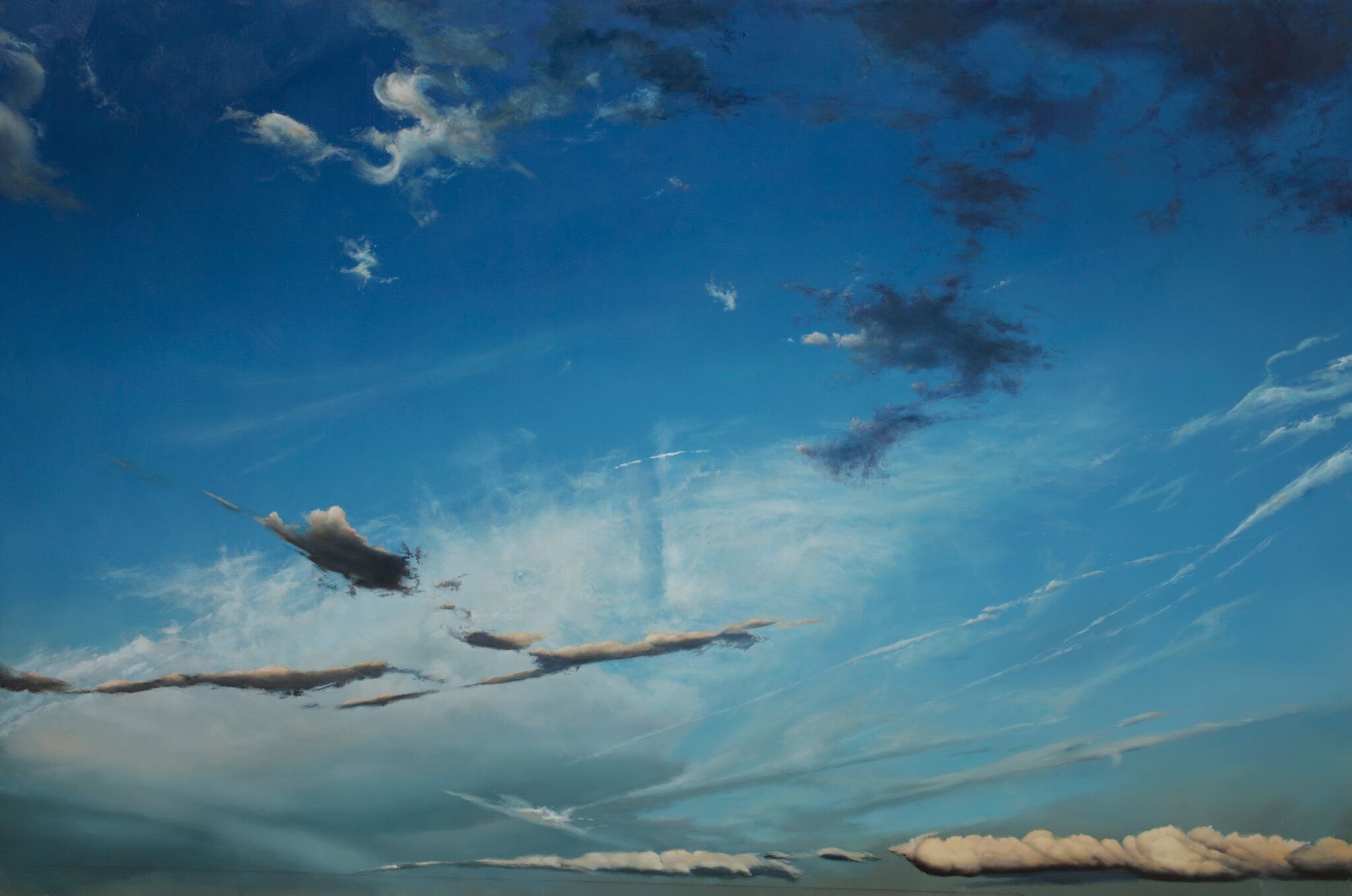 See the latest creations by one of Fort Worth's most famous artists, JT Grant, whose new exhibition opens on Fall Gallery Night. walking the horizon displays the artist's talent for creating extraordinary skyscapes and flawless figures. Grant's works highlight the social, economic, and political discord experienced while living in a rich land. Drift off into a dreamland at Grant's new exhibit, an otherworldly opus of multi-chromatic clouds, dark yet delicate tulips, and figurative meditations. William Campbell Contemporary Art, 4935 Byers Avenue, Fort Worth, TX 76107
From black-and-white images of dusty young cowboys to colorful Texas riverscapes, Luther Smith's photographs capture a profound emotional vibrancy. Discover glimpses of the artist's 35-year career at this retrospective exhibition, which celebrates the professor's retirement from the TCU School of Art. My Time at TCU: Photographs will feature images from three of the artist's key series: High School Rodeo, The Trinity River, and The American South. Smith's works speak to the complexity of nature and the connection with land and home. Meet the artist in person on Fall Gallery Night. Moudy Gallery, 2805 South University Drive, Fort Worth, TX 76129
Fusing people with pixelated patterns and abstract ideas, Matthew Bourbon's art speaks to the modern blurring of the digital and physical worlds. His works blend disparate modes of representation with finesse. Bright geometrics play off impressions of daily life, submerging reality into an unnerving abyss that feels frighteningly accessible. A professor at the University of North Texas, Bourbon shares the gallery in a concurrent exhibition with Richard Armendariz; the artists' work mirrors one another using patterns, human figures, and a flat aesthetic. The Gallery at UTA, 502 S. Cooper Street, Arlington, TX 76019
Whether floating in water or slathered with mud, Reisha Perlmutter's realistic female forms evoke a sense of freedom, transformation, and self-realization. Enjoy the opening reception for Undercurrents, a powerful collection that explores the feminine journey of self-acceptance. Intimate and textural, each oil painting embraces the imperfections of artistic creation. Having shown at some of the most prestigious galleries in New York, Perlmutter brings her art to Fort Worth with this nuanced exhibition. Find light refreshments on Fall Gallery Night along with beats from local DJ Ronnie Heart. Fort Works Art, 2100 Montgomery Street, Fort Worth, TX 76107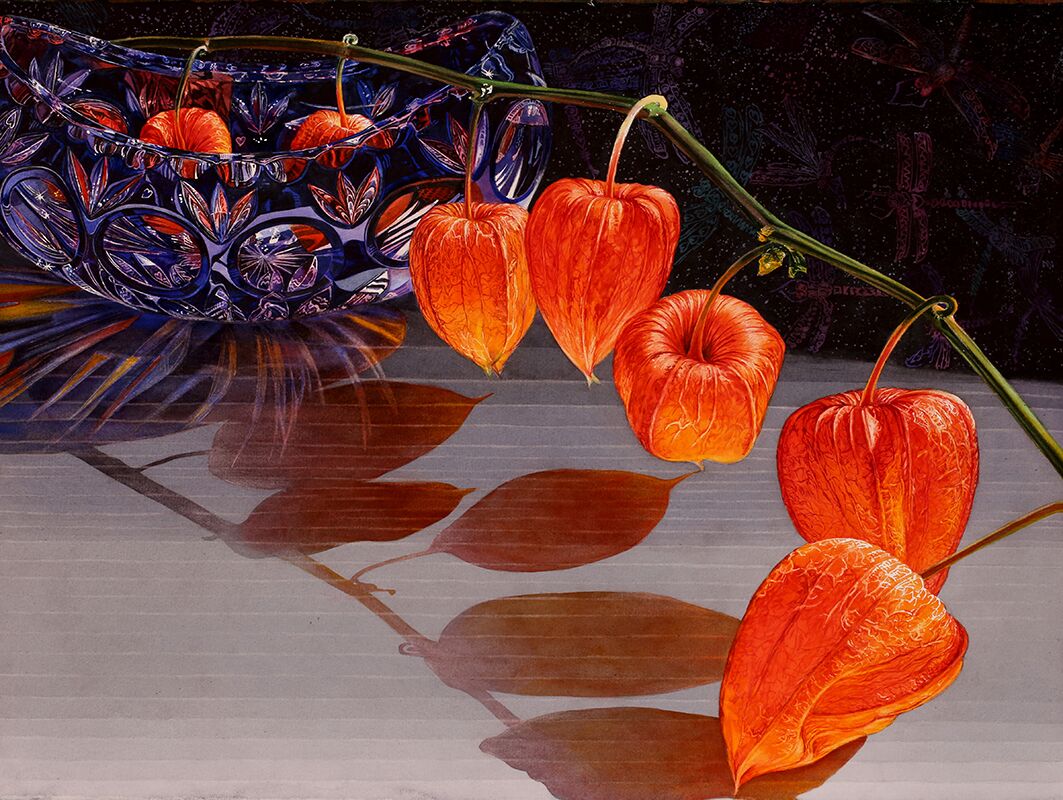 Soon Warren's shimmering colors pop off the canvas, a riot of ebullient energy and instant appeal. Her paintings are drenched in dynamic hues that transform natural subjects with larger-than-life theatrics. Known for vivid waterscapes and landscapes, along with photorealistic images of crystal vases and flowers, she is also a renowned teacher and author. Warren will be exhibiting in and curating the Fall Gallery Night show of her associates' works. Be sure to check out the live watercolor demonstrations. Atrium Gallery at UNTHSC, 3500 Camp Bowie Boulevard, Fort Worth, TX 76107
Over the last 25 years, Willie Baronet has purchased more than 1,300 signs made by the homeless. The long-term art project comes together in his installation We Are All Homeless. Designed to raise awareness about homelessness, this exhibition is a poignant contemplation of compassion and the meaning of home. Baronet, a professor at SMU, has previously showcased his collection across the U.S. and the UK and has been featured on NPR, Huffington Post, and Yahoo. Visit his installation in Fort Worth to meditate on the humanity expressed in these signs. Rebecca Low Sculptural Metal Gallery & Studio, 7608 Camp Bowie West, Fort Worth TX 76116
This article originally appeared in the September/October 2018 issue of Madeworthy.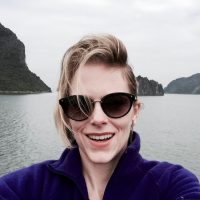 Shilo Urban lives for adventure, loves dogs, and reads books like it's going out of style (which it is). She writes about music, food, art, design, events, and travel – all the good stuff. Raised in the Fort Worth area, Shilo moved to Austin, Maine, Paris, Seattle, New Zealand, and Los Angeles before finding her way home a few years ago. Along the way, she has had over three dozen different jobs, including high school French teacher, record label manager, and farmhand for endangered livestock breeds. She's traveled to more than 50 countries and always has the next trip planned. Shilo has been a freelance writer for over a decade and has published in Fort Worth Magazine, Fort Worth Weekly, and Afar. Her interests include lost civilizations, jalapeño peppers, and Game of Thrones. She is currently writing a thriller and lives in Fort Worth with her two wiener dogs, Steve and Lenny.