A medium-sized green, plastic trashcan sits zip-tied to a section of railing on Merrick Street in the Como neighborhood. It reads, "TRASH. Keep Como Clean," in black Sharpie. On the day I visited, it has a fresh garbage bag inside filled halfway with newly-accumulated soda cans and napkins. A serene lake and wildlife area surrounded by old homes, some restored and some sagging, lie just beyond the trashcan with its plea.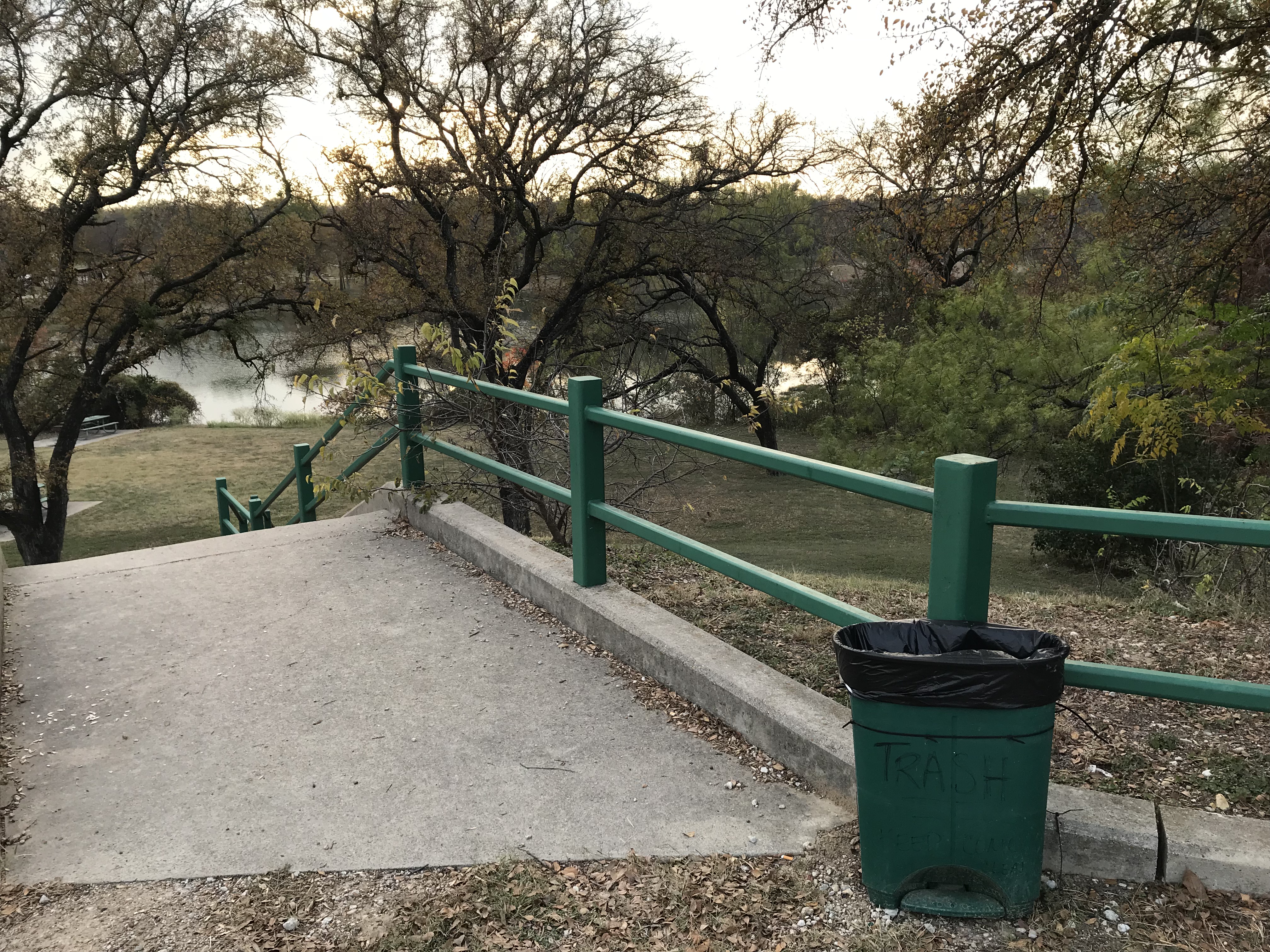 Quietly tucked in Fort Worth behind the Central Market on Hulen Street and I-30, this section of the historic Arlington Heights neighborhood was developed in the 1890s around the lake, named after the stunning tourist attraction in Italy. Nearly 130 years ago, the Como neighborhood was a tourist attraction, complete with streetcars, a hotel, a boardwalk, and a party pavilion with live shows. By the 1940s, it had transformed into a thriving African American community. Ignored for decades, there is new attention from the City of Fort Worth, local charities, builders, and investors, and subtle changes in Como are now noticeable. A newly paved sidewalk circles the lake. And on a recent late fall afternoon, three men with an electric company worked on the new streetlights planned to go all around the park.
After many meetings, workshops, polls, and surveys, the Como Neighborhood Advisory Council (NAC) and the city came up with a plan to revitalize the area with five goals and strategies in mind – development, housing, neighborhood-focused economic development, livability enhancements, and capacity building.
"The NEZ projects [neighborhood empowerment zone] promote the creation or rehabilitation of affordable housing, an increase in economic development, and an increase in the quality of social services, education, or public safety provided to residents of the designated neighborhoods," the city website reads.
However, this creation and rehabilitation must be done with care. A strong Como community presence dominates the conversation with the city. Residents do not want to see their homes torn down and replaced with top-dollar condos and townhomes, which drive up property taxes. Some leaders in the Como community tell residents to hold on to their homes and don't sell.
"There is a difference between revitalization and gentrification," Sanford Sims says over a hot plate of soul food at Drew's Place.
"Sims" is a marketing consultant who used to work with Fort Worth's La Vida News: The Black Voice. Living in New York City and Chicago before relocating to Fort Worth, Sim said he has closely followed the gentrification of African American neighborhoods in his former homes. He is a regular at the restaurant famous for its incomparable soul food on the edge of Como on Horne Street, which acts as an informal community center and gathering place for both Como residents within and people outside of Como. Sims said big projects only get done through harmonious interaction. He applauds the community and the City of Fort Worth for working together for the good of the neighborhood.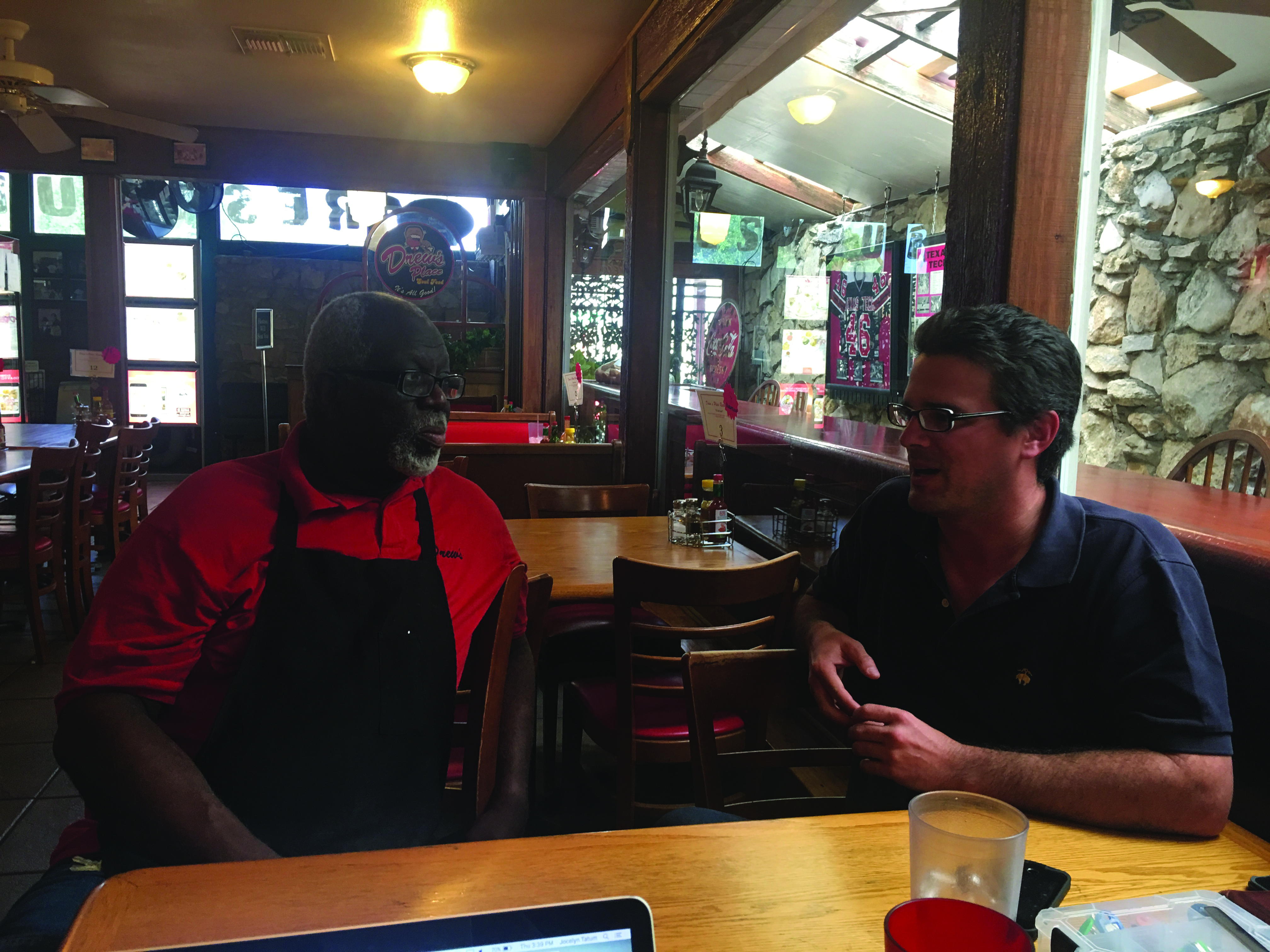 Restaurant owner A.L. "Drew" Thomas grew up in Como and remembers a time when he could get everything he needed in the neighborhood. It had a dry cleaner, music venues, restaurants, corner stores, and grocery stores. He opened Drew's Place in 1987 in another neighborhood but moved it to Como nearly ten years later, when he noticed businesses disappearing there. He hasn't seen much traction for new business in Como in those 20-plus years, and he would like to see more businesses come back to Como to make it self-sustaining again. Beautifying and bringing business to Horne Street where Drew's Place stands is a part of the Como NEZ.
Growing up in Como in the 1970s and '80s, Terrance Butler has moved back to his old neighborhood to direct Rivertree Academy, a private Christian school serving children and families in Como. He has good memories of playing outside with his cousins and friends around the lake and at his grandmother's house. His grandmother,Ressie English, is 105 years old and still lives in the community. Rivertree Academy has been open only for three years and already has staggering statistics on its impact in the community. Butler hopes that some of the children at Rivertree become positive agents of change in Como, ending cycles of poverty that are detrimental to the community.
"Como is poised for revitalization," the city's newsletter reads. "Numerous vacant lots are suitable for quality affordable and market rate infill housing and new commercial development, and an active and engaged neighborhood association."
Anything new could mean unwanted change to the neighborhood, and the unknown brings concerns to residents who have so much pride in their community. This is the reason local investors George Chevaillier and Hunter Johnson handle their recently-acquired properties within the community as if they were finely-cut crystal — delicately and sensitively. They purchased two apartment buildings on opposite sides of Lake Como with near full occupancy. Instead of demolishing the buildings, George and Hunter clean up and restore each unit as people move out. Unit by unit, they rip out old carpet and put in new flooring and new kitchens with stainless-steel appliances. They have replaced sewage lines, roofs, water lines, and repainted the buildings' exterior and doors. This keeps the housing affordable, so it does not price existing Como residents out of the neighborhood.
"There is a culture and a community here, and we don't want to wreck that," George said.
Late one morning, George and Hunter met a new resident who handed them a check to cover the first two months' rent on his apartment. The man brought his sister and mother to see the one-bedroom unit. The new resident stood outside the front door and admired the quiet view of the lake and the stainless-steel appliances inside. Then the garbage truck pulled up. A pile of old junk removed from a nearby apartment sat by one of the dumpsters. Because the junk pile could not be taken away unless it was in the dumpster, George and Hunter, along with their new tenant, hastily stuffed several old mattresses into the dumpster. As they returned to the apartment, the tenant's sister pulled antibacterial wipes out of her purse for all three men, and they continued to visit.
On any given afternoon, you can catch George and Hunter landscaping, talking to residents, and planning for the future. George attends the Como NAC meetings to listen to the community's needs. Hunter is proud of his feather grass he planted on the grounds. George is proud of his carefully selected cabinets. They have earned the trust of their neighbors. Their sweat has not gone unnoticed.
"If we are all careful, Como will be like a neighborhood that you want to go out to and [that] keeps its distinctive voice and flavor," George said.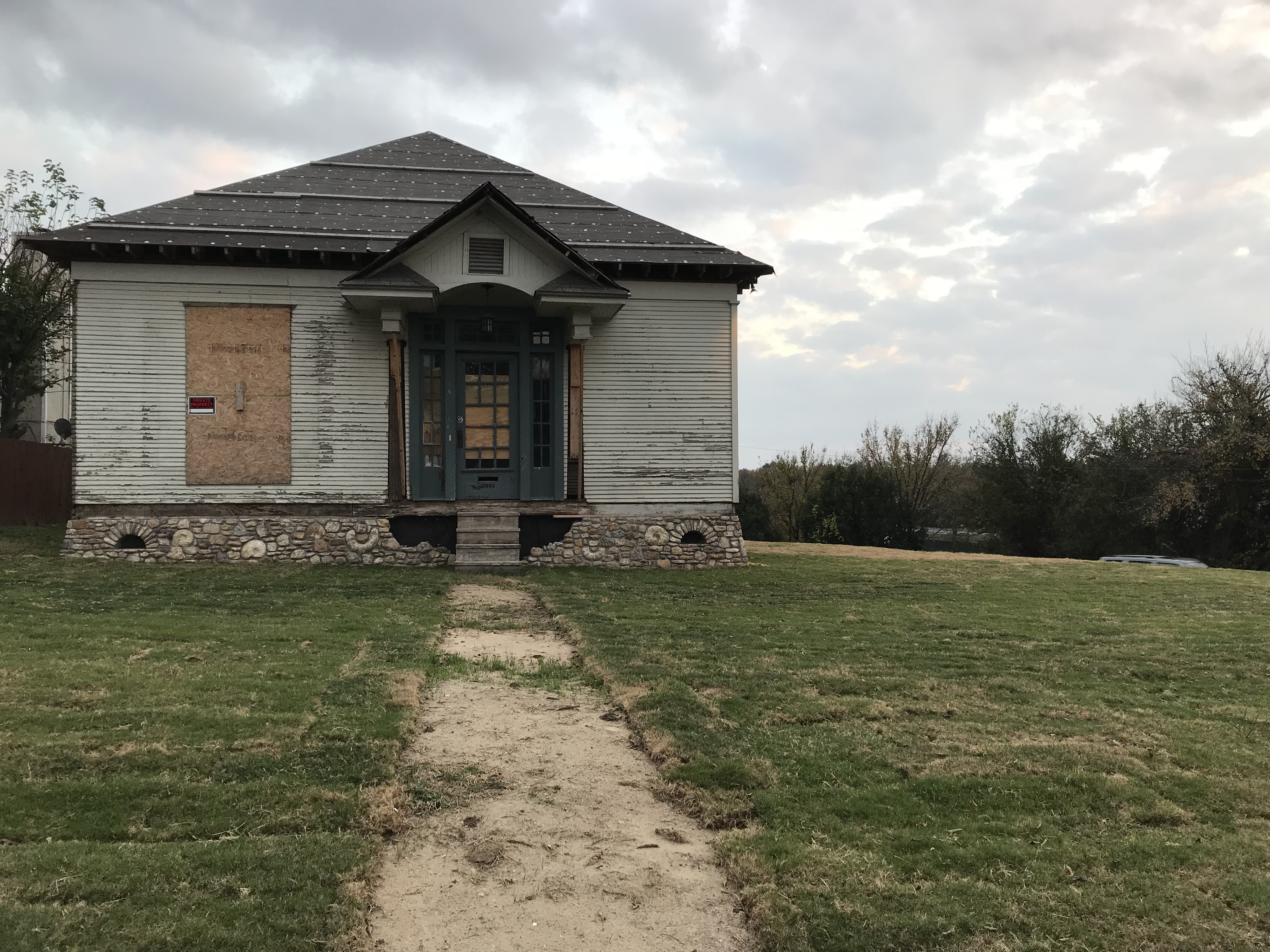 Across the street from the thoughtful green trashcan with its black Sharpie plea, local investor Brent Hyder moved a 105-year-old home onto a small bluff overlooking the lake. It originally stood not far from Roy Pope Grocery. He said the home speaks to the typical architecture of the era marking the beginning of Arlington Heights' story. Brent won Historic Fort Worth's Residential Rehabilitation Award in 2017 for thoughtfully restoring the Clayton House, also known as Fairview, in Arlington Heights. He plans to do the same with this old home and hopes to turn it into an intimate museum, complete with the neighborhood's beginnings and African American history.
While investors dream and the City of Fort Worth plans, across the street from Brent Hyder's future museum, next to the steps going down to the lake, the trashcan managed by an anonymous resident does its small part to keep Como clean.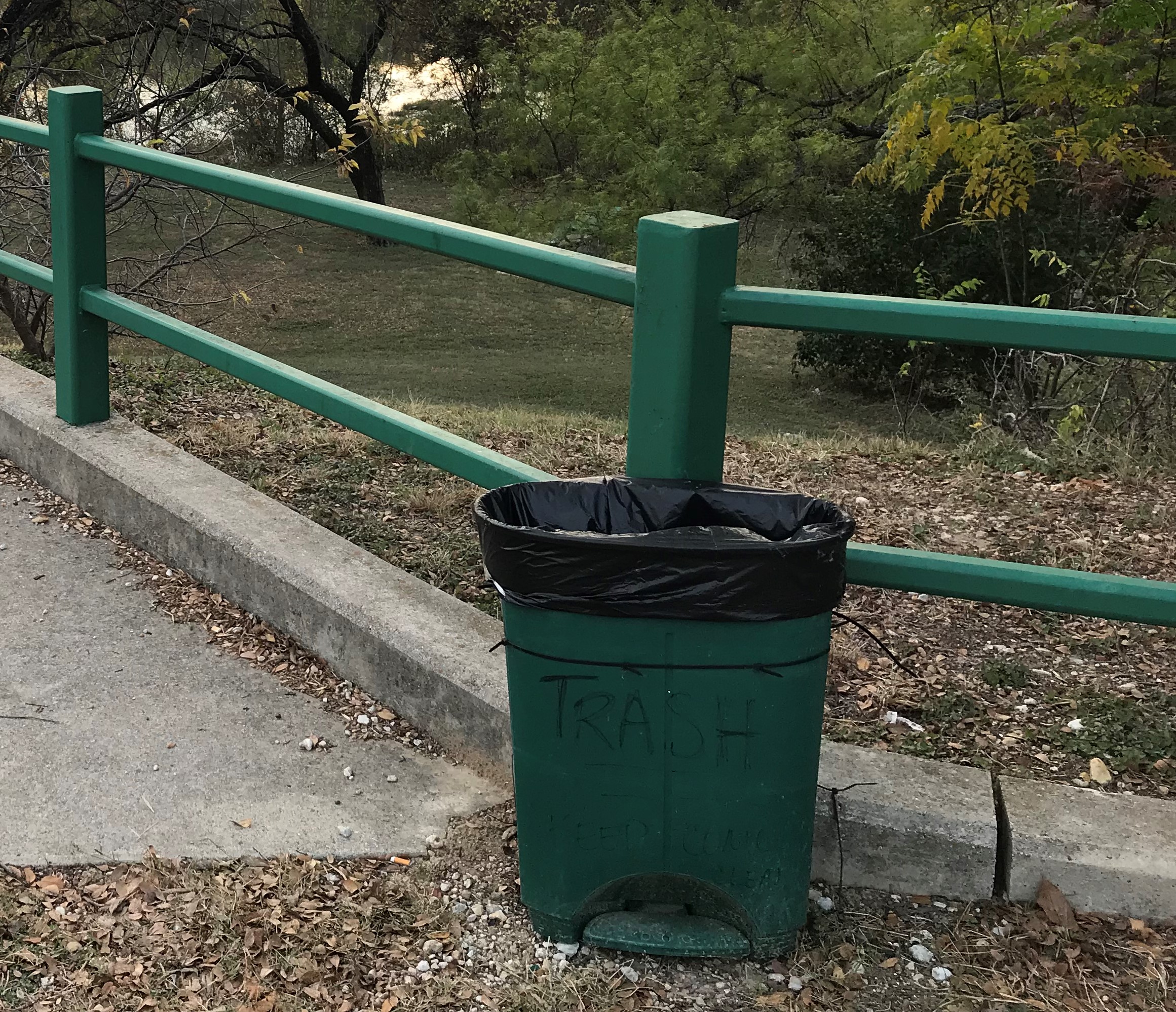 This article originally appeared in the January/February issue of Madeworthy magazine.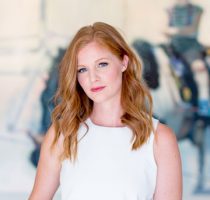 Jocelyn Tatum has been either publishing nonfiction work and/or teaching journalism at Tarrant County College for ten years. She began her career as a daily newspaper writer and general assignments reporter in 2008. A fifth-generation Fort Worth gal, marriage finally brought her back home six years ago where she became a full-time freelance magazine writer known for her long-form narrative style. With an undergraduate degree in philosophy, several study abroad stints, and a masters from the University of North Texas, she is always looking at the world around her with child-like wonder expressing what she sees best in the written word. Her passion is writing human-interest stories to give a voice to the voiceless, a face to the faceless. She has a 5-year-old boy who is the love of her life and best friend. When she's not mothering and writing, she is up at 5 a.m. running, taking Jen Keita's spin classes, attending hot yoga, or riding horses.