Do you have a football fanatic in your family? One who cannot wait until September 6 when the NFL returns? Or are you looking for something fun and family-friendly to do when the thermometer is regularly topping 100°? Never fear, dear reader! We at Tanglewood Moms have you covered.

From July 13 through July 15, the second annual National Fantasy Football Convention (NFFC) will be held at the Will Rogers Memorial Center. What started as a convention focused on fantasy football has grown into a celebration of all things football. This is the ComicCon for football fanatics.
Do you love fantasy football but need help with your strategy? There are sportscasters, sportswriters, and fantasy football experts who will be conducting seminars and Q&A sessions. Do you have a favorite play whom you are dying to meet? You can meet the over 200 current and former players who will be in attendance and can get autographs and selfies and the answers to your most pressing questions. Heck, you can even run drills with them and hear them sing karaoke! A schedule of the various sessions can be found here.
There are also opportunities to find the perfect presents for your favorite fan. (It's never to early to stock up on holiday gifts. Just remember where you have hidden them!) In addition, the Taste of Texas will feature all the BBQ, tacos, burgers, and beer you can handle. You can even cast your vote in the NFFC's Best of contests to award your favorites.
Tickets are required, and the NFFC offers three levels of passes:
Field Level Pass
The most economical level, the Field Level Pass allows access to any event on the schedule that is not indicated as an MVP or Legend exclusive. These include the Fan Expo, Training Sessions, Player Q&As, Taste of Texas, and seminars. (For children between the ages of 5 to 12, there is a Kids Pass at a reduced rate. Children 4 and under can attend for free!)

MVP Level Pass
As well as everything that is included in the Field Level Pass, the MVP Level Pass allows access to the Kick-Off Party (21 and up), reserved seating at main stage events, access to the MVP Lounge with player appearances, early entrance to the Expo, and much more.
Legend's Pass
With only 100 Legend's Passes available, you can be assured that you will have an amazing time! As well as all the perks of the MVP Pass, the Legends Pass is the only way to access the Legends' Lounge. Why is this a big deal? The Legends' Lounge is where you are guaranteed to Meet Ezekiel Elliott, Jason Witten, Michael Irvin, and many more Cowboys, past and present.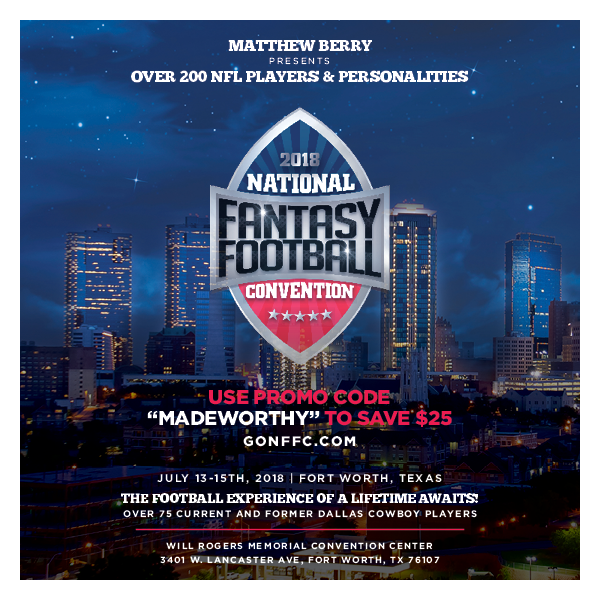 To save $25 off registration, be sure to use the promo code "MADEWORTHY" when you are checking out!
Because we love our readers, we are giving away a family pack of four Field Passes! To win, please tell us your favorite NFL team on our Facebook page post. The winner will be announced on Friday, July 6, at 8 pm. Good luck!