The most highly anticipated shopping and dining destination ever to come to Fort Worth has to be The Shops at Clearfork.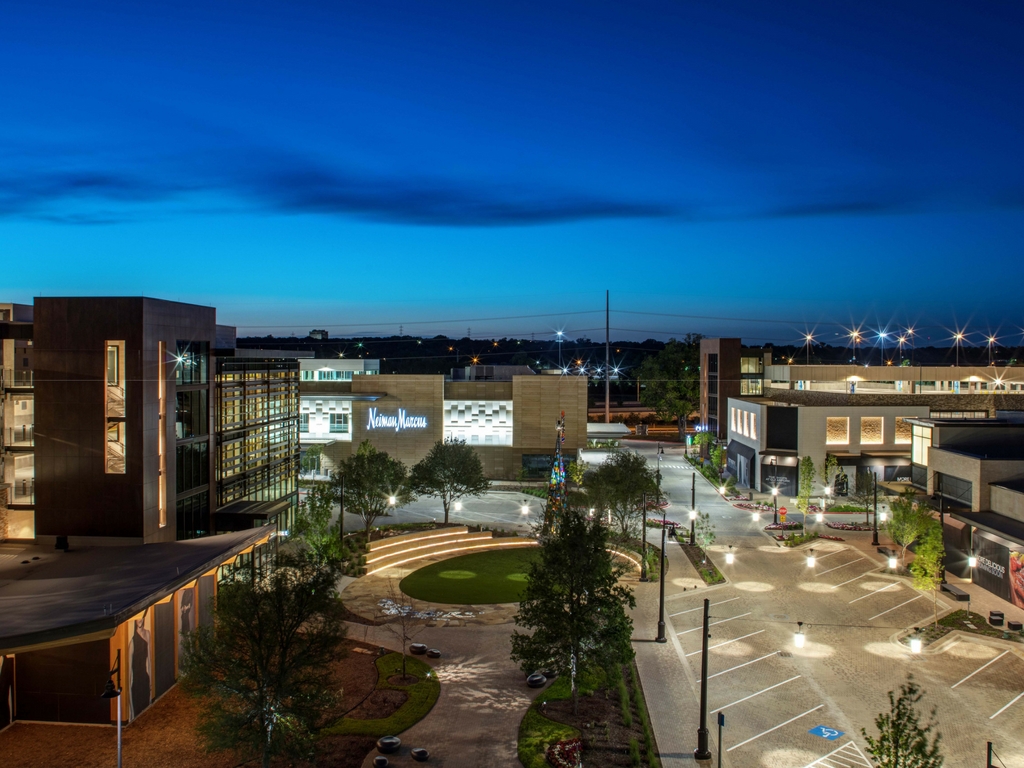 A few years ago when developers started building streets, roundabouts, and bridges over the Trinity River we held our collective breath while we waited to see what was happening. Press Café and Mellow Johnny's popped up and people were doing yoga and a farmer's market set up shop on Saturday's and the area developed a cool and energetic vibe.
Off to the Northwest a little ways earthmovers moved earth, pavers paved roads, and builders built things. Neiman-Marcus announced they would be leaving Ridgmar Mall to move to Clearfork. For most of us that seemed like the start of something that could be pretty exciting. Little did we know, but Simon, the developers of some of the most successful retail outlets in the world, had big plans in the works.
In a little over a week we will all be able to see, and participate in, the initial results of those big plans. We recently had a chance to speak with Monica Esparza, Director of Marketing for The Shops at Clearfork, and she filled us in on opening weekend activities, future plans and some of the very exciting shops and restaurants coming to town.
TANGLEWOOD MOMS: We are so excited for the upcoming opening weekend of September 14th – 16th and the new shops coming to Fort Worth. Can you tell us a little bit about the retailers and restaurants that will can expect to see?
MONICA ESPARZA: Sure. Upon opening, a variety of well-known brands will be open for shoppers to explore, including Tiffany & Co., Louis Vuitton, Tory Burch, Tommy Bahama, Elaine Turner, Malai Kitchen, rise n°3, NM Cafe and more, with more retailers and restaurants slated to open soon.
TWM: Along with those shop and restaurant openings do you have other activities planned for that weekend as well?
ME: Oh yes. We have a variety of events and activities planned including live musical performances from local artists, interactive, family-friendly entertainment, food trucks and retailer-hosted, in-store events.
One of the big highlights will be Friday evening's Block Party from 5:30-9 p.m. featuring a fun-filled evening of music and games that will culminate in a celebratory fireworks display.
On Saturday the 16th, The Pavilion will be the place to be for families. Marvel fans will enjoy action-packed, live performances of Super Heroes United, as well as a meet-and-greet with legendary Marvel characters like Spider-Man, Captain America, Iron Man, Thor and Black Widow. Local favorite, David Chicken will also perform his Live Show Spectacular and bring his heart-pounding, floor-stomping, singing and dancing that's appropriate and fun for all ages.
Throughout the weekend, the entire community is invited to enjoy the sounds of some local entertainment sensations including Uptown Violins, Hunter & Savannah, Matt Barron and Professor D.
Also, many retailers will be hosting in-store events throughout Opening Celebration Weekend with giveaways, refreshments, discounts and more.
TWM: Aside from The Shops at Clearfork retailers, there will be other vendors and organizations participating in the events of that weekend, including Tanglewood Moms.
ME: Yes. There will be complimentary interactive entertainment stations in The Pavilion, including a Ponytail and Braid Bar, a Floral Bar with DIY fresh flower crowns, silhouette portraits by the world's fastest silhouette artist, personality readings and customized "vintage" poems.  There will also be local food trucks including HECHO, Lucky Bee Kitchen, Taco Heads, and Life is Sweet, to name a few, as well as a vintage camper photo booth, and more. During the Block Party, shoppers can relax and enjoy great music by Professor D, retailer activations, oversized lawn games, and have a chance to meet TCU's SuperFrog.
TWM: Earlier you mentioned other retailers and restaurants slated to open soon. Can you tell us more?
ME: Of course. Shoppers will see exciting new stores and dining destinations each time they visit The Shops at Clearfork. B&B Butchers, Doc B's Fresh Kitchen, Cru Food & Wine Bar, City Works Eatery, Pour House and many others will open through the remainder of 2017 and into 2018. Soon, we will be able to announce even more key retailers and restaurants that have been locally sourced and will add to the unique Fort Worth flavor of Clearfork.
TWM: Our audience is comprised largely of moms with young kids. What are some aspects of The Shops at Clearfork that make it an attractive option for families?
ME: Beyond shopping and dining, entertainment options include AMC Theatres® and Pinstripes, both opening in 2018 for the whole family to enjoy. Other amenities include miles of riverfront and Trinity Trails access, and a dynamic central community gathering park called The Plaza, specifically designed for events and activities to be held year-round. A public art program with over six curated pieces can also be found throughout The Shops at Clearfork. Additionally, there is a Guest Services center, complimentary Wi-Fi, device charging stations, ample parking, family restrooms and a nursing lounge, among others.
TWM: Apart from the opening weekend events, I am sure you will be hosting many events and activities in the future. How can Fort Worth families make sure they don't miss anything?
ME: We are looking forward to hosting many family-friendly events in the coming months, including spectacular holiday offerings, and we will be announcing details as soon as they are confirmed. Your readers can stay in the know by visiting our website at www.theshopsatclearfork.com or following us on social media: Facebook – @TheShopsAtClearfork, Instagram – @ShopsAtClearfork, and Twitter: @ShopsClearfork.
TWM: I think all of Fort Worth is very excited about The Shops at Clearfork. Thank you for providing some insight for our readers. We can't wait to join you for your opening weekend events.
ME: Thank you. We are looking forward to providing a new and exciting one-stop shopping, dining, entertainment and office destination and community gathering place for Fort Worth residents and visitors.
There you have it. The Shops at Clearfork opening weekend should be tons of fun for the whole family. Tanglewood Moms will have a tent set up on Saturday the 16th from 11am to 4pm. so come by and say hi. We will have issues of our new magazine, Madeworthy, for you to pick up, as well as complimentary colored pencils for the kiddos in limited quantities.
Come see us!