If we've said it once, we'll say it again… We are SO lucky to have Central Market right in our neck of the woods.
Each season they bring us the best of what nature has to offer and this month's Citrus Fest is just one of those examples. We all know that winter can wreak havoc on our immune system, but getting your daily dose of Vitamin-C can help keep those nasty bugs at bay. We've selected some of our favorite CM recipes that are both tasty and healthy and will keep us on track with our New Year's Healthy Resolutions. Here goes~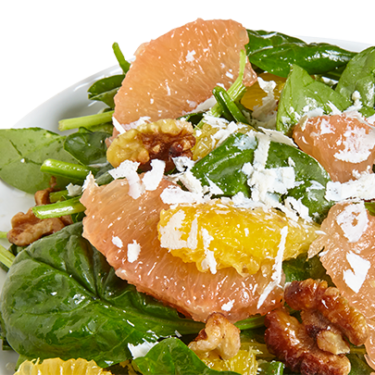 SPINACH SALAD WITH CITRUS VINAIGRETTE – yields 4 servings
Ingredients
1 bunch spinach leaves or 6-8 oz baby spinach
Salt and pepper
3/4 cup canola oil
1/2 cup toasted walnut halves
4 oz ricotta salata
1 Ruby red grapefruit supremed
3/4 cup extra virgin olive oil
2 limes
2 lemons
1 Ruby red
1/3 cup champagne vinegar
1 shallot minced
1 garlic clove minced
Instructions
Juice the grapefruit and oranges.
Grate the zest of 1 lemon and 1 lime.
Peel and juice the lemons and limes.
Combine the lemon and lime zest, lemon, lime, grapefruit and orange juices, garlic, shallot and vinegars in a bowl and mix well.
Whisk in the olive oil and canola oil gradually. Season with salt and pepper.
Peel the grapefruit and oranges and pull apart into sections.
Place the washed spinach in a bowl with the grapefruit sections and walnuts.
Toss with 1/2 cup of the vinaigrette. Add more dressing if desired.
Arrange the salad on serving plates, being sure that each gets a few grapefruit segments and walnuts.
Sprinkle each salad with crumbled ricotta salata and serve immediately.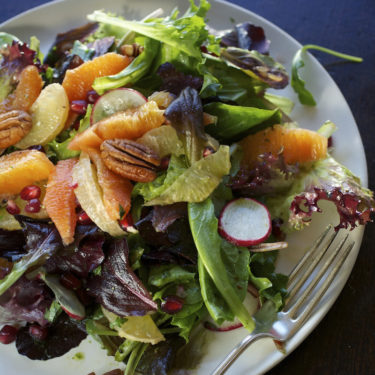 POM-POM CITRUS SALAD – yields 4 servings
Ingredients
Dressing
2 to 3 oranges or tangelos, juiced
Bunch of Basil
1 tablespoon dijion mustard
3-5 tablespoon olive oil
Salt and pepper to taste
 Salad
4 large handfuls of Spring Mix (green leaf lettuce, romaine, or red leaf lettuce)
1 large pomegranate
1-2 oranges or tangelos, supremed (sectioned)
2 radish, thinly sliced
¼ cup pecans, roasted
Instructions
Dressing:
In a blender or food processor, blend juice with basil, and mustard. Drizzle in olive oil. Season with salt and pepper as necessary.
This dressing is meant to be thin and will lightly coat salad
Salad:
Wash and chop the greens, place in a salad bowl, and set aside.
Peel and open the pomegranate. Remove the seeds and put them in a separate bowl. Add a handful of the pomegranate seeds and ½ of the orange sections to the bed of greens.
Pour dressing over the greens and mix with your hands.
Sprinkle the rest of the pomegranate seeds, the orange supremes, sliced radish and the toasted pecans on top of the salad.
Pro-Tip: Peeling pomegranates underwater (a full sink or big bowl will work) allows the seeds to sink and the pulp to float – and creates less of a mess, which makes everyone happier.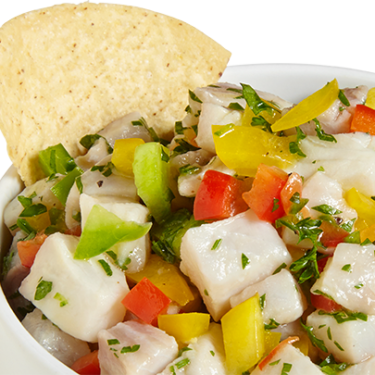 FESTIVE CEVICHE – yields 16 servings
Ingredients
5 lbs firm fleshed fish cut into 1/2 inch cubes
2 lemons juiced
2 limes juiced
1 red pepper finely diced
1 green pepper finely diced
1 yellow pepper finely diced
2 jalapeños seeded and finely diced
1/2 cup cilantro leaves coarsely chopped
1/2 cup parsley leaves coarsely chopped
1/2 cup extra virgin olive oil
Salt and pepper
Tortilla chips or crackers for serving
Instructions
Spread the fish evenly in a non-reactive pan.
Mix the citrus juices and pour over the fish. Cover and refrigerate for 2 hours. The citrus juice will cook the fish throughout.
Add the rest of the ingredients and season with salt and pepper. Serve with tortilla chips or your favorite cracker.
If you're ready to make an even more serious health change and need help doing so, please check out our newest Madeworthy sponsor located in the Trinity Commons shopping center. Profile by Sanford is a personalized nutrition, activity, and lifestyle coaching program backed by science and individually tailored. They even promise you'll lose 15% of you rbody weight after 12 months!