One of my goals for this year has been to focus on developing a more equitable work/life balance which, for me, means spending more time with my family during waking hours. With four little ones spending time with family generally means doing something for or with the kids. It's fulfilling and wonderful to watch them grow and explore; to teach them and see them learn, but between work obligations and children's activities, date nights have been few and far between lately.
Last week my mother in law offered to have all of our little munchkins over for a sleep over on Saturday night, so the hubs and I planned on making the most of it. We both love the Near South Side area with its eclectic panoply of bars and restaurants, collectively focused on local promotion and sustainment. The renaissance this area has enjoyed over the last 5 years is nothing short of inspiring, so we decided that's where we'd spend our unfettered evening.
One of the newest additions to the Magnolia scene is Fixture. We'd both heard good things about Fixture from separate sources so we made it our first stop. Set in the old WF Laurence Fine Flowers building, which I'm guessing was built in the 20's, the space is a refreshing blend of rustic and modern.  We arrived pretty early (we were really excited to go out) and had the bar to ourselves which was great because we had the undivided attention of the bar manager, Trevor. Trevor is the creator of the Fixture cocktail menu and from what we sampled he knows what he's doing.
One of the main things you need to know about Fixture is that they work very hard to source their food and beverages locally. While all the liquor and wine isn't from Fort Worth, or even Texas, they are all American made. As for the beer on tap, it all comes from Tarrant County. The hubs had a gin and tonic made with gin from San Francisco, which he described as very smooth with a perfect juniper flavor. I opted for a Hemingway's Daiquiri. Trevor described this cocktail as a pre-prohibition style cocktail which apparently means it isn't an alcoholic smoothie with a little umbrella in it. Rather it tends toward the bitter and sour ends of the flavor spectrum. I pictured Hemingway drinking one of these pink martinis and it made perfect sense; it was as bold and refreshing as a Key West sunset.
About that time the owner/chef of Fixture, Ben, made his way to the bar and introduced himself. Ben is as down to earth and friendly as Trevor and we chatted for a while about his culinary background and Fort Worth. I was getting a bit peckish and asked him about appetizers. He suggested the Beet Fries. I love beets in any form so I was sold but my husband is convinced beets are made of dirt and dirt and therefore gives them a wide berth. Ben put his money where his mouth is and told the beet hater if he didn't like them, Ben would buy 'em. After dipping his first beet into the spicy aioli and the pepita chili limon mix the beet hater was converted and Ben was off the hook for the beets. We finished up at Fixture with another G&T for the hubby and a spectacular Petite Sour from local brewery, The Collective Brewing Project. We said our goodbyes to our new friends and headed for dinner at Cannon Chinese Kitchen.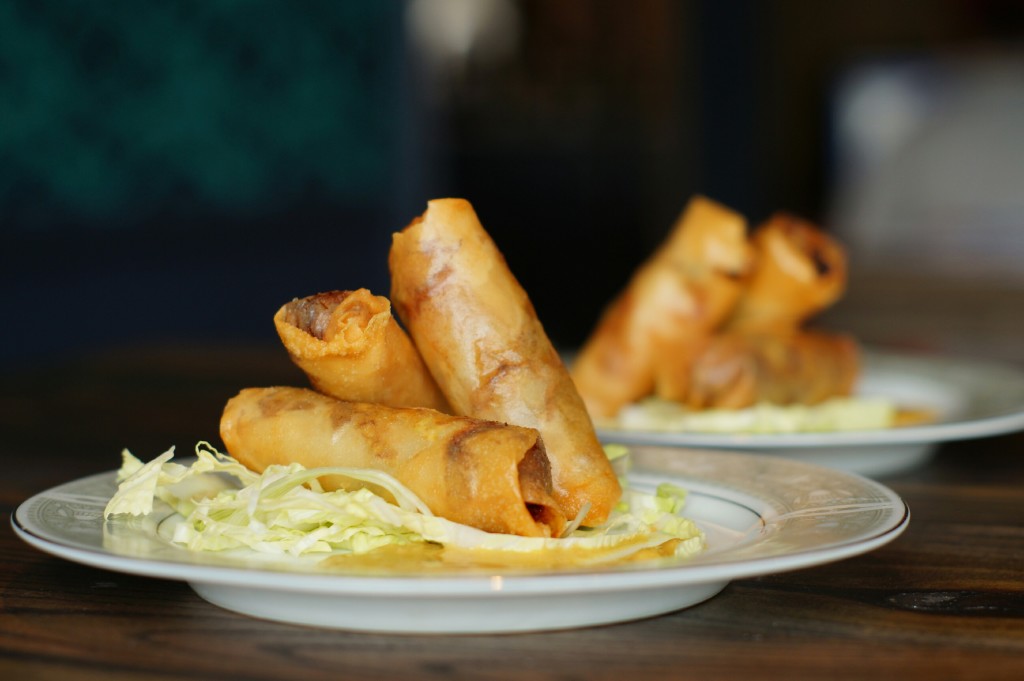 Cannon Chinese Kitchen, the latest offering from the owners of west side landmark Tokyo Café and Magnolia Avenue stand-out, Shinjuku Station, is billed as traditional Chinese inspired dishes. All I know is it's really, really good. And I don't even like Chinese food all that much. The difference at Cannon is everything tastes like it is made from scratch the way a grandmother would.
First, you have to know that Cannon is super cute. It's in a cool little pre-war, Near South Side house converted by a very talented design team. From the bold Chinese wall paper in the dining room to the random splash of turquoise here and there, Cannon is a very pretty place to have dinner. But the main feature here is the food. The menu itself is small but every dish we tried was amazing. We started out with the Heritage Pork and Leek Dumplings that were by far the best dumplings I've ever had. Ever. We followed that up with the tangy and delicious Sweet and Sour Pork Ribs and finally the most amazing Pork and Shrimp Spring Rolls. We also had a short but very nice conversation with one of the owners who is a member of the Tanglewood Moms Facebook group. She and her family have done an outstanding job with developing all of their restaurants and now that we've been to Cannon we can recommend it as strongly as we do Tokyo Café and Shinjuku.
While we were at Cannon I posted a request for dessert spots on Tanglewood Moms FB group and as usual our amazing little community responded within minutes. We got several suggestions but the winner was Melt. We hadn't been to Melt before but we'd heard how good it is so we weren't surprised to find a line literally our the door. The efficient folks working the ice cream scoops made quick work of the queue and it wasn't long before we were sharing a double scoop in a waffle cone with a couple dozen other ice cream aficionados sitting on the colorful Melt park benches facing Rosedale. Hubby let me choose our flavors and I went with a scoop of Chocolate Chocolate and a scoop of Coconut Curry. Coconut Curry ice cream, you say? YES, I say! So yummy. The Chocolate Chocolate is far from your everyday chocolate ice cream; it's amazing, but the Coconut Curry was over the top good. For me, the best thing about Melt ice cream is the fact they walk the line between creaminess and iciness perfectly. You know how some ice creams are too creamy and some are too icy? Well, Melt ice cream isn't either of those. It's just right.
While at Melt we texted some friends to see what they were up to and as luck would have it they were out on a date too. We decided we'd meet at The Bearded Lady for a beer and then introduce them to Fixture. The Bearded Lady, if you haven't been there, is a very hip spot. It's all about the beer here which means you can get pretty much any beer from anywhere, but cocktails are out. The place was packed so I grabbed a spot on the front porch while my husband went to the bar for a couple of Monk's Café Flemish Sours. The weather was nice, not too hot, so the porch was perfect. It was nice and homey and we chatted with a few folks while we waited for our friends. I loved the Bearded Lady. It has a cool vibe and everyone was extremely friendly. When our friends arrived they were in more of a cocktail than beer mood so we headed back over to Fixture for a night cap.
Rather than grabbing a barstool we opted for a table on the patio this time. The spacious patio was hopping but not crowded and it was a really fun atmosphere. I ordered another Collective Brewing Project Petite Sour (I know, I know. I guess I like sour drinks.) My friend's husband ordered a Dripping Springs vodka and tonic while my husband and my friend went for a French 75 which is basically a champagne cocktail with gin, lemon juice and champagne. They both declared it delicious. In fact, my husband might have had two. After that we said goodnight to friends old and new and headed home.
The Near South Side is a vibrant and fun area of our city and we are so happy for the transformation that is taking place there. We've heard rumors of continued development of the South Main corridor and look forward to seeing that come to fruition. Hopefully, the planners of that development will maintain the individuality and personality of the neighborhood and not give in to the commercialism that has become the hallmark of many recent developments.
In the meantime, do yourself a favor and have fun exploring the fantastic and unique offerings of the Near South Side and let us know what you find. We're already thinking of ideas for our next date night.
Cannon Chinese Kitchen is offering our readers a drink special, the Effen Bob Barker for $5 (a $4 savings) and please comment below for a chance to win a $25 gift card to Melt Ice Cream. Just let us know what you liked about this blog post and who you want to take to have an ice cream with you! (Winner announced be announced July 2nd..be sure to check back here on this post!)