There's been a lot of "taco-bout" Austin City Tacos (517 University Drive) since it recently opened one block north of West 7th Street. The Austin-inspired taqueria's menu was developed by Juan Rodriguez, the visionary chef behind Magdalena's.
The idea behind the restaurant is to bring a bit of that cool Austin vibe to Fort Worth. Austin is well known for its Central Texas barbecue, and that smoked meat tradition is omnipresent at Austin City Tacos. The taqueria even installed a wood-fired smoker in its kitchen.
Austin City Tacos offers around 20 tacos, with options ranging from smoked-meat-centric tacos to quirky options like the salt 'n' vinegar shrimp taco. You can also find house-made guacamole, fire-roasted salsa, crispy fries served with hot queso, specialty soft-serve ice cream, NITRO cold brew coffee, cold beers, and frozen margaritas. True to Austin form, the vibe of this restaurant is understated and hip. There's ample community seating and an outdoor patio. On a recent visit, I sprung for three popular tacos.
The Bohemian came wrapped in a handmade blue and white corn tortilla. A generous mound of smoky chopped beef (which was a little on the salty side) was topped with fresh coleslaw and a generous scoop of piquant guacamole. The creamy and crunchy toppings added a nice textural contrast to the bits of chopped meat. The smoky Guajillo Sauce (handmade on site) livened up an already muy delicioso taco.
My most adventurous pick that afternoon was the Salt 'n' Vinegar shrimp taco. The salt and vinegar flavors came via potato chip toppings. A light creme sauce was the only other discernable topping. Three large battered and fried shrimp were the main attraction here. The plump and mild shrimp could not have been fresher.
I was curious to try something from the breakfast menu, which is served all day. The Migas was a decadent pile of scrambled eggs, cheddar cheese, avocado chunks, diced potatoes, and pico de gallo. Everything was fresh and delicious, but the taco benefited from a generous drizzle of hot sauce.
The locals are already raving about Fort Worth's newest taqueria. As I wrapped up my recent visit, I overheard an excited customer brag about how he was visiting for the second day in a row. Austin City Tacos is definitely a locale I'll revisit too.
Austin City Tacos is open Monday through Wednesday, 7 a.m.-10 p.m., and Thursday through Saturday, 7 a.m.-11 p.m. Austin City Taco Co. is closed on Sunday.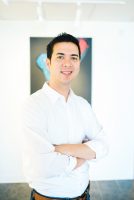 Edward Brown is a writing tutor and piano teacher. He is also an award-winning writer for the Fort Worth Weekly and volunteers for numerous Fort Worth nonprofits.