I'm a Texas girl, born and raised in this great state. I've tried to relocate several times throughout my life because of my true love for the ocean and the mountains, but the door always closes with a voice in my heart that says, "You can't leave here just yet, there's still some things left to do." I sigh and surrender [cue the waving white flag on a stick].
I could waste a lot of emotional time being frustrated about it, but why would I do that when I can see all the beauty and opportunity in what God has provided for me right here? Honestly, since joining the staff of Tanglewood Moms and Madeworthy, I have had so many privileges and opportunities to know Fort Worth and the people and businesses we serve. I get to play a part in telling the stories of what makes Fort Worth great! How cool is that?? It is not a role I take lightly, I promise!
So, with that privileged role bestowed on me, allow me to introduce you to an up and coming country music singer/songwriter named Alex Bellin who also just happens to have a deep-rooted love for the mountains. In November of 2019, Alex filmed the video for his song "Timberline" at local outdoor sports shop CD Ski & Sports , owned by Jared Shope. "I have been a full time musician and songwriter for the past year," said Alex, "and this song has always been one that speaks to me and to my fans. I wanted to record a live video in a locally owned business to sort of show, in a visual form, how much the mountains mean to a lot of FW people. I reached out to Jared and he was kind enough to set up a meeting, share my vision, and sponsor the video."
Alex moved to Fort Worth to go to TCU and found his community as a Young Life leader at Arlington Heights High School. He started writing songs in college, and the inspiration for the song "Timberline" came from some characters he met working as a horse wrangler at Frontier Ranch, a Young Life camp in Colorado.
I asked Alex why he was so passionate about country music in particular. He said, "I love all genres of music from soul to reggae to bluegrass, but what made country music stand out to me as the career I wanted to pursue were the lyrics and the stories the songs tell. The best country songs are like a Hemingway novel and a catchy pop song got in a bar fight. I find inspiration for my lyrics in a lot of the day to day people I meet. For example, in "Timberline" it was a brief experience with a farrier at Trail West [another Young Life camp in Buena Vista, Colorado] maybe mixed with another guy I've known and blended into an original narrative."
After watching the video for the first time, I could see Alex and Jared's vision come to life. I'm not going to spoil it and go into detail…you'll just have to watch it for yourself! Be sure to also look for gifted musician, Travis Curry, of the band Vandoliers playing fiddle alongside Alex. The two play lots of duo shows around North Texas. The sweet melody of Travis's fiddle adds a raw "old country" sound I love.
Fort Worth is packed full of local talent and businesses who want to make an impact and collaborate with their community. This is exactly what Alex has done in partnering with his music and local business, CD Ski & Sports. Two worlds collide to bring in an opportunity for growth and help make a dream come true!
You can follow Alex's Facebook page here to find updates of where he will perform next or to hear a little more from this aspiring country music artist.
Peace, Love, and Health,
Jennifer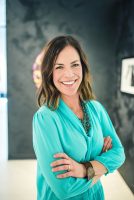 TWM's Associate Publisher Jennifer Kieta is a native Texan, born and raised in Houston. She graduated from Texas Tech University and has lived in Fort Worth since 1996. After marrying her husband, Brian in 1998, Jennifer worked as a Child Life Specialist at Cook Children's Medical Center for 9 years before becoming a full-time mom to her two daughters. Her passion for helping people in healthcare transitioned into the fitness world in 2014. She now teaches spin and HIIT classes at Zyn22 and Pilates at Studio 180 in Pop's Gym. December of 2017, Jennifer was diagnosed with breast cancer. Her journey through a double-mastectomy and being able to call herself a Survivor and Overcomer has allowed her to have an even greater passion for helping people embrace every day and take care of themselves one day at a time.