When I was 23 years old, some friends and I went to this beautiful old church in Lindsay, Texas. As we admired the art and architecture, one of my friends looked up and started reading a Latin inscription painted high in the woodwork of the ceiling. I could see that there were words up there, but there's no way I could have read them, no matter what language they were written in. A couple days later, I went for my first eye exam in a long time and walked out with a prescription for some glasses.
Some people actually like wearing glasses, or so they say. Over the years my glasses lenses kept getting thicker and thicker. I hate wearing glasses, so I switched to contacts. Of course, switching to contacts meant I still had to wear glasses a lot, but now I got to poke my own eyes twice a day. I hate contacts, too. After about ten years of this, I started dreaming of LASIK.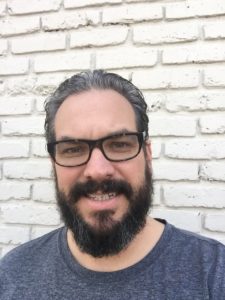 At first, I was sort of scared of the idea of having somebody shoot a laser in my eyes, but after everyone I spoke to who had taken the LASIK plunge described it as the best thing they have ever done for themselves, I started to get comfortable with the idea. The other big obstacle however was cost. As a young man starting a family, the idea of spending that kind of money on myself for something I didn't need didn't make sense to me at the time.
Then one day at work, someone in HR told me a Flex Spending Account could be used for LASIK. "Jackpot!", I thought, but that year my wife got pregnant, and I was happy to trade crystal clear vision for a bouncing baby boy. As it turns out, I traded crystal clear vision for a beautiful baby girl a little over a year later, and a little over a year after that, I traded crystal clear vision for a pair of bouncing baby boys. The year after that, I spent my LASIK money on a vasectomy.
Just kidding. Actually, I changed jobs to one that didn't offer a Flex Spending Account, and I was back to square one. Another 10 years has passed since I first decided I wanted LASIK. Life happened. A lot of exciting and crazy and fun life, and now, after 20 years of glasses and contacts, I have decided to give myself the gift of LASIK.
With total confidence, I have decided to let Dr. Richard Chu of Chu Eye Institute shoot a laser into my eyes and give me glasses-free vision. Dr. Richard has performed LASIK on many of our friends, and I have known the Chu family since middle school when Dr. Robert Chu (Richard's older brother) and I were classmates at Fort Worth Country Day School. I have entrusted my eyes and my kids' eyes to the Doctors Chu at EYEWORKS Group for years, so choosing a doctor for my LASIK surgery was a no-brainer.
Prior to getting LASIK, I will need to be out of my contacts and wear my glasses for the last time for about three weeks. Then, after Dr. Richard works his magic, I am going to drive up to St. Jo and see what all that Latin was about.