Madeworthy and Edgar Miller have made the difficult decision to postpone 1000 Words. We will let you know when we reschedule it. Thank you for your understanding. 
Fascinating people are rare. But once or twice in your life, you will meet a truly fascinating person. Whether as a result of their circumstances, experiences, interests, or accomplishments, they simply stand out. Fort Worth photographer Edgar Miller is one of those people. 
The son of an oil executive, Miller's family's circumstances meant his childhood was spent traveling the globe and living in some of the most beautiful and exotic places in the world. Born in Port Arthur, Miller has lived in Dakar, the Canary Islands, Spain, Singapore, Cairo, Texas, and Alaska, while the family traveled throughout Europe, Africa, North America, South America, and Asia. This peripatetic existence very likely accounts for Miller's magnetism. 
Aside from his family history, Miller is a modern-day Renaissance man whose interests encompass both art and science. In fact, he was a pre-med major at Lamar University, and he worked as an EMT on an ambulance. While those experiences ultimately worked to move him towards a career in art, he still dabbles in science. "In 1986, I photographed Haley's Comet. After that I really got into astronomy as a hobby I can photograph," says Miller. 
As for the arts, Miller says he both draws and paints, but he really loves the immediacy of photography. "My father was my biggest influence when it came to getting into photography. Because we travelled all the time, he was always taking photos and teaching me about it. I even broke one of his cameras once when I was a kid." 
In 1978, Miller was introduced to the dark room and fell in love with the process of developing his film and printing his photos. This clearly spoke to his love of science as well. "I was really into chemistry at the time, so that process really spoke to me." 
At Lamar, Miller was taught and mentored by renowned photographer Keith Carter. "He was a huge influence on me. Keith helped me to understand poetic imagery and the power of a photograph," says Miller. "For me, photos are powerful because they help people remember." 
Now Miller teaches others how to take photographs that are worth remembering. Having spent several years working and teaching at Fort Worth Camera, last year Miller opened his own studio in the Near Southside. Here he pursues his art as well as commercial photography and portraiture. Perhaps most importantly to the rest of us, though, is that Miller is teaching. He teaches all aspects of photography to the novice as well as the accomplished photogs. He even arranges curated trips to stunning locations like the Palo Duro Canyon and the Davis Mountains, where unique landscapes and fathomless night skies offer endless opportunities for sublime photography of images that are worth remembering.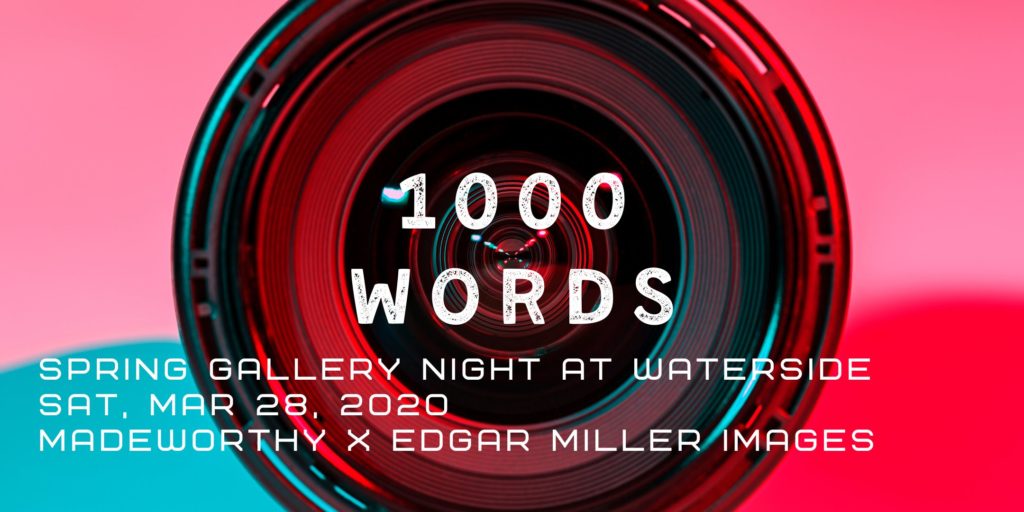 Madeworthy is thrilled to partner with Edgar Miller Images on an upcoming photography show called "1000 Words." Miller will curate the show, highlighting his own works and those of several other photographers. The show will be held at the space next to REI at Waterside and will coincide with Spring Gallery Night, on Saturday March 28th. We are holding an open call for photographers to submit their work to be considered for inclusion in 1000 Words. There is a $15 entry fee and submissions may be through Eventbrite.