It was a yellow, sunshiny Easter morning, April 12, 2020. The kids were charging through the dewy backyard to hunt down eggs. Maddie popped up with a pink one from behind the grill. Drew snatched the blue one from between a V in the tree branches—dimples, competition, counting. We wouldn't be going to church on Easter Sunday for the first time in actual ever due to the COVID shutdown. Gordon took a video of the kids on his iPhone. Eloise watched obsessively with her swimming, planetary eyes for an egg to roll free.
For Easter lunch, I was serving up the plates — ham, scalloped potatoes, asparagus — and that's when a weakness started just above my shoulders, in my neck. As I scooped, it began to settle down, down, down, heavy over my arms and through my spine. It was gentle, gradual, and silent. I needed to sit.
I got up to take a family picture. I had ordered a ring light and tripod for my auditions and wanted to try it out. I positioned it opposite the fireplace and mantel, then rounded up the family from their various corners. Yes, we were dressing up. Yes, Eloise would be included. Everybody 'say cheese' on three.
I needed to sit down again.
Later in the day, when the kitchen had been cleaned and the leftovers consumed on paper plates, I rallied for my usual solitary Sunday walk in Park Hill, the neighborhood adjacent to ours. The grand 1930s Tudor homes had shut their eyes under the eternal, continuous canopy of live oaks. I passed some friends walking their dog on the other side of the street. Waved. Began to notice the way my right arm was starting to bend at the elbow and press itself into my side as if trying to buttress my torso. I needed some propping.
Propping?
This was trouble.
After what felt like ten hours of walking, I fell through the back door and onto the couch. Thud.
Me, the boulder, had rolled to a stop, and it was hard to get up much after that.
My thorn arrived on a beautiful day, on the brightest and best of holidays. I was surrounded by goodness, by gifts, by God himself, and then — I couldn't get out of bed. No one would know what to do after that for months and months and months.

Thus begins Chapter Two of Chronic Grace: Prayers, Saints, and Thorns That Stay.
My first book.
Well, my first "pre-book." This was never meant to be a book, and certainly not my first one.
Oh, I had such grand plans for my first ever capital-B book. It was going to be a hilarious, bitingly incisive memoir, probably about motherhood and how lunacy-inducing that is, or about being an actor and how even more batty that makes you. I had all kinds of cute ideas that didn't drag my actual body into the material.
Chronic Grace was a book I never thought I would write because I had been hijacked by a bug I never wanted to catch (probably long-haul COVID-19), which was quickly complicated by another "C-word" (probably cancer), which led to a surgery that was most definitely not on my bucket list. Thorns in your life never are.
And I survived.
I survived and wrote a devotional about the whole experience. I heard those sold well, and I wanted to write something that would see the light of day. For all my grand dreams of producing the next Anne Lamott-esque Ultimate Gold-Star Memoir, I knew memoirs didn't usually push up out of the dirt of obscurity (especially if you weren't already a famous persona), so the idea of tackling the genre seemed delusional.
Turns out, it's also delusional to try to sell a devotional.
After a long, unfruitful pursuit of a literary agent and a growing stack of ignored book proposals, I was grateful to learn my father's publisher, Leadership Books, was giving me consideration, probably out of nepotistic pity. They liked my whole "chronic grace" direction, but the instruction was clear: this needs to be a story, not a devotional. Suddenly, I had carte blanche to realize my memoir dreams. But then a doubt entered stage right.
The publisher thought the story was strong, but I was starting to question the validity of my experience. I had heard much more dramatic, harrowing stories of chronic suffering from about five other people in the Target checkout line that week alone. Those people had certainly endured more compelling sagas. Who was I to hold my story next to theirs, or presume to provide any wisdom?
So I decided to drag some friends along for backup. Maybe you've heard of them, maybe you haven't. They're old church mystics and saints of the sackcloth variety: Ignatius, Augustine, Teresa of Avila, Julian of Norwich, and Francis of Assisi. You know, real charmers. But boy, did they ever have a vision for grace amid suffering. For all their oddities and foibles, each had such rich, specific ideas of what prayer could be, not in spite of ongoing, unfixable thorns, but because of them. I roped in their stories and insights to bolster mine.
What I discovered, much to my surprise, was that I didn't need them. Not that I kicked them out of my book. (I didn't, and I'm glad.) But I realized that my story was, in fact, worth telling in and of itself. Not because it's gorier or darker than yours, but precisely because it isn't. Over time and after talking with friends and family about the whole concept of chronic illness or pain or problems, it soon became very clear that thorns aren't typically melodramatic, hot-pink tattoos we wear around in public on an everyday basis.
They're mostly subtle.
What thorns do is go quiet after a while. They don't want to be talked about anymore: the difficult marriage, the ongoing struggle with anxiety, the grief that seems to never let up, the relentless-yet-boring guilt from the past. We just try to get over ourselves and focus on other things. And yet the constant, voiceless ache remains. These private, pedestrian griefs are silently poking most of us most of the time. Looks like I'm willing to bet my first book on it.
Yes, the saints had more intense trials (Julian survived two waves of the Black Death), but their opportunity was the same as ours: to tell the truth about our suffering to God, however big or small it seems to be. See if He can handle it. See what happens next.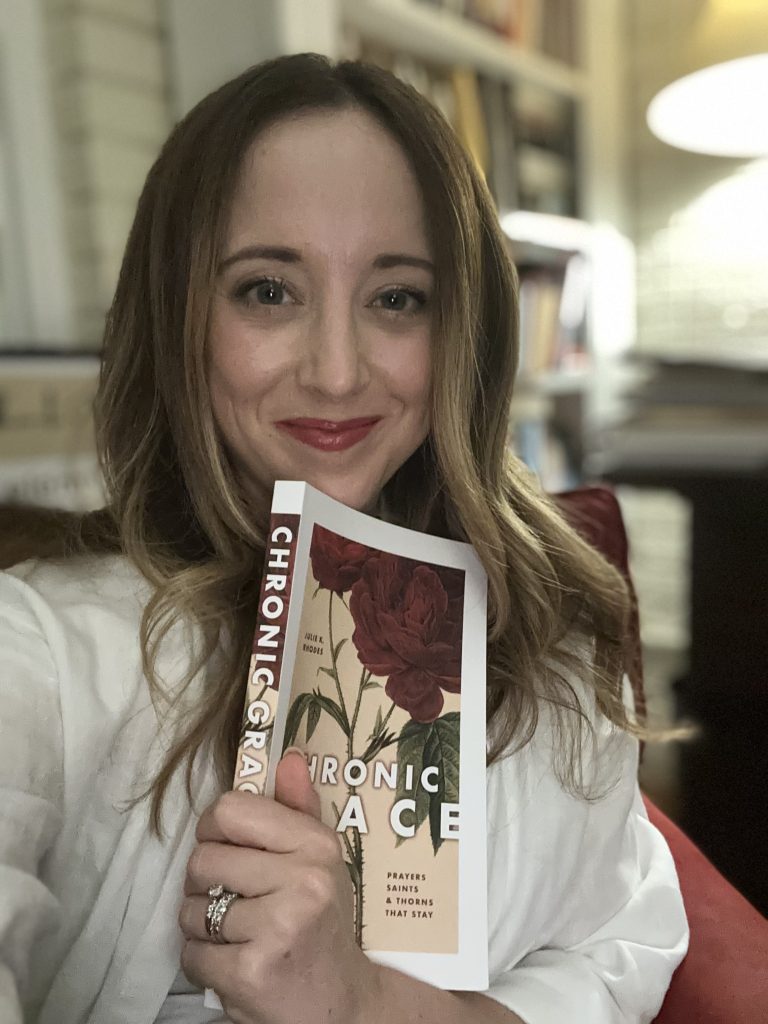 Chronic Grace: Prayers, Saints, and Thorns that Stay will release October 1, 2023, on Amazon and LeadershipBooks.com.
On September 16, Julie will celebrate the launch of Chronic Grace at Amphibian Stage Productions with bar and food generously sponsored by Ciera Bank. To reserve a spot, join Julie's launch team and get the details! Scan the QR code below: