We started planning our mother-daughter trip to Paris last fall when we made a wish to spend my mother's 70th birthday in Paris. She shares a March birthday with my daughter who was turning 10. My niece was also turning 20 that month. We thought how memorable it would be to make it a big girls' trip and include my niece's mom and her sister.
Planning the trip was so much fun, but now that the trip is over, we can share our wisdom on what we liked best and how much time to plan for each adventure. Kaleigh Kirkpatrick, a local travel agent told me, "I try not to schedule out more than four to six hours of any day when traveling. It's always nice to have some open time to see where the city takes you!"
We spent eight full days in and around Paris, but if I were to make a perfect itinerary to hit all the major tourist spots in Paris proper, I would plan for five or six days at most. Below you'll find a schedule you can use to plan your trip, knowing that most of those locations are close by one another.
Before traveling you can pre-purchase a museum pass (most museums have free entry for children 18 and younger), as well as book your tour of the Eiffel Tower, Palace of Versailles, or tours of any of the museums. In addition, Harvey Boysen of Gulliver's Travel recommends scanning copies of passports, credit cards, and important prescriptions and emailing them to yourself as a record that you can easily access digitally anywhere in the world. This is good advice for any international travel!
We found a darling three-bedroom Airbnb with plenty of space for a great rate, especially considering we would have had to get two small suites at a hotel. We stayed in Montmartre which was beautiful, but we would have saved on Uber rides had we booked closer to the city center. Paris has great transit options if you are traveling on a budget. All you need is great walking shoes since most of these locations are within a ten to twenty-minute walk.
On the first day of your arrival, you might want to sign up for one of the big bus tours. You can buy a 24-hour pass from one of their route stops. Many of the days we were there were cold and rainy, and the bus provided a respite while still allowing us to check locations off our list.
I think we all agree that the highlight of the trip was the birthday dinner celebration aboard a bateaux-mouches (an open-air tour boat) on the Seine. When we booked, we thought it would be either really cheesy, or completely amazing. It was the latter, thank goodness! After the dinner, we climbed onto the top level of the boat, where we saw the dazzling city of lights and the Eiffel Tower sparkling around us.
There was a tie for our second favorite part of the trip. The younger set loved the perfume making class we found on Airbnb Experiences, while the older set loved the Palace of Versailles. Unfortunately, the gardens of Versailles were closed the day we were there, but the views from the inside were breathtaking even in the winter. If you go in the morning, plan to have lunch at Angelina inside the palace.
Of all the museums, the Musée d'Orsay was tops on our list. Not only is the collection there impeccable, it's easy to navigate and not too overwhelming. For an authentic Parisian experience, visit Montmartre, the neighborhood where many of the artists in the museum lived and worked. Montmartre houses only a few museums, including the Espace Dalí, but you can visit Sacré-Cœur, the stunning basilica on the hill with incredible views over the city, and have one of the street artists nearby sketch your portrait for only 10 euros. It's a souvenir that will always remind you of your Parisian adventure.
Paris is an epicurean's dream. When in Paris, order the escargot, onion soup, steak-frites, and indulge in the pastries, crêpes, and macarons. Bernard Trouche, owner of Saint Emilion and Paris 7th in Fort Worth, suggested Au Pied du Cochon for dinner, and we dined there the day we visited the Louvre since it was nearby. They offer an array of seafood and typical French cuisine, and they stay open until midnight!
They say Paris is for lovers, but with my big city-averse spouse (God love him), a trip for just the two of us was never going to happen. Having this big city adventure with my mother and daughter was just as special, though. I hope my daughter was able to learn a bit from another culture that reveres art, fine food, architecture, and history.
Itinerary
Day 1
Big Bus Tour of Paris (stop at Trocodero), perfume-making class, treats from Aux Merrveilleux de Fred, Eiffel Tower tour
Day 2
Musée d'Orsay, lunch at Angelina, Bateaux-Mouche dinner ride on the Seine
Day 3
Louvre, Tuileries Gardens, high tea at Hotel Meurice, Digital Art Museum
Day 4
Notre Dame, Latin Quarter, Luxembourg Gardens, and shopping along Saint Germain
Day 5
Sacré-Cœur, Espace Dali, have your portrait made for 10 Euros in Place du Tertre, Musée de Montmartre, and Renoir Gardens
Extra Days:
Palace of Versailles, Disneyland Paris, Monet Gardens
2 Hour fast train to Strasbourg (must book in advance)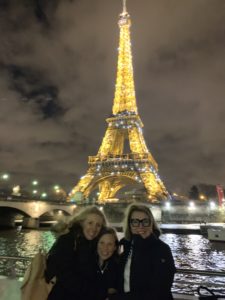 Victoria Wise publishes a magazine in Fort Worth,Texas, raises four awesome kids with her loving husband, and makes time as a board member for non-profits Lone Star Film Festival and Connected Commerce Council. Some of her accomplishments includes being a part of Facebook's SMB Council, being a Founding Member of TCU Neeley School's Women to the Power of 10, receiving the Legacy of Women Award, and having a successful sale of a previous business. She just completed a Kickstarter that reached 100% of their funding goals for newly launching UPPA TEA.