Madeworthy
Creative Cowtown: Unleashing Your Inner Artist
Every artist was first an amateur. 
– Ralph Waldo Emerson 
The phrase "you have to start somewhere" comes to mind when looking for a creative outlet in Cowtown. Fortunately, channeling your inner artist is easy to do here in Fort Worth. I've spent the last few weeks exploring different studios around town and have found so many gems where you can let your inner artiste loose. With options ranging from splatter painting to glass blowing, there is no excuse not to explore your artistic side.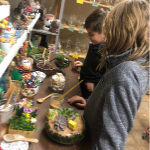 Suz Reyes and Frank Garcia's shop Ephemera, located on Magnolia, is a great place to start. The captivating shop invites you into their whimsical world to create your own terrarium. You start by picking your glass planter and plants from their massive succulent and plant wall, after which they guide you through planting and decorating your terrarium with adornments ranging from gemstones and shells to ceramic dinosaurs and plastic kittens. Ephemera started in 2014 and has grown to accommodate everything ranging from children's birthday parties to full–blown events. Suz and Frank told me to think of them as "your plant's grandparents." They are there to provide long term plant support and help you keep your plants happy and healthy.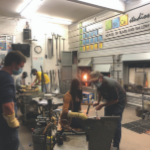 Just down Magnolia, SiNaCa Studios is a non-profit glass studio which offers glass blowing classes for both budding and experienced artists. The art and science of glass blowing is not only mesmerizing to watch but is a unique way to release your artistic side. SiNaCa offers classes geared towards first timers and offers classes in the hot shop, kiln–forming studio, and flame–working studio. SiNaCa's focus is on education and on providing access to the art of glass blowing and hands–on experience to students. Also, check out their annual fundraiser in support of the studio called Vitro Moda, which they are hoping to hold on May 7th. They are passionate about sharing the art with others, and Vitro Moda is a great way to support them.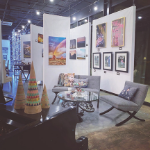 On the West Side, you'll find the brilliant Studio 101 Gallery. Co-Owners Joy Harvison, Jimmy Joe Jenkins, and Bradley Kent have collaborated to open their gallery that will host art exhibitions, hold art therapy classes for all ages, and has an event space complete with a full wine bar and the most gorgeous rooftop patio. With new works on the walls every three months and a completely transformable space (think mobile rolling bar, cabinets, and walls), there is always something new to see. Studio 101 hosts trivia nights, open mic nights, and has an open–door policy which creates a wonderful community for aspiring artists to explore their talents. Classes offered include photography, pottery, painting, acrylic pours, and go on and on.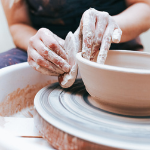 Tucked away in a quaint spot off River Oaks Boulevard, you'll find Front Porch Pottery Studio. Owner Teresa Sanchez started her pottery studio nine years ago after learning the craft on a trip to Japan. Front Porch offers classes for beginners to learn the pottery wheel making a coffee mug, pitcher, bowl, or vase. It's perfect for a girls' night out or a unique date night, plus the classes are BYOB. Plan to spend 1-2 hours crafting your pottery and learning a unique art from a pro!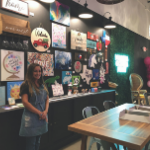 Pinspiration, owned by Fort Worth local Tiffany Richey, is a studio where the whole family can release their inner Pinterest–inspired artist. Upon walking in, you'll find a huge wall full of ideas from wooden signs and guided paintings, as well as the "splatter paint" room. All materials are provided, you work at your own pace, and leave feeling like a DIY hero! Pinspiration can accommodate groups for birthday parties and the splatter room is every child's dream! They cover you in ponchos and shower caps, shut the door, and let you splatter paint all over the walls. You can even add glow-in–the–dark paint. Make the mess there and leave with all your Pinterest dreams come true.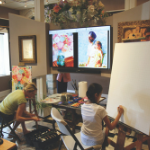 Laert Aleksi Xhaferi's Studio Sabka offers guided art lessons based on your interests and abilities. At Studio Sabka, you can learn oil painting, pastels, watercolors, colored pencils, charcoals, and more. Students range in ages from 8 to 87, and all that is required is to have the desire and passion to create. It would be easy to feel intimidated or overwhelmed at the thought of creating art; however, the teachers here provide everything you need to get started. All supplies including paint, brushes, and canvas are ready for you. The focus is on realism and classically trained teachers will guide you through the entire process, resulting in a painting you and your family will treasure. The studio is open for exhibition on Gallery Nights where students display their work and gain some publicity. Laert says, "I will never forget the most important advice my dad ever gave me. He said, 'You have to love art and be patient, with all of the process, that's what will allow you to understand the depth and wonders of art.'" After 14 years of creating, educating, and representing some of the most talented students and artists in Fort Worth, this has become one of the best art schools in town. 
The French Knot is a full-service needlepoint shop that offers classes, finishing, and stitching services. Originally opened in 1990 and purchased in 2006 by Karen Williams and Paula Fehleison, this shop offers a large selection of canvases and threads for experienced needle pointers, but also offers needlepoint classes for beginners, ranging from basic stitches such as basket weave and continental stitch to more advanced stitches. They are open by appointment only and encourage anyone to call and come in and browse, shop, or sign up for classes, which they hope to start back up in the spring or summer. As the classes are one-on-one, they are nearly impossible to do while staying socially distanced, so they may have to wait a bit longer.  
Henri Matisse said, "Creativity takes courage," but it's easy to get out and explore your artistic side in Fort Worth. There are so many outlets available to let your creativity flow, and you may be surprised at how much you will enjoy getting outside your comfort zone and showcasing your artistic talent.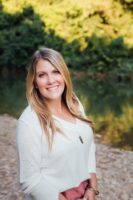 Angela Weaver is a native Texan, raised in Keller, but she got to Fort Worth as soon as she could. At 17, she joined the Marine Corps and served four years active duty. After her military service ended, she went to work for a hedge fund and then a whiskey distillery, both in Fort Worth. Her most important role started in 2009 when she became a mom. She lives with her two boys in Fort Worth and spends as much time as possible on fun adventures with them. She loves to spend her time with her boys outdoors getting the full Boy Mom experience, even if that means being covered in dirt, catching fish, or shooting BB guns. She loves the sense of community she has found in Fort Worth and can't wait share that with our readers.