Quite honestly, I am not sure how I got so lucky. It is easy to become overwhelmed by all of life's stress and chaos, but when I stop and take the time to reflect and look at my life, I am just so thankful. As a single mother to two boys, life can sometimes seem like a day-in, day-out circus act or a full–on wrestling match. Time with our children is, as all parents know, so fleeting and so precious.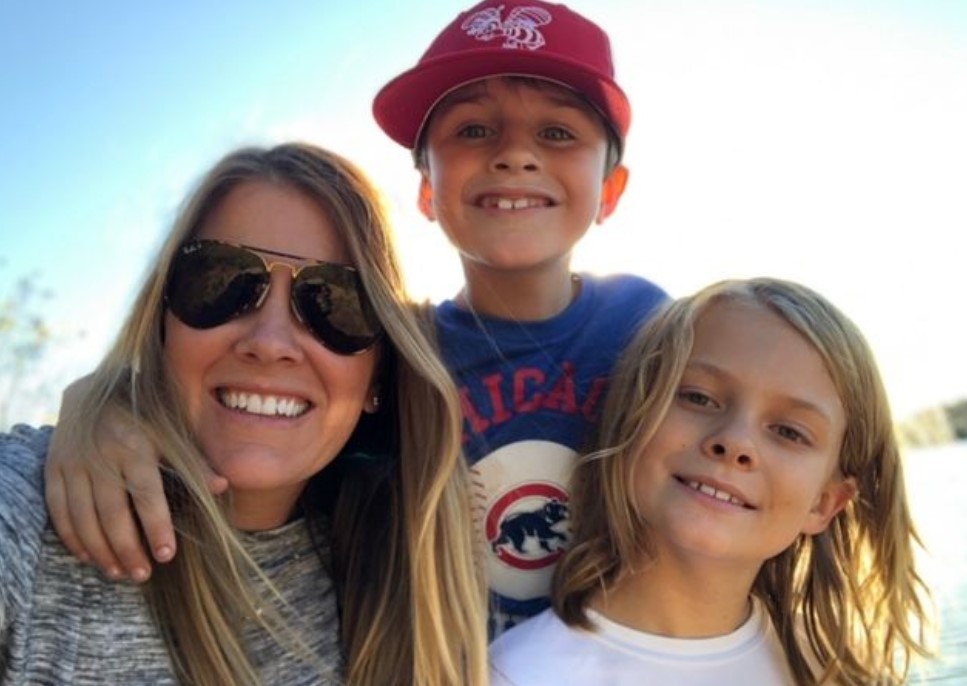 My boys and I do our best to make the most of our time together, but I know those teen years are looming over our heads. Until that time, however, my boys and I can be found out seeking adventures. I try to look at the world around us through their eyes and find things they will not only enjoy, but that will create lifelong memories for them. Looking at Fort Worth from a child's perspective provides such a unique outlook on the city we love.  
My eight-year-old, Hayes, may tell you that the only form of entertainment in Fort Worth is at Main Event; however, when pushed a little outside of his arcade game-infested comfort zone, he has found a few local favorite spots that we all can enjoy all while getting some much-needed fresh air and a break from the dreaded screens. Favorite spots on Hayes' list include camping and hiking, Texas Nature Traders at the Fort Worth Zoo, the Saltgrass Steakhouse patio, bowling, and his favorite candy store.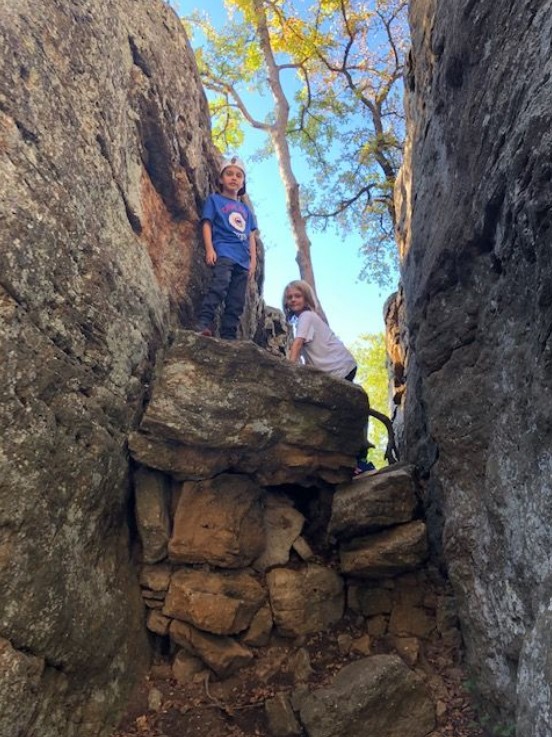 The camping spot of Hayes' dreams is hands down Mineral Wells State Park. Only a 45-minute drive from Fort Worth, this state park has everything you need for a perfect weekend away. From star gazing parties at night, to a lake for kayaking and fishing, to the absolute best hiking trails, you won't hear your kids ask for an electronic device all weekend. Cooking over a fire and roasting marshmallows while the deer walk straight up to your kids and allow them to hand feed them is hard for Mario and Minecraft to top. The hiking trails full of massive, yet climbable, rocks are always a hit. Hayes will race any kid to the top of the rocks and win every time. I'm pretty sure he's part monkey! 
Nature Traders at the Fort Worth Zoo is an interactive program that encourages kids to explore nature and the world around them. Kids can bring in any item they found in nature and learn what it is, where it came from, and then trade it in for points which they can then spend on any of the other collected items. Treasures Hayes has come home with include a cow pelvis (yep, it's huge, and it's in my house), antlers, obsidian pieces, and unique shells. 
For parents and kids alike, the Saltgrass Steakhouse patio is a hidden gem. Kids can feed the ducks day-old bread right from their patio table! Last on his list, but definitely the most important place in Fort Worth to Hayes is the candy store. I was told I couldn't complete this article without mentioning his favorite place for a treat, Pop N Cream. Located in Montgomery Plaza this popcorn, candy, and ice cream store has everything a sugaraholic could desire. The old school candy selection and colorful jars are a win for any kid, big or small!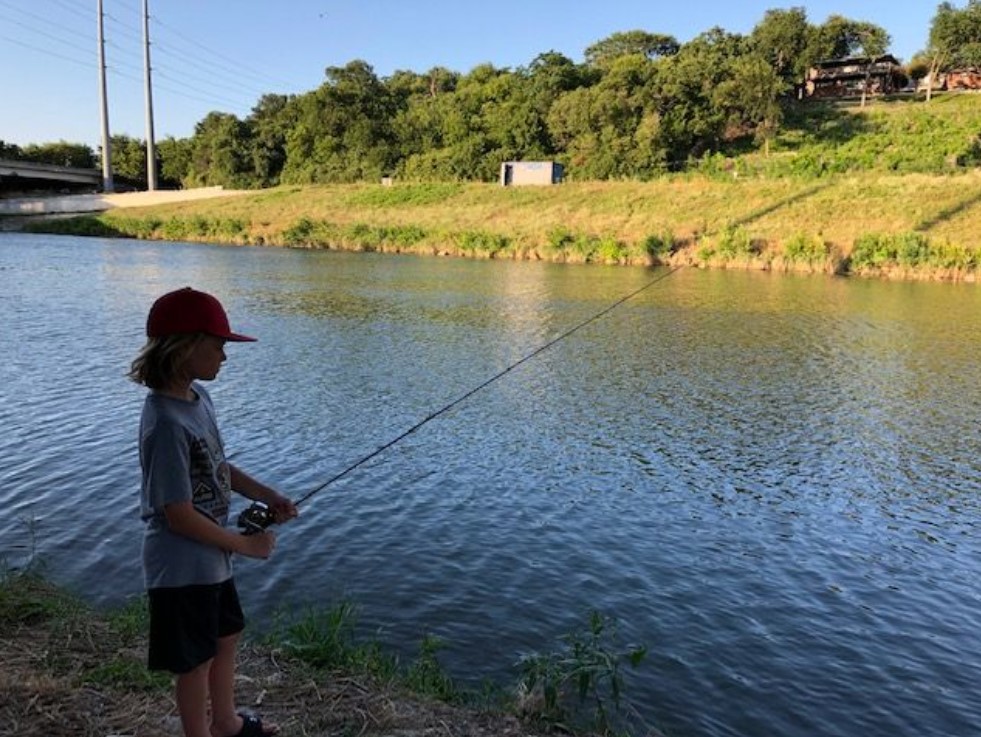 My ten-year-old, Carter, would survive on a diet of pizza if I would let him. Top on his list are pizza places, Airfield Falls, Fort Worth Nature Center, fishing at Eagle Mountain Lake, and his number one love, baseball. When narrowing down his top pizza spots, he was able to trim the list to four.  Partons Pizza, Fireside Pies, Mama's Pizza, and the new Zoli's made the cut. Each spot totally different but all have their place depending on the occasion. For a fancy mother-son date night, Fireside Pies is the place. Need a place for a pizza party with the team after a big game? Mama's Pizza is the way to go. Old school night out with buddies is best at Parton Pizza. If it's a beautiful day and you need a place for the kids to run around and play, the newly opened Zoli's Pizza off Hulen is perfect and is attached to the Cow Tipping Creamery. Win-win.   
Of course, there is more to life for Carter than pizza. Airfield Falls is one of our favorite spots in the Fort. A short hike down the trail, and you will find yourself at a picturesque waterfall that the kids can run and play in, skip rocks on, and splash around in if it is warm enough. No one can skip a rock better than Carter, and he could spend hours here doing just that.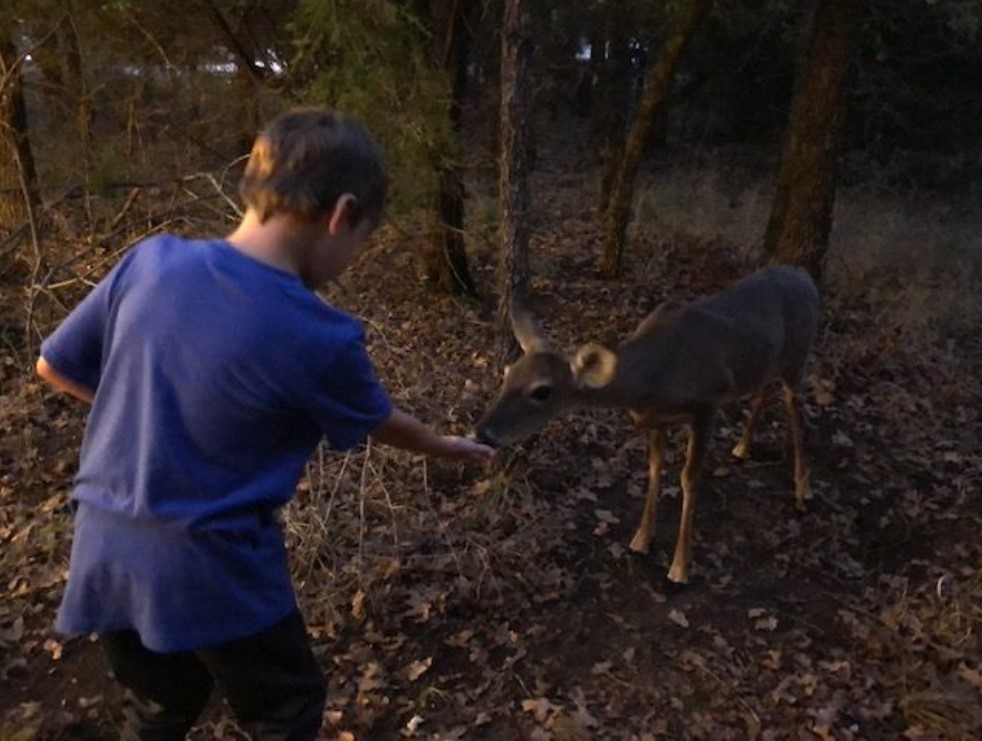 Hiking at the Fort Worth Nature Center is another great way to spend a Saturday. With trails all over and trees to climb, both of my boys can happily spend a day here. The Trinity Trails are also a great way to spend a pretty day. There is an entrance to the trails just down the street from our house which we walk to often. Just a twenty-minute walk from our house, and we can be on the patio at Bar Taco or HG Supply. Both restaurants are dog- and kid-friendly. Speaking of patios, the patio at Augie's Sunset Café on a nice day followed by fishing on Eagle Mountain Lake never disappoints either boy.   
If the weather isn't cooperating, and we don't have a baseball game or practice to get to, a favorite of my boys is old school bowling at Cowtown Bowling. You can't go wrong with the classics, and this bowling alley is about as classic as it gets and is perfect for some family fun.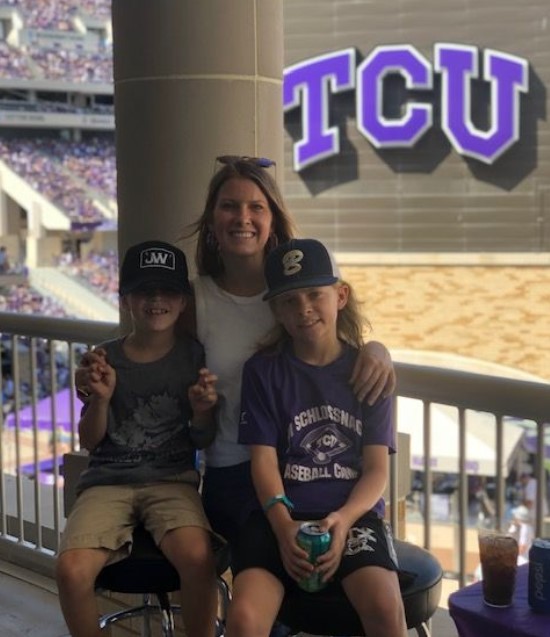 Lastly, I would be failing you all if I didn't include TCU football, baseball, and basketball games on their list of fun things to do! As Fort Worth locals, supporting the Frogs is a must, and there is no way to have a bad time at a TCU game. 
This, ladies and gentlemen, is Fort Worth in a nutshell from my boys' perspective. Get outside and take in all the beauty and adventures this town has to offer and soak up every second with your kids while you can.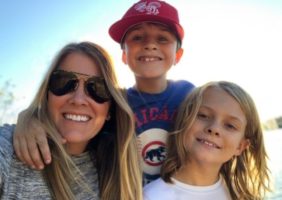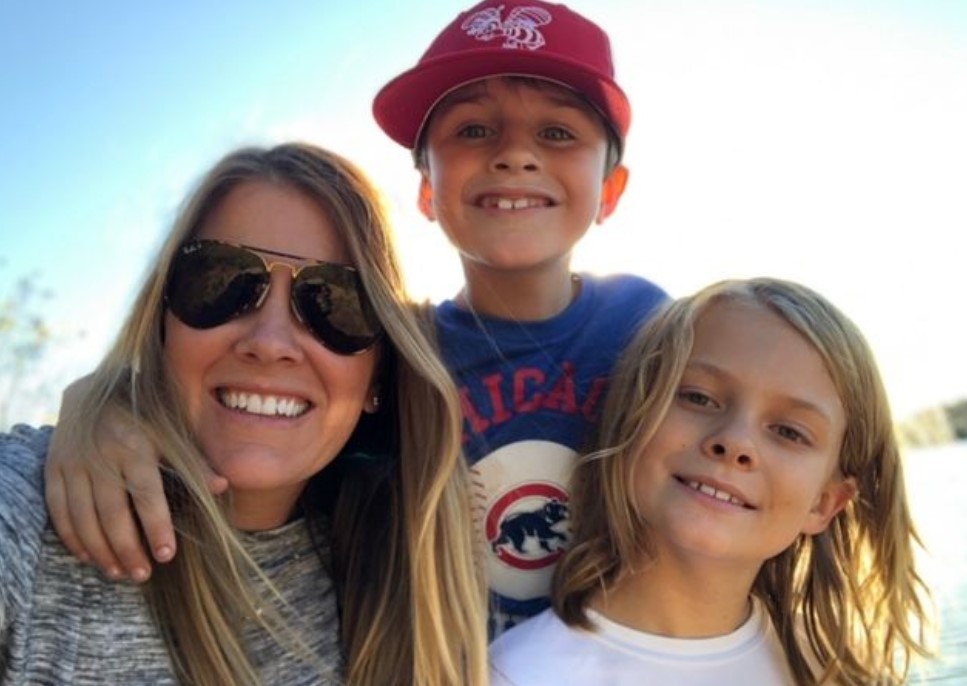 Angela Weaver (seen here with her co-authors) is a native Texan, raised in Keller, but she got to Fort Worth as soon as she could. At 17, she joined the Marine Corps and served four years active duty. After her military service ended, she went to work for a hedge fund and then a whiskey distillery, both in Fort Worth. Her most important role started in 2009 when she became a mom. She lives with her two boys in Fort Worth and spends as much time as possible on fun adventures with them. She loves to spend her time outdoors getting the full Boy Mom experience, even if that means being covered in dirt, catching fish, or shooting BB guns. She loves the sense of community she has found in Fort Worth and can't wait share that with our readers.