Life is about relationships, explains Stacy Agee, Director of Communications and Development at faith-based Fortress Youth Development Center. When it comes to ending generational poverty, establishing and learning how to maintain relationships is pivotal. Fortress Youth Development Center puts relationships at the center of everything it does. That focal point is what makes it different from other youth development organizations in the city, and it's what makes its families stay the course and break the cycle.
Madeworthy Magazine sat down with Stacy to talk children, poverty, families, faith, and love.
MW: What is generational poverty and how does Fortress work to combat it?
Stacy Agee: Generational poverty means a family has lived in poverty for two generations or more. There are so many hidden rules within generational poverty that it's hard for people to understand it if you're not living that life or know somebody who is. We serve families living in Fort Worth's Historic Southside, including kids from Van Zandt-Guinn Elementary School, which is one of the worst-performing elementary schools in the state, according to the nonprofit Children at Risk. Eighty-four percent of the families we serve live below the poverty line, which means they have a household income of just over $25,000 a year for a family of four. We work with 150 children. So yes, the need is great in Fort Worth, especially in the areas we serve.
MW: How does poverty affect brain development in children?
Stacy Agee with Dani Bartells, Fortress' Development and Outcomes Coordinator: That's a complicated question without a simple answer. What we do know is that poverty is a form of trauma. Continuous trauma causes biochemical changes that affects everything about a child's development. For example, many children from poverty have underdeveloped self-regulatory skills. Their need for external regulation as a young child — to be soothed when upset, to be fed when hungry, to have tender eye contact with an available caregiver — wasn't met for any number of reasons, so they didn't learn appropriate calming techniques or effective negotiating tools… many of our kids operate out of the fear center of their brains, and when you're afraid, you can't learn. You can't play. You can't grow. You can only survive.
One thing Fortress does for its kids is to show them alternatives. For example, we take kids on campus tours to TCU. These visits don't make kids think they could go to TCU, it makes them think they could go to college. You don't know what's possible if you haven't been exposed to it.
MW: What's the coolest thing Fortress is doing for kids today?
SA: In 2016, 80 percent of our third graders were reading at or above grade level. That's pretty amazing and so important to the future of a child. Third grade is the year that determines a child's trajectory in school. If kids don't know how to read by then, they get behind, doubling the likelihood of dropping out…
But the biggest thing we do is relationships. We require parents to engage. They have to attend two conference each year and at least 12 hours of parenting classes. That's the minimum. Most of our parents far exceed that requirement.
MW: Fortress' Early Learning Center program provides a full-time preschool. How does early learning impact children and families?
SA: Research shows us that in stable households, children ages 1 to 4 have vastly different exposure to language across the classes. Children in welfare are exposed to 13 million words during those first years, while children in working class homes are exposed to 26 million, and those in professional households, 45 million. That means that children in poverty often start behind their peers in other classes… When you start behind, you tend to stay behind. That's why we focus so heavily on preschool — to help give our youngest learners a strong foundation for success. And it's why we value our mentoring program, which provides consistent role models who invest in the hope and future stories of the kids we love and serve.
"I think people need to know that Fortress isn't only an after-school program, it's like a second family," said Michelle Smith, a single mother of five who's been working with Fortress for over a decade and is the nonprofit's newest employee. "Once they get to know your kids, they love on your kids. They try to get a personal bond with every child, because Fortress not only believes in education, it believes in families."
Learn more about becoming a mentor through the Ignite program, donating, or participating in upcoming events by visiting fortressydc.org and on social @FortressYDC.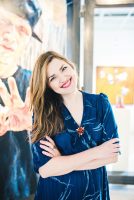 For more than a decade, Sarah Angle has worked as a Texas-based writer. She began her career as a daily newspaper reporter and photographer, and now splits her time between journalism and marketing communications. In 2014, she won first place from the Association of Alternative Newsmedia for her feature story "From the Land of the Lost." The following year, she earned a fellowship from the Investigative Reporters and Editors organization and became a board member for the Society of Professional Journalists, Fort Worth chapter. Currently, she teaches in the School of Strategic Communication at TCU. Sarah lives in Fort Worth with her darling daughter and a house full of books and mid-century modern décor.