Sitting in the resplendent lounge of newly-opened Paris 7th, owner Bernard Tronche and his wife of 35 years, Karin Kelly, reflected on 33 years of making memories and some of the finest cuisine in Fort Worth.
"A lot of my ideas were new for Fort Worth," Tronche said, referring to the early years of Saint-Emilion restaurant. "Fresh fish, an open kitchen, and a fixed-price menu were new concepts in Fort Worth. We offered a good value [and stayed authentically French]. We have kept those values and tried to stay true to what the restaurant was."
Paris 7th, a new Parisian-themed fine dining restaurant, opened early last month — 33 years to the day after Saint-Emilion opened its doors near the Cultural District. The new business will offer the same quality and consistency patrons have come to expect from Saint-Emilion, Tronche said, but Paris 7th will bring a more authentic Paris restaurant experience, along with a larger dining area.
Over the past 20 years, patrons regularly teased Tronche and his wife with the idea of taking small groups of Saint-Emilion Restaurant regulars to France. Tronche is a native of France after all, the thinking went. As enticing as those suggestions were, the realities of running a restaurant while raising two children did not afford much leisure time for Tronche and Kelly. The idea gained traction in 2011, however. After 32 years in the broadcast journalism business, including a long stint as a reporter for WFAA, Kelly retired.
"I had paid my dues," Kelly said with a laugh. "I thought, 'I've got time to plan now.'"
The first trip in the summer of 2011 was a success. Five couples tagged along for the one-week excursion. Looking back, Kelly admits the visit came with a steep learning curve. "We were winging it," Kelly recalled. "Luckily, Bernard is a very entertaining host. He loves to serve people. It's in his nature."
The tours of France, later branded Friends in France, have become annual events with rotating groups of couples taking five- or six-day trips to Avignon in southeastern France four or five times per year, usually in the summer months. The Provence region affords sunny weather and endless historical sites for day trips, Kelly said. She typically flies out a few weeks before guests arrive to scout out homes and stock up on wine and other foodstuffs. Guests cohabit a large rented house. Finding a chateau with a large kitchen area and private restrooms for each bedroom isn't easy, Kelly said, but she has become adept at locating them over the years.
"The trips offer peace of mind that guests don't have to worry about anything," Kelly said. "Getting around in another country can be tricky. A lot of roads lead to the same place but take you a million different ways. With our trips, they know where to stay while not worrying about finding a place to eat."
Does Friends in France offer a chance to learn culinary tidbits firsthand from Chef Tronche? Mais bien sûr!
Several meals are prepared and served in the kitchen area or outside by Tronche, often with the aid of a guest chef. The meals are an experience. As Tronche prepares dishes ranging from rack of lamb to pastries and smaller delicacies, he encourages onlookers to participate and learn French culinary traditions. The chef also uses the trips to educate guests on the nuances of wines sourced from the region.
"I am only sad I cannot do more trips," Tronche said. "It's really neat how we have some people who I thought were [very quiet] open up on the trip. I'll see sides of people I did not know before."
Avignon's first settlers trace back to the Neolithic period, but it is the more "recent" history, dating back several hundred years, that attracts flocks of tourists each year. The city's historic center, on the left bank of the Rhône river, is home to the Palais de Papes, Avignon Cathedral, and medieval Pont Saint-Bénézet , among other cultural treasures. The city was the seat of the Catholic popes from 1309 to 1377 and has a rich and storied history.
"We picked Avignon for several reasons," Kelly said. "It's easy to get to by high-speed train. Most people can fly into Paris and take the train straight to Avignon."
A typical day on the all-inclusive trips begins with breakfast: French pastries, fruits, and juices. The bulk of the day is spent sightseeing in and around Avignon. Afterward, guests often opt to lounge by the pool at the house with a cocktail or glass of wine until dinner is served.
One memorable trip involved hosting an entire family in France. For Tronche, it offered a unique challenge. Whereas most trips allot time for guests to become familiar with each other, here, the relatives skipped those formalities. All eyes were on the chef. "It was a challenge," he recalled. "How was I going to entertain them? You have to make the trip something to remember. It's really neat to have an entire family who trusts you for the whole week. It's an investment and time commitment for them."
Tronche hinted at what has helped him successfully run a wildly successful restaurant and guided tours of France: the chef enjoys a good challenge. The more demanding the customer, the more rewarding it is to satisfy his or her needs, he said. Tronche has worked at all level of the food industry, and he appreciates the challenges each position offers. "We don't learn from someone who said I made them the best meal in their life," he said, adding that a well-informed critique of a meal can often be more insightful.
I asked the restaurateurs-turned-travel-guides how overseas excursions have changed their lives.
"For me, it's a way to see something outside of my usual environment," Tronche said. "Texas is a country in itself. I'm not from here, but I've been here a long time. I was working a lot [when I opened my restaurant] and didn't follow too much what's going on outside" during those years.
Tronche said he has always had a fascination with South America, adding that Asia has also piqued his interest lately. As the head of a highly rated restaurant, he is well aware that having a global perspective of dining trends is important, but it does not mean he or Paris 7th Chef de Cuisine Kobi Perdue blindly follow them.
Perdue is "not a machine," Tronche said. "He has his own personality. Different chefs have different ways of reacting to suggestions [and food trends]. But he is receptive. I always bring back some comments on what I've seen overseas. It has been helpful to have those."
Kelly said that most of her travels as a child were within the continental United States. As a young adult, her career then child rearing largely kept her from excursions overseas. The Friends in France trips have helped her catch up on lost time. "I think you learn so much from traveling," she said. "I love history. When you can see these things up close it sticks with you."
After marrying a Frenchman, she joked, "I can't get out of France."
For now, the couple is firmly grounded in Fort Worth as Tronche oversees operations at his second restaurant. The recent opening of Paris 7th, which occupies the former home of Le Cep, has allowed for much-needed renovations at Saint-Emilion. Upgrades to the kitchen and restroom areas are at the top of construction priorities for the venerable restaurant. Longtime customers have not hesitated to voice concern over the temporary closing of Saint-Emilion. While Kelly is quick to reassure them of its eventual reopening, she understands that meaningful memories have been made there over 33 years. "Maybe they were engaged there," Kelly said. "Or had their first date there. People feel very close to it."
Tronche said his new venture will maintain the quality and consistency his customers have come to expect. But it is no clone. Paris 7th, he said, will have a more Parisian feel. Everything from the silverware down to the crimson red banquette seating, which lines the north wall, is intended to transport diners to the City of Light. Tronche sets the same standards for Paris 7th as he does for Saint-Emilion. A visitor from France, Tronche safely wagers, would admit Paris 7th mirrors the high standards of Parisian fine restaurants.
"You could take Saint-Emilion [or Paris 7th] into another big city, and we would do well," he added. "I didn't change my standards because I am in Fort Worth."
The Friends in France outings have only strengthened Tronche and Kelly's relations with customers. Since 2011, Kelly estimates that around 250 people have made the trip. Several couples have gone multiple times. The couple is open to the possibility of expanding the trips to other regions of France or Italy.
In a business where even outstanding restaurants can find themselves shuttered, the bonds built overseas have help set Saint-Emilion, and now Paris 7th, apart. Tronche has seen more than his fair share of ups and downs. The early years were often lean years, subject to slow summers and light food traffic when major events were in town. In 2010, the recession meant thinning staff and making other cutbacks. A loyal base of patrons and a solid reputation helped the restaurant weather those years. More recently, the city's growth has sent a steady flow of curious newcomers to his business.
"I love Fort Worth," Kelly said. "Because of my job as a news reporter, I was everywhere, telling happy stories and sad stories, talking to the homeless, mayors, Van Cliburn — you name it. It's a good place to raise a family. I'm sure this will always be home."
For an immigrant like Tronche, travel has been and remains a defining part of his life. The couple's two children (ages 31 and 34) frequently visit their grandparents in France, keeping the connection to Tronche's homeland alive. After the dust settles on their new projects and renovations, Tronche and Kelly plan to resume the Friends in France trips.
During our interview, Tronche gave me a tour of his new restaurant. Around 22 white linen-topped tables were carefully adorned with glassware and silverware. Tronche showed me something I had never seen before — a French butter dish. The small clay pot keeps butter fresh and spreadable by immersing it, upside down, in water. The chef was particularly excited about his new kitchen, which affords significantly more space than Saint-Emilion. A handful of sous chefs were busily preparing for that night. As we parted ways, Tronche reiterated the formula that has served him well for 33 years.
"I want us to be as true, authentic, and as good as we can be," he said.
This article originally appeared in the May/June issue of Madeworthy.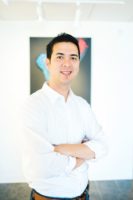 Edward Brown is a writing tutor and piano teacher. He is also an award-winning writer for the Fort Worth Weekly and volunteers for numerous Fort Worth nonprofits.