I arrive during the "run through" for the pilot episode.
It's March 23. The man of the hour, Tony Green, is sitting at his newly-built desk on a stage across from the bar inside Shipping and Receiving. This Near Southside bar/concert venue/art gallery/recording studio/cultural hub is now home to Fort Worth's latest talk show, "Hello, I'm Tony Green." It certainly looks like a traditional talk show, with a wooden desk, three black chairs, bright lights, and, yes, alcohol. But it's actually an Internet show that thinks it's on television, explains Green.
And it's funny. Very (very) funny.
At the moment, the room is swarming with bearded hipsters, all prepping Green, 34, in various ways for the big show. This is a big deal. Today is Green's chance to shine and show a different side of Fort Worth to the world.
"Last week my stomach was in knots I was so nervous," says Green. "But after the run-through, I started to feel a little bit better. I had a text from Mom this morning, and I felt like my dad was with me for a moment. Now I'm feeling good."
We head up to the appropriately-named green room for Green's makeup. Aston Evada from Novak Hair Studios has her magical brushes ready to go.
First things first. "Little eye masks. That depuffs your eye area," Evada says.
Even before the makeup, Green shimmers. He radiates positivity and authenticity. People are attracted to him because of it, and everyone here tonight wants him to succeed.
Green's first outfit of the evening is black jeans and a denim Levi's jacket with gold threading that he got on sale for $30. Plus, a black pair of Tony Lamas that he was gifted by a senior executive at Justin Boots just because she loved Tony.
"We're going to have costume changes and glam it up mid-show…" Green says.
As I sit and watch Green become even more lovely, I'm being filmed. Everything that is happening tonight is being recorded all the time. Hello, reality television.
But "Hello, I'm Tony Green" isn't just another reality television show to come out of Fort Worth, this show has a different business model and intention.
"The show was born and bred out of people asking me 'what's going on this weekend,'" Green says. He'd been posting this content on his personal Instagram @tonyeveryman for a long time. Through it and his dazzling personality, he's generated 2,617 followers. But now, the stakes are higher.
"We don't know what's next," says Green. "This is something we want to do really well so we can pitch it to sponsors and show their products while always having fun with it." Tonight's sponsor is Mi Campo tequila — a new wine barrel aged tequila that's marketed to millennials. The product is prominently placed on Green's desk during the show and mixed freely at the bar.
Green, a native Fort Worthian, says he provides the black gay perspective, something that all cities can benefit from.
"Fort Worth is diverse and accepting as a community," says Green. "The Fort Worth way is rooted in kindness, and that's definitely me."
Back in the green room, a few hours before the live audience arrives, Tony bounces around with nervous energy, confidence, and sweet humility. His lips are now painted a soft shade of pink. His skin looks perfect. And his face has been contoured.
Tonight, he'll be interviewing Fort Worth artist Nancy Lamb, a local musician, a drag queen in full dress. He'll also be singing a little ditty himself.
The show has a sketch comedy vibe with the addition of audience questions and answers. "We're throwing ourselves out there," says Green. "We have a team, and we're tying in music with Niles City Sound. They're sending artist to us, and we can do stripped-down versions of people singing in their studio." The partnership with Niles City, a new recording studio inside Shipping and Receiving, gives the show even more weight and prominence as a leading cultural voice in the community.
At the end of the day, the show is streaming on YouTube and social media. Just like any form of media, Green and his team need eyes on the show to get advertising partners and generate revenue. But Green has a secret weapon: his humor mixed with humility.
He's like that great friend you always wanted to know. Now you can have that friend every time he says, "Hello, I'm Tony Green."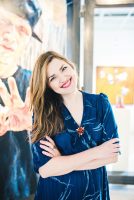 For more than a decade, Sarah Angle has worked as a Texas-based writer. She began her career as a daily newspaper reporter and photographer, and now splits her time between journalism and marketing communications. Since starting her own freelance writing business, Sarah has worked for brands such as: Frito-Lay, RadioShack, Dairy Queen, Honda, Sid Richardson Art Museum, Samsung, and Pizza Inn. As a journalist, her work has been published in the Washington Post, Boys' Life magazine, Texas Observer, Fort Worth Weekly, The Dallas Morning News, and 360 West magazine. In 2014, she won first place from the Association of Alternative Newsmedia for her feature story "From the Land of the Lost." The following year, she earned a fellowship from the Investigative Reporters and Editors organization and became a board member for the Society of Professional Journalists, Fort Worth chapter. Currently, she teaches in the School of Strategic Communication at TCU. Sarah lives in Fort Worth with her darling daughter and a house full of books and mid-century modern décor.