If you watched the Tony Awards this past Sunday, you…wait a minute. If you're a woman in Fort Worth and you're reading this right now, you weren't watching the Tonys on a Sunday night. You were battling it out for a new rug on Instagram (@trouthouserugs), because #priorities and #shoplocal. But just in case you're an anomaly, you watched the Tonys and were probably hoping for…
Wait a minute.
If you watched the Tonys, there's no question what you were hoping for.

Glenn Close opened the 1992 Tonys by calling the theater "the house of life." But besides illumination of the sacredness of life, what we hope for from Theater is Fun with a capital F. And that's what you'll get from Stage West's production of "Holmes and Watson," running through June 30.
("That was fun!" was the first thing I said as the lights came up to my friend Carolyn, who accompanied me to the show.)
The fun is of the thinking variety, the kind fans of Arthur Conan Doyle have enjoyed since the late 19th century — full of all the twist-and-turns, wry humor, and who-dunnit that are synonymous with Sherlock Holmes. But you don't have to be a Sherlock fan to enter the story immediately and be carried along consistently.
The premise: Sherlock Holmes has been dead for three years, albeit mysteriously, and his faithful sidekick John Watson has just been summoned to a remote insane asylum where it is revealed that Sherlock isn't dead after all. And three of the asylum's inmates are claiming to be the man himself. John's task is to identify which is the REAL Sherlock Holmes, which opens the door to all the intrigue and danger and big-reveals one hopes to encounter.
At this juncture, I'll warn you that you will begin to shift uncomfortably in your seat as John examines the would-be Sherlocks one by one. How could a man not remember his good friend and mentor whom he had seen a mere three years prior? If you feel you are being unfairly asked to suspend your disbelief, hold on.
Perhaps one of the reasons I became an actress myself was to carry on my family's tradition of Irish storytellers. My grandfather emigrated from Carrickfergus, Northern Ireland, and regaled us as kids with stories of bloody street fights. My father picked up the torch with bedtime stories filled with danger, centering on the figure of Doctor Moriarty, Sherlock Holmes' arch-rival. My childhood image of Dr. Moriarty was upheld in "Holmes and Watson" —  a shadowy, black-clad figure that seems to be working behind the scenes at every moment. This ominous feeling was skillfully enhanced by the scenic and light design (Lauren A. Wheat – set, Bryan Stevenson – lights) and clever use of projection and special effects to recreate flash-backs of alternative histories throughout the play.
And the fine performances of a uniformly strong cast helped to add a sense of real, delightful confusion: Who the heck are these men? And not just the Sherlocks, but ALL of the men AND women (well, woman – played by a totally committed Catherine D. DuBord)? Robby Gemaehlich was especially intriguing as Holmes #2, managing to balance a real sense of clinical insanity with humor. I've played opposite Richard Stubblefield, Holmes #1, in Stolen Shakespeare Guild's production of "The Three Sisters," and instantly recognized his deep focus and thoughtfulness, which are only a part of his many strengths on stage. Mark Shum's Watson and Ashley Wood's Dr. Evans bantered with an energy that kept the narrative moving at a   jaunty tempo. Kudos to director Susan Sargeant for keeping the pace urgent.
Don't worry if you feel like you're missing details. We all were. This is a show to see again, and catch some things you miss, which you will. But that's OK. Part of the fun is smacking yourself on the forehead for having missed a small detail that brings watershed revelation. The sometimes-convoluted story aside, if you can relax into the pace and premise of the overall experience — a cold glass of Rose in-hand — you'll do just fine.
If the theater is a house of life, Stage West shows it can also be a house of dark intrigue – and, yes, fun — that surrounds it.
Fun with a capital F.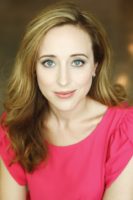 Julie Rhodes 
has performed on many Fort Worth stages, including Casa Manana, Circle Theatre, Amphibian Stage Productions, and Stolen Shakespeare Guild. She is mom to Drew (11) and Madeline (8), and to Eloise, the family pug. Visit 
juliekrhodes.com
.