Hark! the herald holiday buffet sings, beckoning us to indulge in glories of pies and cookies, turkeys and hams, potatoes and yams.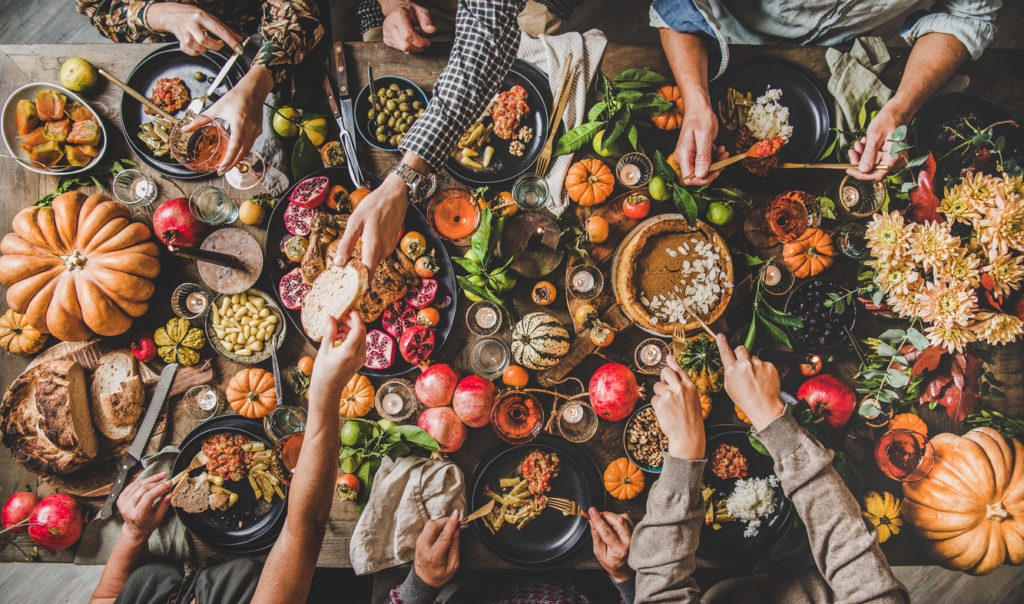 Then cometh the post-feast brain fog and fatigue, often accompanied by all-of-a-sudden tighter clothes. Most of us probably won't learn our lesson from this first encounter with the holiday table. In fact, several studies conducted by researchers at Texas Tech University confirm the average level of holiday weight gain for men and women is about 1.5 pounds. And yet, many of us go into every new season with at least a willingness to avoid binge eating.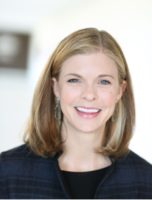 Enter Dabney Poorter, a local Certified Nutritionist (CN) and Registered Nurse (RN) whose journey with Type I Diabetes inspired her to help others through nutrition and wellness coaching. In 2015, Poorter founded Engage Your Wellness, a health and lifestyle company that supports a range of needs—everything from gluten intolerance to gestational diabetes.  
"What I teach people is to eat a sustainable lifestyle diet." Poorter explained. "Which means we're going to have holidays, birthday parties, and vacations that make us want to indulge a lot. So [what] we want is to be as consistent as possible with our choices. We can always make healthier choices by having healthier recipes available to us—ones that aren't as high in sugar and carbs."  
What counts as a healthier recipe is open to interpretation, of course, but Poorter said that making simple ingredient swaps can make all the difference that your waistline needs. Coconut cream, for example, is an easy stand-in for the heavy cream called for in some holiday recipes. For high-sugar, inflammatory desserts, swapping out white sugar for honey, maple syrup, or another less-processed sweetener is always the better choice for your blood sugar. 
Poorter also believes that cooking with color in mind is key. She said, "I like to eat lots of different colors, but colors come from fruits and vegetables, so if you have a variety of [natural] colors on your plate—not just the mac-and-cheese or the white potato dish—you are likely always eating good things."  
At the very beginning of any color wheel is red, and foods rich in the color red boast promising levels of lycopene and anthocyanin, which support heart health, cancer prevention, and urinary health. Some of the best red food sources include beets, tomatoes, strawberries, and raspberries. 
In the orange and yellow family are the carotenoids. Many people know that carrots and sweet potatoes are high in the beta-carotene, but another carotenoid is lutein, which promotes health of the eyes, skin, and the immune system. Other sources of carotenoids include butternut squash, peppers, and cantaloupe.  
Seeking out healthful greens means you're inviting some carotenoids to your palate party in addition to folate to promote cell growth and metabolism. Kale, bok choy, broccoli, and Brussels sprouts, of course, are all easy to incorporate into holiday side dishes. The cancer-fighting properties of greens can't be beat, and they contain antioxidants that boost eye health, too.  
Blue and purple foods offer anthocyanins and flavonoids to improve cognitive function and are readily available in dark-colored berry varieties, eggplant, and purple cabbage.  
Not only are those brightly-colored fruits and vegetables bursting with antioxidants and nutrients, the visual appeal adds another element of satisfaction. "It's just prettier." said Poorter. "It's like artwork you can build on a plate, which makes eating more appealing and appetizing."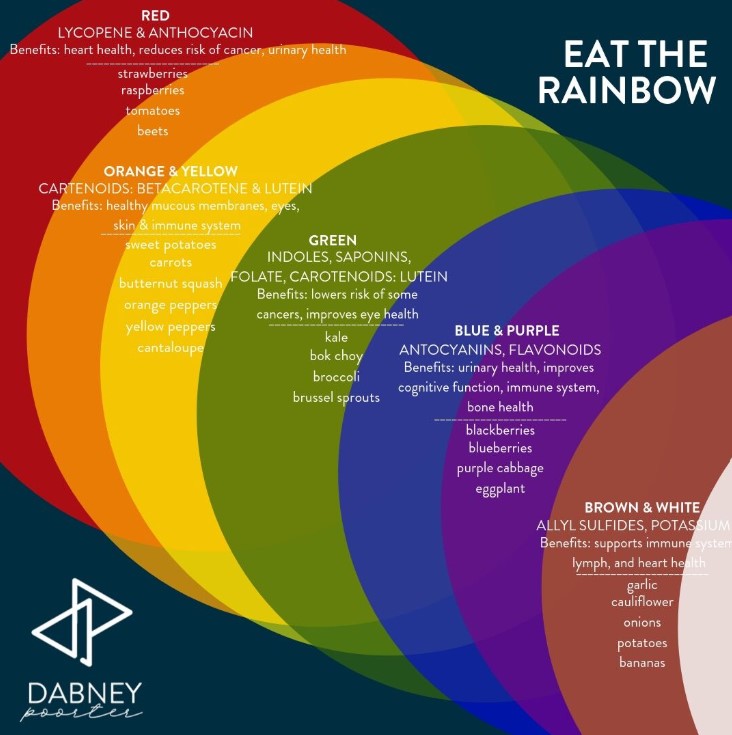 When it comes to building your plate, Poorter's go-to tip that she shares with all clients is this: Put vegetables on your plate first.  
"We don't always want to be grabbing the starch or the cookie." Poorter said, adding that when we can choose vegetables first and starchy carbohydrates last, we set healthy, self-imposed parameters that don't overwhelm our metabolisms. "If I'm watching my portions and choosing a variety of colors by putting vegetables and fruit on my plate first – paired with other needed macronutrients like protein and fat – then I don't need to worry about counting calories. It's more important to be limiting in terms of certain kinds of ingredients and certain types of food our bodies need than to be obsessed with counting calories."  
Finding your way to foods with color isn't the only trick you'll need. Poorter realizes the power of hunger pains in derailing otherwise good eating habits. For this reason, her next best tip is to eat before you leave for a party. What you choose to eat doesn't have to be large or small. Instead, it's best to mindfully tune into your level of hunger to determine the size of healthy snack you'll want to consume. A handful of nuts or a hard-boiled egg might be all that's needed to tide you over until the merrymaking begins.  
Where you physically locate yourself amid all the festivities can be equally important, too. Socializing near the food table or the bar can come with unintended consequences, such as non-stop nibbling, noshing, and sloshing.  
Being proactive with one's health gets complicated when imbibing is involved. Unlike some nutrition experts, Poorter doesn't believe that you need to pour out every ounce of alcohol in order to maintain your figure, but she does believe in setting limits. One of the best ways for your body to naturally intuit how much alcohol is enough is to counterbalance each alcoholic beverage with a full glass of water. Matching water and alcohol drink-for-drink keeps you better hydrated, feeling fuller, and better able to judge when you've had enough.  
Even the most virtuous of eaters slip up from time to time, and many will call it quits until January 1, but Poorter has her reasons for believing that it's better to pick up where you left off as soon as possible.  
"A lot of people eat a lot over the holiday and then talk about getting back on the bandwagon in January." Poorter said. "But January is also when school starts, so it's easier [for them] when [they] don't go all out over the holidays. They don't feel like they need to get on a plan in January, which can feel stressful when getting into the rhythm of the school season again." She went on to say that she believes in calling any departures from one's diet a "detour" instead of a "cheat" because the word cheat is associated with far too much guilt.  
More than anything else, Poorter wants people to know that they are allowed to enjoy eating at holiday parties. She said that enjoying what you eat is a big part of enjoying life, and you can have both by enjoying deliciously prepared healthful foods. Through her wellness coaching and nutrition consulting work, she's been able to help countless others see this truth. Her recipes model for clients what ingredients to use, how to prepare certain foods, and what to look for in selecting foods prepared by friends. In early December, Poorter along with other local health aficionados will open Restore and Revive (or R&R for short) located at 5001 Byers Avenue. The partners will offer a wide range of services, including acupuncture, bodyworks, counseling, vitamin and mineral therapy, functional medicine treatments, personal training, small-group training sessions, a detox sauna and a detox footbath.  
"We are thrilled to open our wellness center to the public." said Poorter. "We are both medically minded and functionally focused. A killer combination."  
From the Kitchen of Dabney Poorter, CN and RN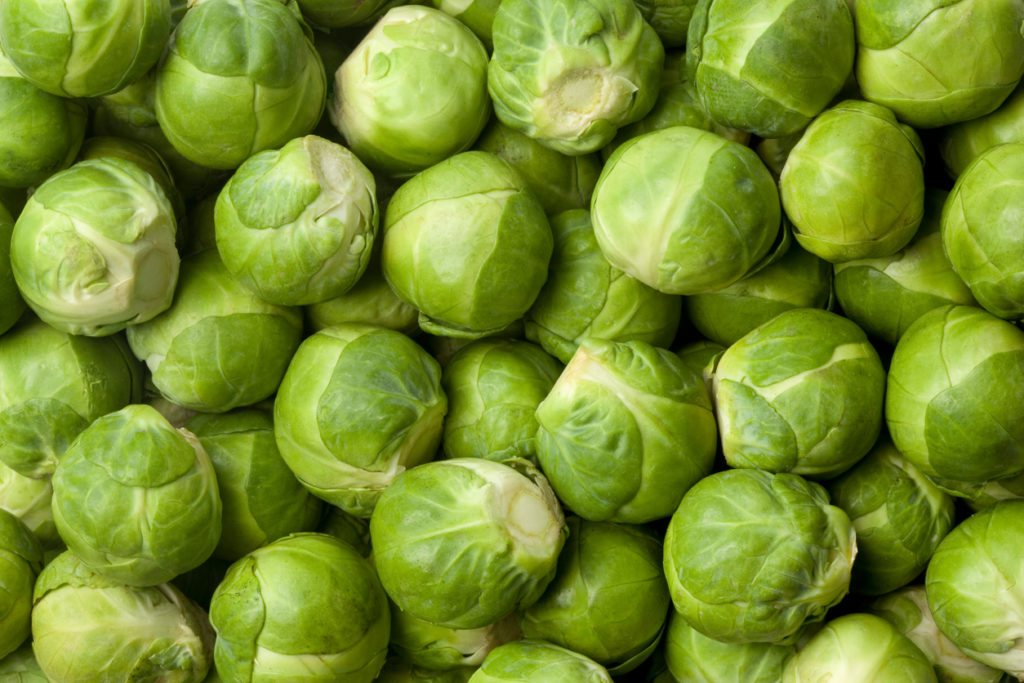 BRUSSEL SPROUTS 
ingredients 
2 bags of organic Brussels sprouts, trimmed and quartered 
3 to 4 slices Pederson's Farm Whole30 Approved Bacon, diced 
Maple syrup 
Balsamic vinegar 
directions 
Cook bacon in a Dutch oven until crisp, add Brussels sprouts and cook until they have browned a bit.  
Once the sprouts have cooked to your liking, drizzle balsamic vinegar over the top and deglaze the pan of any bacon bits, cook for a minute or two more before drizzling with maple syrup. Stir and enjoy!.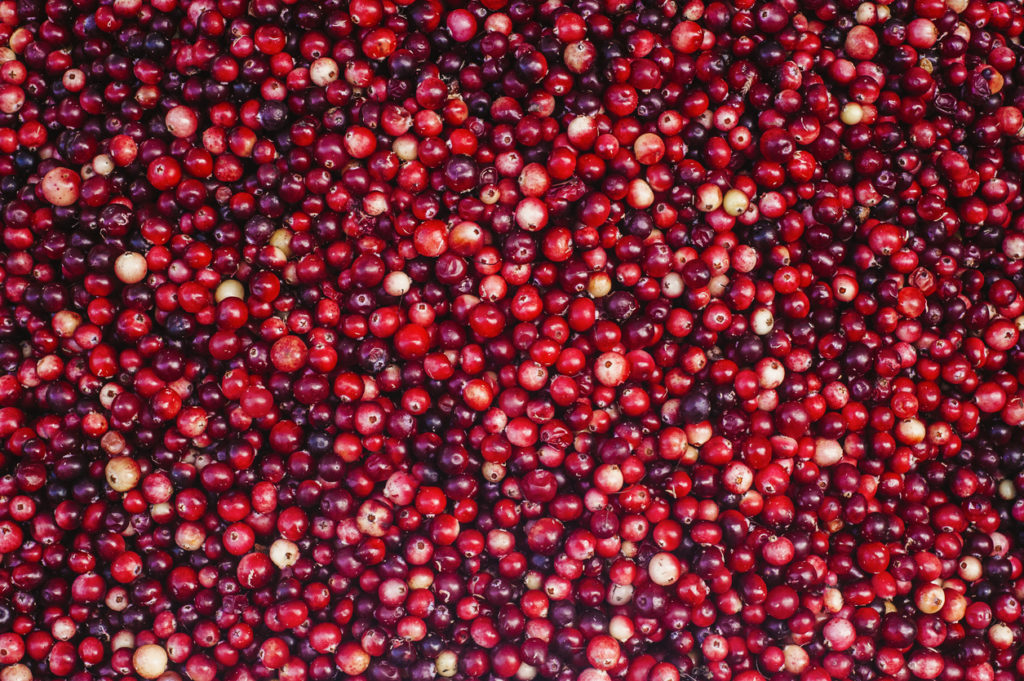 CRANBERRY SAUCE 
ingredients 
1 1/4 cup fresh cranberries 
1 tbs orange zest 
1/4 cup maple syrup 
2/3 cup organic orange juice, (recommended: Lakewood Organic Pure Orange Juice) 
directions 
In a sauce pan on medium heat combine the cranberries, orange zest, orange juice and maple syrup. Let simmer for approximately 15 minutes until the cranberries have all popped and the mixture has begun to thicken (it will thicken more as it cools)  
Allow to completely cool before serving. You can store it in the fridge for approximately 1 week. 
TWICE-BAKED SWEET POTATO 
ingredients 
4 medium sweet potatoes 
Sea salt for baking 
6 slices Pederson's Farm Whole30 Approved Bacon 
1 large onion or 2 small onions, thinly sliced 
5 oz fresh spinach, chopped 
3 tbs full-fat coconut milk 
1 tbs nutritional yeast 
1/4 garlic powder 
Pepper  
Sea salt 
Ghee 
directions
Preheat your oven to 400º F and line a baking sheet with parchment paper. Scrub potatoes and coat them in ghee with your hands, then sprinkle sea salt all around. Poke each with a fork a few times. 
Bake potatoes in preheated oven for 1 hour or until soft on the inside. (Times will vary depending on the thickness of your potatoes.) 
While potatoes bake, begin caramelizing the onions and cooking the bacon.  
To caramelize the onions, heat a non-stick skillet or well-seasoned cast iron skillet over med-low/low heat and coat with 2 tbs ghee. Add all the onions, stirring to coat with ghee. Sprinkle with a bit of salt and cook over low- or medium-low heat, stirring every 5 minutes or so to prevent burning. Once onions have been cooking for about 25 – 30 minutes and have turned a deep golden brown color, remove from heat and transfer to a plate or bowl. 
For the bacon, heat a large, heavy skillet over medium-high heat until crisp; drain on paper towels and set aside. Reserve at least 1 Tbsp bacon fat to sauté the spinach. 
For spinach, place 1 tbsp bacon fat in a large skillet (or simply use the same skillet used to cook bacon) and heat over medium-high heat. Add all the spinach and stir or toss with tongs to wilt evenly. Cook for about 2 minutes or until spinach is soft and wilted. 
Once potatoes have baked and are cool enough to handle, cut each one in half lengthwise and carefully scoop out the inside using a spoon, leaving a thin layer to avoid breaking the skin. 
Place what you've scooped out of the potatoes into a mixing bowl and begin to mash. Stir in the coconut milk, nutritional yeast, mustard and garlic powder until smooth. Crumble in the cooked bacon and stir in the caramelized onions and spinach. Season with salt and pepper to taste. 
Spoon the mixture into the potato skins. Bake (at 400ºF degrees) for another 15 – 20 minutes or until toasty.  
Serves 8 as a side dish or 4 as a meal. Store leftovers in the refrigerator for up to 4 days. Reheat in the toaster oven or oven.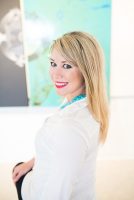 Jackie Hoermann-Elliott is a senior lecturer and the Assistant Director of First Year Composition at Texas Women's University. She wrote for newspapers and magazines around the Midwest before settling down in the Lone Star State. Since she moved here in 2013, she's written for The Fort Worth Star-Telegram, Indulge, K Magazine, The Dallas Morning News, and GuideLive. For fun, she cheers on her husband, Billy Ryan High School coach Buck Elliott, practices poses with her amazing bonus daughter, "E," runs after toddler "B the First," and teaches with brand-new baby "B the Second" hanging onto her every word.