Madeworthy
Madeworthy's November/December Fort Worthies
With the launch of Madeworthy, we wanted to have a page dedicated to local people, places, and events that add to our city. Originally called "Be Seen," this page was renamed "Fort Worthies" in our first anniversary issue. Here are the Fort Worthies we featured in our November/December issue.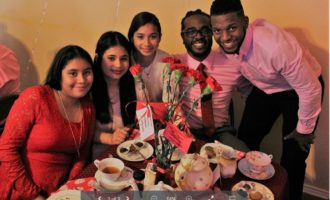 Anne England knows that little girls and tea parties go together like Earl Grey and petit fours. Raised by an English mother who observed teatime every day, Anne started A BeauTEAful Day catering to bring the experience of a tea party to others. Anne creates delicious, organic, non-GMO sandwiches and pastries to match perfectly with a variety of teas and brings them to you, along with bone china teapots, plates, cups, and saucers, as well as silver teaspoons and pretty napkins. A BeauTEAful Day is the perfect caterer for children's parties, bridal/baby shower, church groups, and business luncheons. Pinkies up!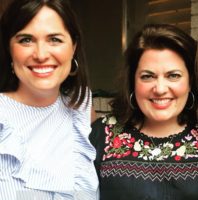 The Junior League of Fort Worth (JLFW) is proud to announce Ashley Freer as its 2019-2020 president. Freer first joined the Junior League of Atlanta before transferring to the JLFW in 2006. A principal at Fort Worth's Balcom Agency, Freer bring nearly 20 years of experience as a marketing professional and businesswoman to the League. "For 90 years now, the women of the Junior League of Fort Worth have sparked possibility in our community, volunteering their time to lead and unite over community service. That has been our past, it is our present and it will be our future," says Freer.  
Diagnosed with an autoimmune disease ten years ago, Chris Kerr started a personal health journey that included managing diet and exercise, migraines, and major back surgery before discovering hemp supplement. Rich in phytocannabinoids, hemp extracts have been shown to be anti-inflammatory, antioxidant, and neuroprotective. Chris enlisted a group of like-minded friends and formed Tiki Biosciences to bring the highest-quality hemp supplements to Texas – at an affordable price. As the hemp supplement industry grows, so do scams, but Tiki Biosciences provides their customers with the best hemp products available, creating a simpler, more affordable, more sustainable path to wellness. 
Quickly gaining prominence in North Texas as a destination for shopping, wellness, dining and entertainment, the Crockett Row area continues to grow!  Two new spas, Hiatus Spa & Retreat and It's a Secret Med Spa, have chosen Crockett Row as the location for their first Fort Worth locations. The Concrete Cowboy is a night club which opened recently, and Dallas restaurants STIRR and Toasted Coffee + Kitchen are expanding west and will open soon. In addition, the venerable sushi restaurant The Blue Fish will open in the Crockett Row area in 2020.  
On October 4, 2019, Fort Worth Country Day School honored the memory of alumnus Barrett Havran by dedicating its track and field facility in his name. A 1998 graduate of Country Day, Havran was a scholar-athlete who set multiple school athletic records, some of which stand to this day. He died in 2011 at the age of 31, and the dedication of the Barrett Havran Track marks a milestone in the fundraising efforts in Havran's memory. "FWCD is honored to dedicate this facility in remembrance of Barrett's legacy and we're extremely grateful for all of the generous donors who have made these new additions possible," said FWCD athletic director, Brian Phelps.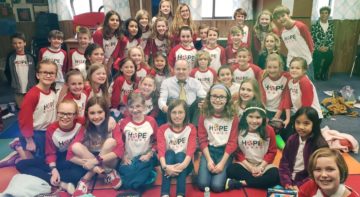 Founded in 2014, the Jordan Elizabeth Harris Foundation envisions a world where suicide is never the choice. To that end, the Foundation sponsors programs such as Let's Taco 'bout QPR (Question, Persuade, Refer) and the school-based Hope Squad (pictured are the members of the Tanglewood Elementary Hope Squad). On November 13, the Foundation will host the sixth annual Bring the Conversation to Light Luncheon at the Will Rogers Coliseum. The luncheon is an excellent opportunity to learn more about mental health and suicide prevention and how the Foundation is partnering wit community resources to develop strategies to eradicate suicide. For more information, go to www.jordanharrisfoundation.org.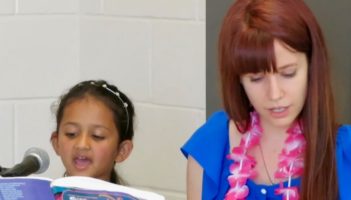 Music 4 Kidz believes that children's music classes should be fun as well as instructive. Specializing in piano, guitar, and voice lessons for children ages 3 through 17, Music 4 Kidz goes at the pace of the student, adapting to each child's needs and interests, while fostering confidence, joy, and a deep appreciation for music that will remain with them throughout their lives. They also offer a unique "Mommy & Me" music exploration class for infants and toddlers. Owner/instructor Elizabeth England is a licensed and ordained Minister of Music and has been working with children for over 15 years.  
Tickets for the upcoming River & Blues Music Festival are now on sale and are going fast! Top country and blues artists will take the stage at Panther Island Pavilion May 15 and 16, 2020, and the full festival lineup will be announced on November 7 at the River & Blues Launce Party at Heim Barbecue on the River. Fans can purchase general, VIP, and Platinum tickets. VIP and Platinum level tickets will include such benefits as valet parking, prime seating, complimentary beer and wine, climate-controlled spaces, and more. For more information and to buy tickets, go to www.riverandbluesfest.com.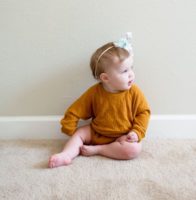 New mom (and TCU grad) Tia Cherie Beckerich began a design label inspired by her daughter, Ella Rossi. Tia Cherie Designs (TCD) features Tia's baby outfits for the fashion-forward infant available via Etsy and Facebook. Tia was how to sew as a child by her late grandmother, whose Italian surname, Rossi, lives on in Ella. After her grandmother's passing, the skill was lost until Tia found her old sewing machine in the back of a closet. Tia now creates adorable bummies and bibs that are coveted by the most fashionable babies on the block. To order, check out Tia Cherie Designs on Etsy.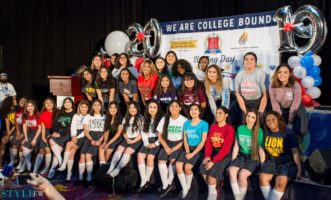 The students at the Young Women's Leadership Academy of Fort Worth are our future. The first and only all-girls public school in Tarrant County prepares students from typically lower socioeconomic backgrounds to excel in fields where women are traditionally underrepresented. Through a STEAM-focused curriculum, students build robots, learn engineering concepts, use professional design software, and more. This unique school was formed through a public-private partnership between Young Women's Preparatory Network and Fort Worth ISD and is sustained through programming and donor support secured by its nonprofit partner, the Foundation for YWLA. Together, they prepare talented young women for leadership and success in college, career, and life. Learn more at ywlafortworth.foundation.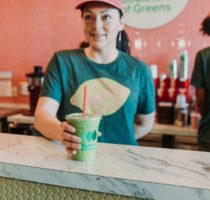 Charlsye Lewis opened Boulevard of Greens to bring organic, whole plant-based foods and raw cold-pressed juices to Fort Worth. She loves eating this way, and she wanted to have a convenient place for not only her own family, but for others in Fort Worth who want delicious, organic, high-quality nutrition any day of the week. The response has been phenomenal! The flavorful, healthy food and drinks, as well as a generous loyalty program, have turned new customers into regulars, and regulars into family. Charlyse says that eating a plant-based diet is good for you, the animals, and the planet.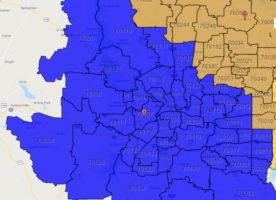 After the phenomenal success of the program at the Fort Worth location, Central Market is bringing their immensely popular Curbside & Delivery service to the Southlake location! Now customers in northeast Tarrant County can either pick up delicious and healthy food on the go or have it delivered. The delivery ZIP codes go as far north as Argyle and as far south as Hurst-Euless-Bedford and east Arlington. To mark the occasion, Central Market will present the Carroll Education Foundation with a check for $2500. 
If you or someone you know has done something wonderful, please contact our editor at lee@madeworthymedia.com.