An affable gentleman, Doug Renfro shows no indication of his responsibility for deploying the highest order of pepper pain.
For cross-sections of the culinary arts world, his family's Mrs. Renfro's line of condiments are arbiters of a staggering array of flavor combinations and capsaicin sensations, which can involve pain, sweating, and regret. Building on the unexpected niche explosion of their Ghost Pepper Salsa, the 78-year old Fort Worth company debuted their Carolina Reaper Salsa at July's Fancy Foods Show in NYC, where distributors and retailers were able to preview the fiery concoction; shoppers should expect jars in stores soon. Last year in San Francisco, it was the Craft Beer Salsa with a keg of Rahr's Texas Red in every batch which garnered enough popularity in Canada to require French-English labels.
Doug explains Mrs. Renfro's mission, "We offer everyday pricing with gourmet flavors that are difficult to find without paying a premium." Years back, curiosity and research drove Renfro toward India's Ghost Pepper, also known as bhut jolokia. Dr. Paul Bosland of New Mexico State's Chili Pepper Institute (CPI) helped him to conclude that it was a worthwhile pursuit. "He could tell me what was real and what was a marketing sham. My dad and uncle thought it was crazy. There was fear we would get sued, which is why we put flames on the label." Naturally, if Ghost Pepper Salsa was good, the odds were favorable that the stuff would work in queso, which has proven to be the case.
Joining CPI's Advisory Board, Doug met South Carolina's spice savant Ed Currie, grower of the Carolina Reaper, which measures twice as hot on the Scoville Scale as the ghost pepper – 800 times the heat of Tabasco. Doug, Renfro Foods' third-generation President, admits, "It is not for everyone, but people say it produces endorphins, giving them like a runner's high." With little research, the web extols the peppers' health benefits, from cancer "curing" to boosting metabolism and, of course, increasing pain tolerance. In college, Doug worked as a spicer, meticulously measuring the company's recipes' ingredients to the hundredth of a pound on old fashioned scales. Fortunately, his office is a safe distance from where they are now gauged. Some ingredients require gloves and goggles, and when working with ghost peppers, a red sign is placed in the window for warning.
Doug returned to the company for good twenty-six years ago. "My dad and aunt would throw things at me, and product development was interesting. We had mild, medium, and hot picante sauce and were stuck." Using creativity alongside spreadsheets, he considered ingredients for new flavor profiles like black bean, habanero, and chipotle, continuing the expansion to include chow-chow and peach salsa as they refined their creative process. "You come up with ideas and you hope something will take hold and grow, but you never know which one is going to do it." More recently, products being tested include barbeque sauces, a competitive arena with difficult traction and exploding interest.
Beyond their own labels, Renfro Foods develop products for other companies. "Half of what we do is to make things for other people." This includes everything from packaging to recipe concepts which allows for further creativity and engagement throughout the food industry.
Started in 1940 by Doug's grandparents, George and Arthurine, in their garage, the company has developed quite a campus in the Evans and Rosedale area of the Near Southside. "It has been quite interesting to see how much things are changing around us." Currently running at 140 bottles per minute, Renfro Foods continues to innovate; Doug hopes to increase those rates moments after mentioning the 2019 expansion that is under review.
Understanding the importance of the human element, the company has built their team with a simple idea. "We don't scream at people, we pay people well, and we have good benefits. We don't bring you on unless you've been a temp for quite some time, which means we know you really well and you know us really well by the time you are hired."
A longstanding beacon of creative business culture, it makes sense Mrs. Renfro's would partner with the homegrown cosmic boogie of the Quaker City Night Hawks on the upcoming limited issue jars of Queso Blanco for the 7-inch release on buttercream vinyl; after QCHN's Sam Anderson got a tattoo bearing the Renfro matriarch's image, how could they not? Smiling at the thought, Doug Renfro ponders, "There's a lot of days you just don't know what you are doing, but if you just persevere something good will happen. Persistence, more than intelligence, is the key to success. It took seventy-eight years for us to go from itty bitty to really small." It should be said, however, that there is nothing small about the flavors coming out of Mrs. Renfro's.
This article originally appeared in the November/December 2018 issue of Madeworthy.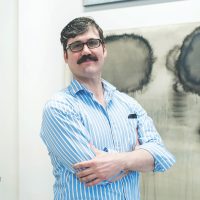 An Austin native, Lyle Brooks relocated to Fort Worth in order to immerse himself in the burgeoning music scene and the city's rich cultural history, which has allowed him to cover everything from Free Jazz to folk singers. He's collaborated as a ghostwriter on projects focusing on Health Optimization, Roman Lawyers, and an assortment of intriguing subjects requiring his research.