Madeworthy
Searching for Peace in the Little Town of Bethlehem
Before I traveled to Bethlehem, my idea of Jesus' birthplace came off a Christmas card: a pastoral village under a star-studded sky, shepherds in their fields, no crib for a bed. A heavenly peace. Maybe even an angel.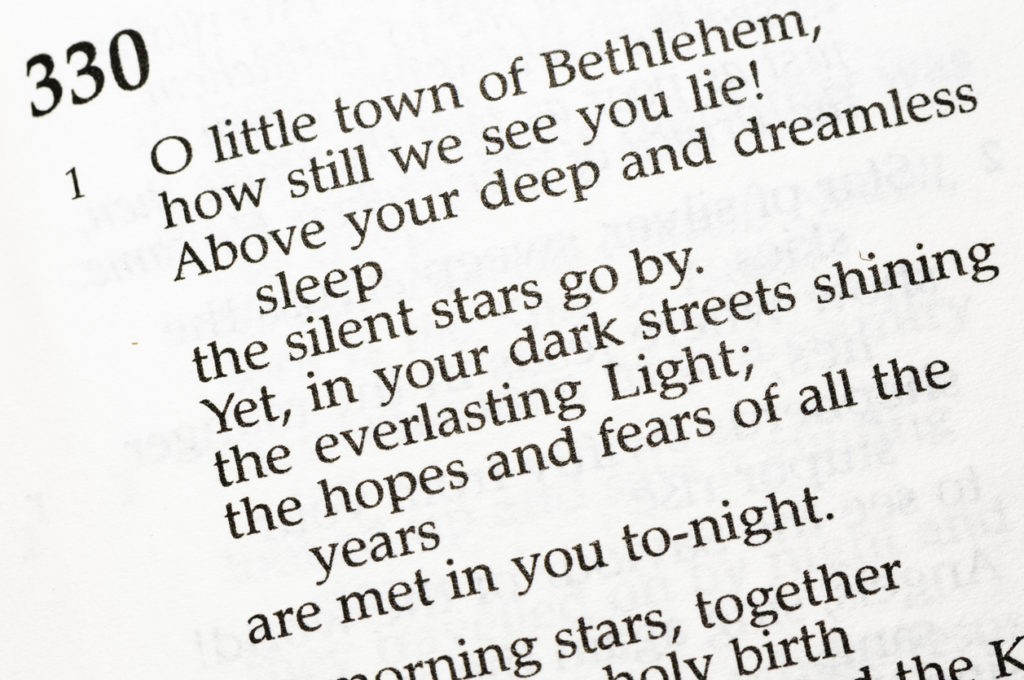 The reality could not have been more different.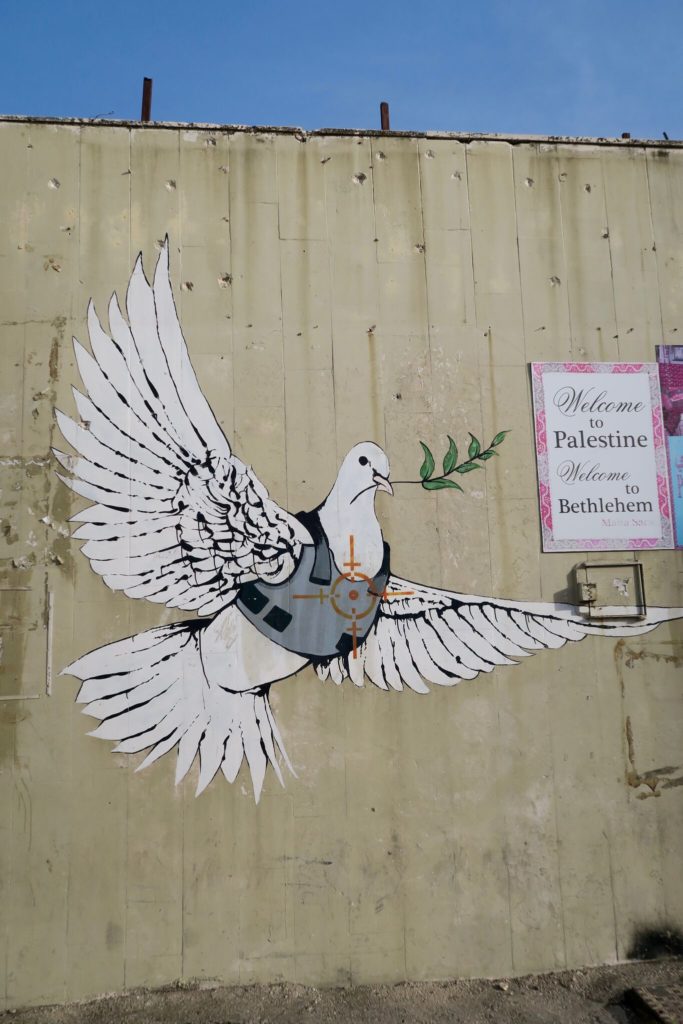 Bethlehem is no little town but a big city, covered in paving stones, barbed wire, and tourists. Part of the Palestinian territories, it is cut off from Israel by the enormous West Bank wall. Jerusalem is just on the other side. Traffic backs up at the border checkpoints and everywhere else.
Bethlehem buzzes with Christian pilgrims from every sect on the planet: Catholic, Lutheran, Coptic, Russian Orthodox, and Southern Baptist. All are headed to the Church of the Nativity in Manger Square, a stone-lined plaza ringed with souvenir shops, restaurants, and a Stars & Bucks Café.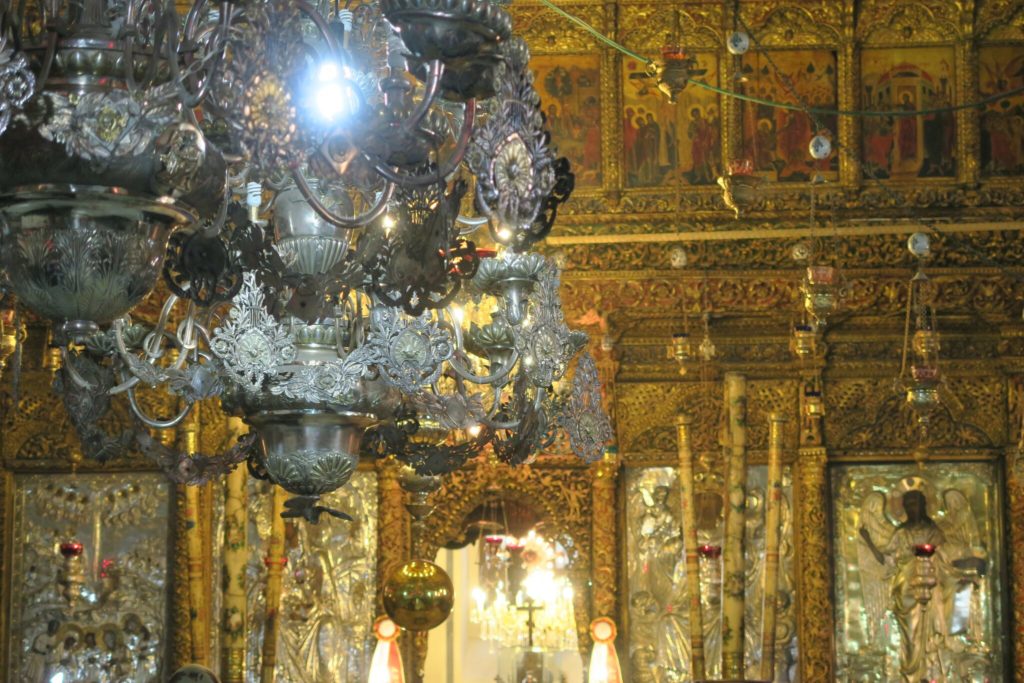 The church's door is four feet tall, built small centuries ago to keep out invaders and oxcarts. I ducked my head and went inside. The heat was stifling. Metal scaffolding filled the nave, a jarring juxtaposition against its elaborate decor. Ornate silver chandeliers hung beside glowing lamps. Intricate carvings covered a massive sanctuary screen, emblazed with saints in gilded from head to toe. Just behind the screen is the traditional location of Jesus' birthplace, a lavish underground grotto with a long line to get in.
I joined the queue, which looped past a gift shop selling candles and blessings. It turned into a crowded cluster on the grotto stairs, pilgrims cramming together to glimpse the shrine. We shuffled forward slowly, inch by sweaty inch.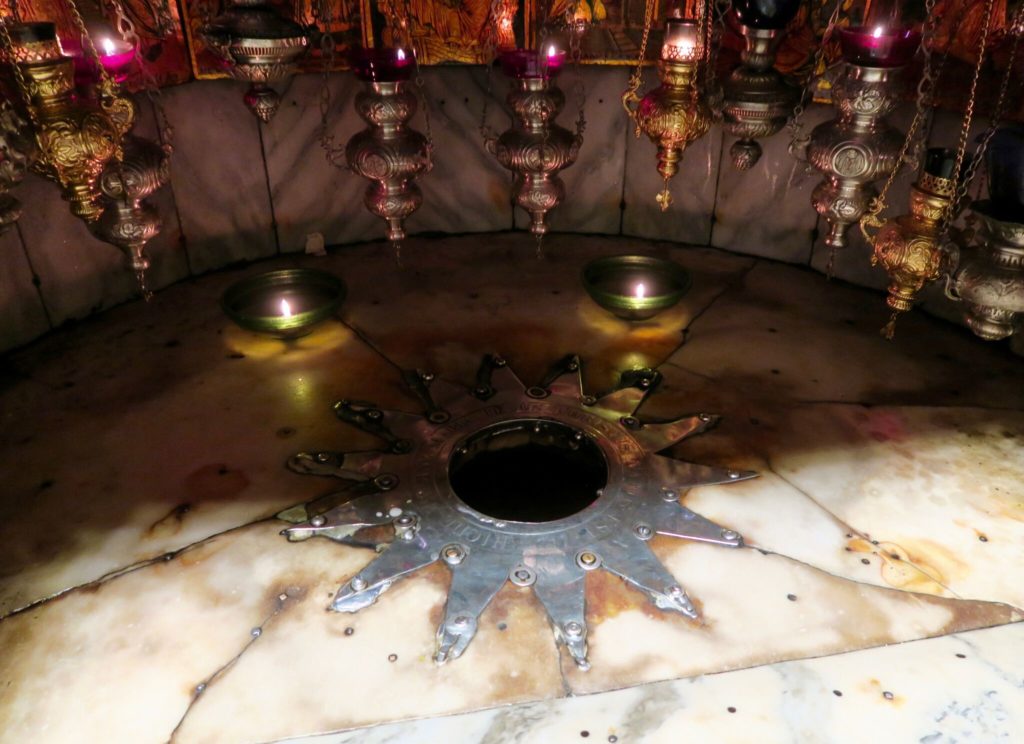 Inside the grotto, it was even more congested. Body to body, elbows to ribs. The exact spot where Jesus was born was marked with a big silver star. People stopped in front of it to bow down low, kiss the star, kiss it again, rub prayer beads on it. And snap the perfect selfie. #holy
I climbed out of the steamy cave, confused and claustrophobic. My illusions about Bethlehem had been shattered like a glass Christmas ornament. The sanctuary was gaudy and crowded and smelled like body odor. I could not get out of there fast enough. I headed towards the door just as a gaggle of tourists started streaming in. Stepping to one side to let them pass, I almost fell into a giant hole.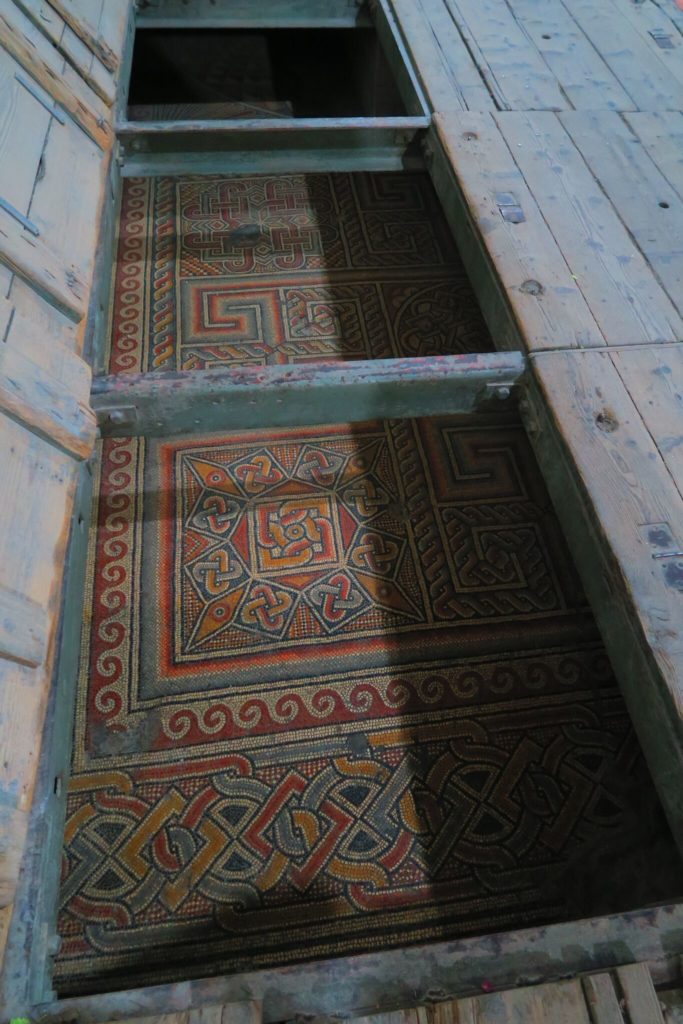 There was no floor beside my feet. Its wooden beams had been raised to reveal an intricate mosaic three feet below. Tiny squares of crimson, gold, and blue swirled together into geometric designs, brilliantly crafted and stretching for yards. I stood in silence, mesmerized by the artwork.
"It's ancient." a voice said behind me. It was my guide Ahmed, who I'd left behind at the grotto. "Fourth-century floor. Constantine built it." As the first Christian emperor of Rome, Constantine's reign launched a new era for the Western world. He stopped the persecution of Christians and commissioned many of Jerusalem's holiest sites, including the Church of the Nativity.
"Let's go. I have a treat for you," Ahmed said, leading me out of the church and down the street to a bakery. He bought two plates of kanafeh, his favorite food, a traditional Arab dessert made with pastry, sugar syrup, and a thick slab of melted cheese.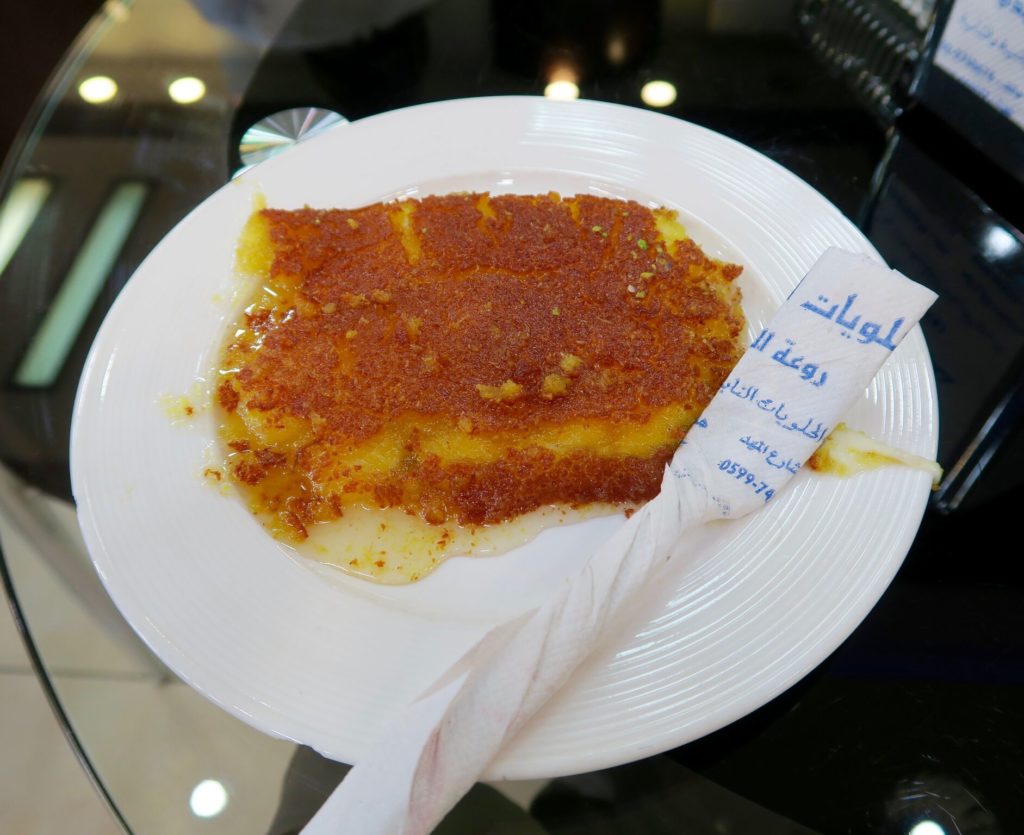 We ate, and Ahmed talked. Like most Palestinians, he is not allowed to cross the border into Israel. This made it difficult to do his second job as a peace activist, where he arranged meetings so Israelis and Palestinians could talk. "We all want the same things," he explained. "But if we refuse to talk, our influence for peace ends." I had heard the same desire for peace from Israelis on the other side of the wall. I had felt the same hope.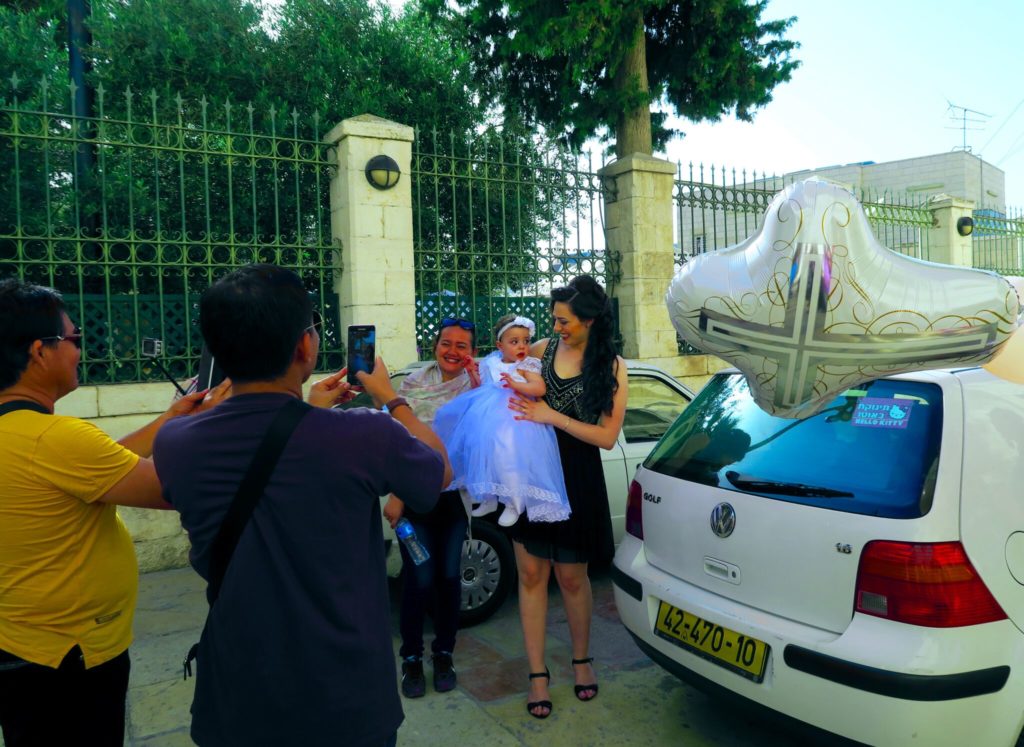 We finished dessert and wandered outside. Nuns sang hymns in the shrine next door, their ethereal voices floating out over the stones. Entranced by the sound, I ran headfirst into a giant, cross-shaped balloon. Behind it, a woman beamed with pride at a tiny little girl in her arms. Ready for her christening, the toddler was dressed in a fluffy white gown and flowered headband—a halo, and she an angel.
I stopped and pantomimed "your baby is adorable" to the mom, then slipped past them into the shrine's stone courtyard. Dozens of lemon-yellow roses bloomed in the sunshine, their faces stretched toward the sky. A sense of peace washed over me and I felt the spirit of the Holy Land stronger than ever before—and the absolute certainty that indeed, God is here.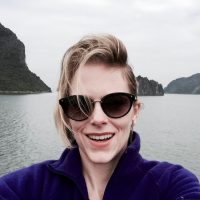 Shilo Urban lives for adventure, loves dogs, and reads books like it's going out of style (which it is). She writes about music, food, art, design, events, and travel – all the good stuff. Raised in the Fort Worth area, Shilo moved to Austin, Maine, Paris, Seattle, New Zealand, and Los Angeles before finding her way home a few years ago. Along the way, she has had over three dozen different jobs, including high school French teacher, record label manager, and farmhand for endangered livestock breeds. She's traveled to more than 50 countries and always has the next trip planned. Shilo has been a freelance writer for over a decade and has published in Fort Worth Magazine, Fort Worth Weekly, and Afar. Her interests include lost civilizations, jalapeño peppers, and Game of Thrones. She is currently writing a thriller and lives in Fort Worth with her two wiener dogs, Steve and Lenny.