The biggest. The spiciest. The wildest, the weirdest, and the just plain crazy. Eat your way through a bucket-list adventure of the most extreme cuisine in the city! 
World's Largest Pizza at Moontower Pizza Bar
 Over eight feet long and 32 inches wide, this ginormous pizza holds the Guinness World Record for the largest commercially available pizza. You can order it for delivery, dine-in, or carry out – but you're going to need some help with your door-size dinner. The pizza comes with one topping and covers a whopping 3,072 square inches! 
137 S. Wilson Street, Burleson 
Pig Ears at Wabi House
Dog lovers already know how much the slobber squad loves munching on dried pig ears. They're crunchy, meaty, and bacon-y. Now you can get in on the action with the tempura-fried pork ears at Wabi House. Sprinkled with furikake seasoning and a squirt of garlic aioli, they might just make you a believer – and they'll definitely make you salivate. 
1229 8th Ave. #227, FW 
Octopus Ink Spaghetti at Piattello Italian Kitchen
This is not your mother's spaghetti. Twirl up a spoonful of this purple-black pasta, which looks like your pen exploded in your plate. But this is no accident – it's a spaghetti symphony made with succulent Spanish octopus, Calabrian peppers, a bright tomato sauce, and the freshest homemade pasta ever. Look for "Spaghetti all Chitarra Neri" on the menu and start with the house ricotta and sourdough for your appetizer – you won't be disappointed. 
5924 Convair Drive #412, FW 
Rattlesnake Sausage at Lonesome Dove Western Bistro
If you're out in the countryside and stumble across the fearsome sound of a rattle, your first thought is probably not "Let's EAT!" Assert your status at the top of the food chain and bite back at Lonesome Dove. Rattlers are paired with fluffy wittle wabbits (the ultimate insult for the snakes) and turned into a delicious sausage appetizer. It's a flavor bomb that's smoked over hickory wood and served with velvety crème fraiche.  
2406 N Main Street, FW 
Angry Meatball at Doc B's Restaurant + Bar
There's nothing extreme about a meatball – unless it's the size of a baby's head. Slathered in a spicy tomato sauce and plenty of parmesan, this baller meatball is made with one pound of 100% wagyu beef. It's topped with a giant scoop of fresh ricotta, drizzled with honey, and served with slabs of toasted brioche. Share it as an appetizer or keep it all to yourself – no judgment. 
5253 Marathon Ave., FW 
Bean Parfait Dessert at My Lan Vietnamese Restaurant
Beans are a savory side dish in the U.S., but in Asia they're often served in dessert. My Lan's 3 Flavor Bean Pudding layers yellow mung beans and red kidney beans into a refreshing parfait – their rendition of a classic Southeast Asian dessert with crushed ice, green jelly strips, coconut, and sweetened condensed milk. It's the perfect antidote to a hot Texas day. 
4015 E Belknap Street, FW 
Pancake Challenge at Ol' South Pancake House
Forget the short stack – this massive pile of pancakes is eight deep and almost a foot in diameter. Eat all eight of the fluffy flapjacks within 60 minutes, and it's free (or $19.99 if you throw in the towel). There's one catch: the Pancake Challenge isn't available on Saturdays and Sundays from 6:00 a.m. to 2:00 p.m. Go to church, you heathen. 
1509 S University Drive, FW 
Oni Reaper at Oni Ramen
Not for the faint of taste buds, this "demon spiced" dish comes with a warning label. Five of the world's hottest peppers go into this eyeball-burning broth: habaneros, ghost peppers, Trinidad scorpions, 7 Pot Brain Strain chilis, and the namesake Carolina reapers. Even better, the miso pork broth is served piping hot. Maybe those bean sprouts will cool you off. 
2801 W 7th Street, FW 
Tripa Tacos at Salsa Limón  
Made from the stomach lining of a cow, tripe is a Mexican delicacy that's best known for its appearance in menudo (the soup, not the boy band). Adept chefs at Salsa Limon slow-simmer the vaguely sponge-like organ meat with herbs, onion, and garlic. It's crisped on the griddle and then served in tasty street-style tacos. 
550 Throckmorton Street, FW 
Wagyu Tasting at Del Frisco's Double Eagle Steakhouse
Coming in at a cool $160, this tasting dinner might be the most expensive menu item in the city – so you better savor every single bite. It features three different types of Wagyu, which is a fatty, fine-textured beef from Japanese breeds of cattle. You'll get three ounces each of Australian, Japanese A5, and Rosewood TX Wagyu. Sides cost extra.  
812 Main Street, FW 
CBD Donut Holes at Funkytown Donuts
Funkytown Donuts is known for its far-out flavors, like peach jalapeno, BBQ brisket, and Fruity Pebbles with pop rocks. But this might be their most tripped-out idea yet. Only available in pop-up situations, these heady donut holes are dosed with cannabidiol oil aka CBD. It's the active ingredient in cannabis (minus the high-inducing THC) and is used medically to manage pain. And it tastes much better than Vick's Vapor Rub. 
1000 8th Ave. #101, FW 
11-Pound Burrito at Bad Azz Burrito
How many people does it take to eat a burrito the size of baby? Five, according to Bad Azz Burrito. Less extreme eaters might prefer the 9-pound or 6-pound version. They're all stuffed with beef, beans, and vegetables and then capped off with cheese, sour cream, and guac sauce. Advance notice required. 
1200 S Blue Mound Road, Saginaw 
Chocolate Lover's Piñata at Uncle Julio's 
Bust into a chocolate wonderball filled with chocolate-stuffed empanadas, crispy mini churros, and bright red strawberries – no blindfold required. Grab your favorite treats and drag them through sweet tooth heaven: semi-sweet fudge sauce and whipped cream topped with dark Belgian chocolate shavings.  
5301 Camp Bowie Blvd., FW 
Calf Fries at Riscky's Steakhouse
Call them mountain oysters, cowboy caviar, tenderloin, or the original sack lunch – calf fries are bull testicles, battered and deep-fried. The taste hits somewhere between chicken, venison, and rubbery. Calf fries are the house specialty at Riscky's, where they come with a side of house-made cream gravy and bragging (?) rights. 
120 E Exchange Ave., FW 
The Big Eddie at Eddie V's Prime Seafood
Stacked three levels high, this massive seafood tower is more than a meal – it's an experience. Super-fresh shrimp, ahi tuna, raw oysters, Maine lobsters, and King Crab legs are piled high on platters of ice, so everything stays cool as you conquer your dinner. You even get to use those adorable tiny forks. 
3100 W 7th Street, FW 
Horse & Sidecar Bloody Mary at Snooze, an A.M. Eatery
Sometimes you just need a beer with your Bloody Mary. While cocktails are technically drinks, this one makes the food list because of the small meal of garnishes that come on top. Nosh on a fat cube of ham, a chunk of smoked cheddar, an olive, a big pickle – and yes, an entire can of beer as your "sidecar." It's perfect for washing down a flight of pancakes. 
2150 W 7th Street #108, FW 
Uni Sashimi at Blue Sushi Sake Grill
Plain ol' raw fish is extreme enough for some people, but uni takes it to a new level. Creamy and golden, the briny paste comes from spiny sea urchins. It's the only part of the animal that you can eat: its gonads. Uni is hugely in-demand by seafood lovers around the world. Diver-caught, sustainable uni from California is available sporadically at Blue Sushi.  
3131 W 7th Street, FW 
Tomahawk Prime Rib at Woodshed Smokehouse
Channel your inner Fred Flintstone with this gripping roast, which indeed could double as a weapon. A thick bone juts towards the sky from its bed of tender beef, just begging you to grab ahold and beast it up like the wild-eyed carnivore you are. Listed on the "Dining with Friends" portion of the menu, the tomahawk prime rib comes with potatoes, asparagus, green salad, and bread. It just might have you screaming "WIL-MA!" 
3201 Riverfront Drive, FW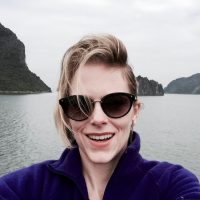 Raised in the Fort Worth area, Shilo Urban moved to Austin, Maine, Paris, Seattle, New Zealand, and Los Angeles before finding her way home a few years ago. Along the way, she has had over three dozen different jobs, including high school French teacher, record label manager, and farmhand for endangered livestock breeds. She's traveled to more than 50 countries and always has the next trip planned. Shilo has been a freelance writer for over a decade and has published in Fort Worth Magazine, Fort Worth Weekly, and Afar. Her interests include lost civilizations, jalapeño peppers, and Game of Thrones. She is currently writing a thriller and lives in Fort Worth with the stars of this article, Steve and Lenny.