We've all done it. Seduced by gorgeous produce at the farmer's market or grocery store, we buy more than we can eat before it gets mushy. Or we make a big batch of pasta or soup, and no one eats it. Or we get a doggy bag from a restaurant and simply don't eat the leftovers before they start to wilt. So we join people all across America and toss out that mushy produce or that unwanted soup or that wilted salad.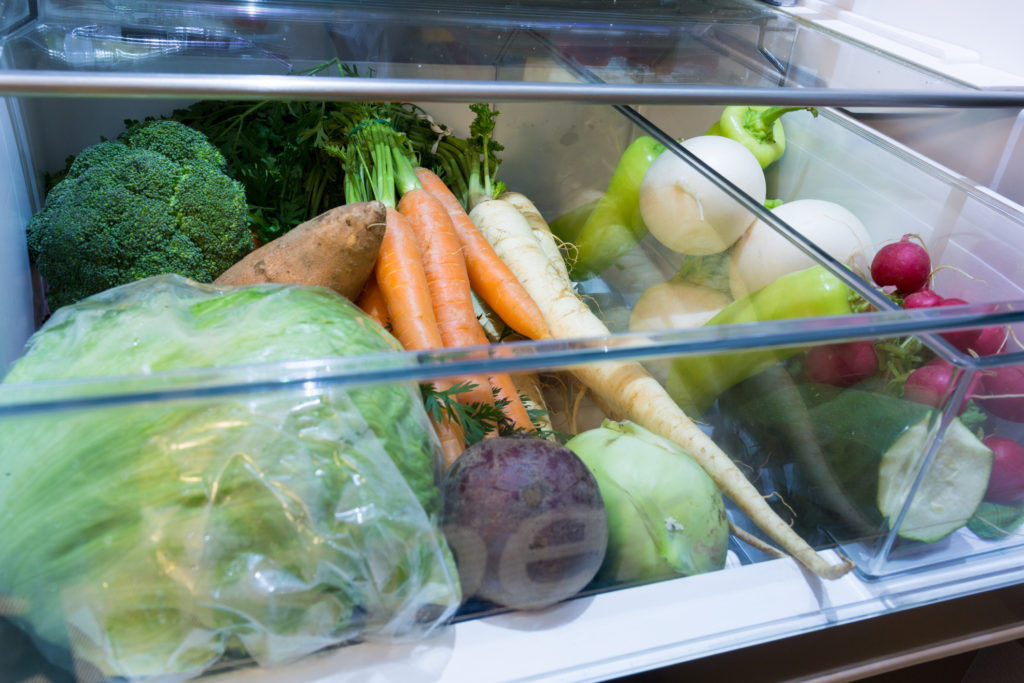 Harmless, right? The only thing that wasting food affects is our bank accounts, yes? Unfortunately, that isn't the case.
According to researchers at the U.S. Department of Agriculture who analyzed eight years of data, Americans waste about a pound of food per person every day. That amounts to approximately 150,000 tons of food a day across the nation or about 40% of food produced. Translated into dollars, Americans waste more than $160 billion in food a year. Fruits, vegetables, and dairy, because of their perishability, are the top loss leaders.
A great majority of this discarded food ends up in landfills. As the food decomposes, it releases methane, which is a powerful greenhouse gas. In addition, food waste takes up an enormous amount of space in our landfills. The U.S. Environmental Protection Agency estimates food dumped into our landfills, comprises some 22% of a municipality's solid waste, more than any other kind of waste we produce.
At the same time Americans are wasting so much food every day, there are people in our country, our state, and our city who go to bed hungry every night. According to Feeding America, a hunger relief agency, 15.4% of the population of the United States are food insecure. Texas' average is 17%. In Tarrant County, 18.1% of the population is food insecure. One in four children in Tarrant county suffers from food insecurity.
So what can we as consumers do? How can we stop wasting food and make sure that people in our community have access to food? I reached out to Dr. Gina Hill with this question. Dr. Hill has taught in the Department of Nutritional Sciences at Texas Christian University since 2003. A Registered and Licensed Dietitian, Hill's resume is extremely impressive. A member of the Nutrition Dietetic Educators and Preceptors and the Hunger and Environmental Nutrition dietetic practice group, Hill has worked with Meals on Wheels of Tarrant County, Inc., to improve the nutritional status of homebound elderly and with University Christian Church's Weekday School to create a learning garden. She serves on the Food Recovery Working Group of the Tarrant County Food Policy Council (TCFPC), helping guide county-wide solutions to current food issues that affect our community.
Dr. Hill admitted that there is no single answer to the question of how we can stop wasting food while ensuring that people don't go hungry. "We have to educate consumers," Dr. Hill says. "And we have to work with local government to change the laws."
Hill became interested in food waste through an article in Modern Farmer magazine. While she knew about food waste, she says she hadn't realized the severity of the problem in the United States. Her growing interest was further peaked by a research study in the TCU cafeteria. What food wasn't eaten, regardless whether it was a half-eaten sandwich or an untouched banana, was thrown out. This happens in school cafeterias, restaurants, and grocery stores across the country every day.
In 1996, President Clinton signed into law the Bill Emerson Good Samaritan Food Donation Act. By minimizing liability, this law was created to encourage food donations to nonprofit organizations. The Federal Food Donation Act of 2008 builds on that law. Federal contracts for purchasing food valued over $25,000 must make provisions for contractors to donate wholesome excess food to nonprofit organizations. Grocery stores and restaurants could donate their excess food to nonprofits under these laws, but they don't. How do we change our attitude to food waste?
"By education," says Hill. "We need to put the pieces [of food waste awareness] into place, so let's start with the kids." To that end, Hill, coordinated a Sustainability Pilot Program at North Hi Mount Elementary School in the spring semester of 2019.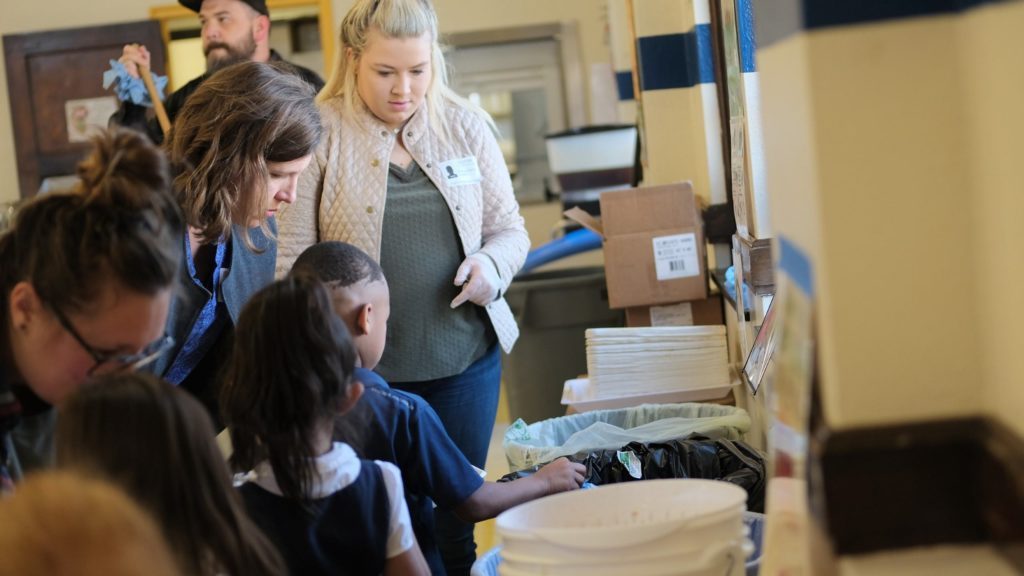 The program was a partnership between the Fort Worth Independent School District, the TCFPC's Food Recovery Working Group, TCU's Department of Nutritional Science, and Fort Worth's Cowboy Compost, a private composting company founded by entrepreneur Johanna Calderón and Fort Worth Symphony Orchestra's Music Director Miguel Harth-Bedoya. After breakfast and lunch, North Hi Mount's students sorted their cafeteria waste into trash, recycling, compost, and items for the Share Table. The Share Table is for uneaten food like whole fruit and intact packaged items. Any student could take something from the Share Table, and food left on the table at the end of the day was passed out to students as they boarded school buses for home.
The program at North Hi Mount not only teaches students how to reduce waste, it helps students who are struggling with food insecurity. The program was, by all accounts, a success. "A fifth-grade teacher told me that after her class had lunch in their classroom, they insisted on going down to the cafeteria to sort their waste and put things on the Share Table!" Hill recounts. However, the program was funded by a research grant. While recycling and share tables are free, composting costs money. In April, North Hi Mount produced 2100 pounds of compostable materials. (The school started using compostable lunch trays and napkins at the beginning of the program.) The continuation of the composting program is uncertain without the grant.
Sparked by the conversation about the North Hi Mount program, I asked Hill about citywide composting. I had family who lived in Seattle and was always impressed by their municipal composting program. In addition to recycling and trash, the city picked up compostable food scraps every week. I asked if this was something that we could see Fort Worth doing in the future.
Imagine my surprise when Hill said that the City of Fort Worth has launched a food scrap composting pilot program. A $20 subscription fee will get you a small pail for your kitchen counter and a 5-gallon bucket. When you fill the bucket, you can drop off the food scraps at any of 10 collection sites across Fort Worth. Hill said there has been a huge response for the program, which is being managed by Cowboy Compost and funded through a grant from the Texas Commission on Environmental Quality.
"But composting isn't enough," says Hill. She pointed to the EPA's Food Recovery Hierarchy . In that upside-down pyramid, composting is only one level above landfills as a strategy to deal with food waste. "We need to do more on the upper parts of the pyramid."
The upper levels of the Food Recovery Hierarchy are "feeding hungry people" and "source reduction." According to the EPA's website, these levels are "the best way to prevent and divert wasted food because they create the most benefits for the environment, society, and the economy."
The Food Recovery Working Group would like to see share tables and recycling programs at schools across the city. In addition, the group hopes to work with grocery stores, schools, and parent-teacher organizations. If grocery stores could donate culled fruits and vegetables to schools, a significant amount of food waste could be avoided. Hill says that anyone interested in helping set up a partnership with a grocery store or a recycling/share table/composting program at their school, the Food Recovery Working Group would love to help.
Another way to get food to hungry people is a citywide food rescue program. City Harvest is a non-profit food rescue organization in New York City which could be emulated in cities across America. City Harvest trucks collect excess food from restaurants, grocery stores, bakeries, greenmarkets, food manufacturers, and corporate cafeterias and transported it to the Food Rescue Facility where it is then distributed to community food programs. According to City Harvest's website, food collected and delivered by City Harvest helps over 1 million residents of New York City.
The top tier of the Food Recovery Hierarchy is labeled Source Reduction. Hill says this means that we need to "fill up our fridges with what we need… not more [food] than we [can] eat that then gets tossed." In other countries, refrigerators are small, and people shop for food every day, thereby ensuring fresh ingredients that get used instead of going bad. Unfortunately, this might not be possible in our busy, work-driven American society. But there are things we can do to reduce the amount of food we waste.
One concrete step in reducing food waste is to educate ourselves on the difference between "use-by," "sell-by," and "best-by" dates on food labels. Confusion over what these phrases means leads to billions of pounds of food waste every year, according to the Institute of Food Technologists (IFT). Just because something has gone past its "best-by" date does not mean that the food is inedible and/or unsafe to eat. Except for infant formula, the US Department of Agriculture does not require food dating. The quality of food products may deteriorate as these dates pass, but the food should still be safe to eat if they have been handled properly.
Here is a breakdown of what each phrase means:
The "best-by" date is merely a suggestion. It is neither a purchase nor safety date. This is the date that the manufacturer or the grocery store arbitrarily assigns and means that the food should be consumed by that date "to assure for ideal quality."
The "sell-by" date is aimed at retailers for inventory management. It is not a safety date. According to the IFT, if a product on your pantry shelf has passed its sell-by date, it does not mean that it is unsafe to consume the product. "Typically, one-third of a product's shelf life remains after the sell-by date for the consumer to use at home."
The "use-by" date is the last date recommended for the use of the product at peak quality. Unless it is on infant formula, it is not a safety date.
Fruits and vegetables are particularly perishable. As they are essential to a healthy diet, we tend to buy lots of produce, only to store it incorrectly. If produce is stored incorrectly, it deteriorates more quickly, leading to more waste. Store bananas, potatoes, tomatoes, and citrus in a cool, dry place, also mushrooms, onions, garlic, and eggplants. Store lettuce and greens in the crisper drawer in the refrigerator, as well as apples, carrots, celery, and most fruits. Herbs can be cut and stored with the cut ends in water, while asparagus can be wrapped in a moist paper towel.
Hill says that a large part of the problem is that we as a society do not value food. America, after all, is the land of plenty, and food is taken for granted. Hill grew up on a farm and is an accomplished gardener, so she understands the work that goes into growing food. She keeps chickens who are given food scraps and composts. She has rain barrels to collect rainwater for the garden. Her backyard, with its vegetable garden, chicken coop, and compost bin, is a model of what can be done on a small scale to produce food for a family. "If you grow your own food, you learn to value it," Hill says.
Hill told me about a field trip for her students. Instead of going to a museum or the zoo, she and her students went to the City of Fort Worth's landfill. "It's really state-of-the-art," Hill says. "It has sprayers to keep down the smell. But it really puts into perspective the amount of food we waste." Every day, between 700 and 800 trash trucks dump their contents into the landfill. "I realized we were standing on garbage," Hill says. "Once we fill this one and the next and the next, where will all our garbage go?"

To learn more about food waste, food insecurity, and what you can do to help in our community, please visit the Tarrant County Food Policy Council's website.