This issue's installment of Fresh Family Recipes come from Lil Boy Blue BBQ, Carrie Lou's Catering, and the Central Market Cooking School. They are delicious and family-friendly. Enjoy!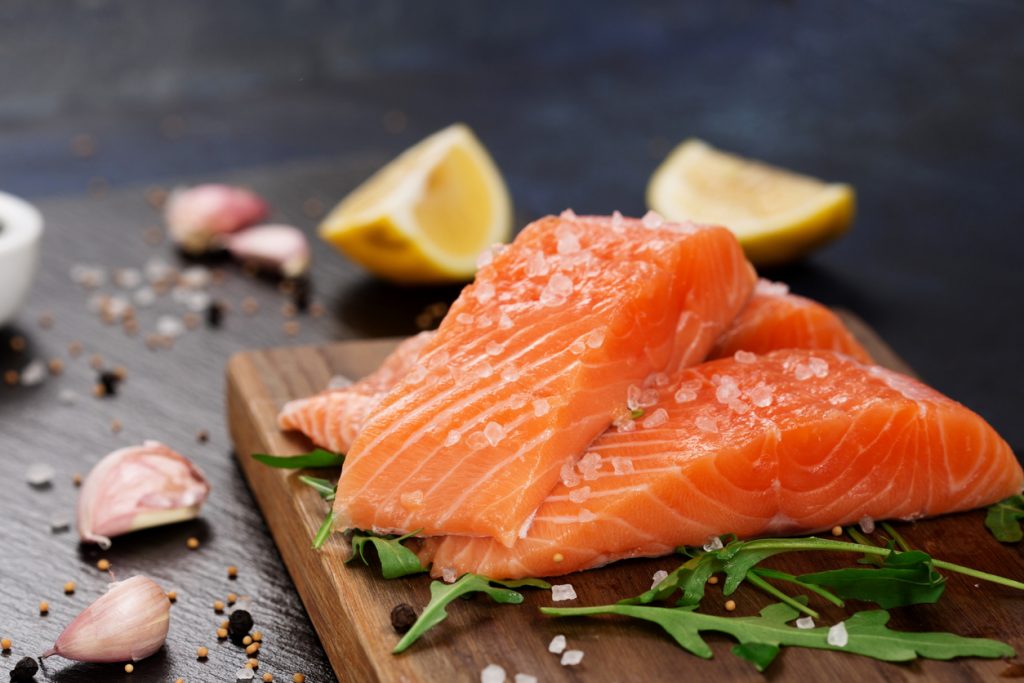 Lil Boy Blue BBQ's Salmon Croquettes
Reggie and Cedric Robinson run Lil Boy Blue BBQ, and Cedric shared his recipe for a family favorite. He wrote, "We think it fitting to honor our first love alongside our culture in one of our favorite recipes, salmon croquettes. If you don't know them, it's essentially a dumpling reconfigured inside a buttery-saltine cracker crust that doubles as the best-fried fish you've ever had. It delivers a striking balance of the sea and the savory in each bite. Pro Tip: They're irresistible when cooked in a seasoned cast iron skillet with butter-flavored shortening."
Ingredients
2 tablespoons unsalted butter
2 tablespoons flour
¼ cup milk
1 14.75-ounce can or two 7.5-ounce cans pink or red salmon, drained, deboned, flaked (reserving the liquid)
½ to 1 small onion, depending on taste, finely diced
Black pepper to taste
Vegetable oil
1 sleeve of saltine crackers, crumbled
1 egg, lightly beaten
Directions
In a medium saucepan, melt butter over medium heat.  Add flour and mix thoroughly.  Stirring constantly, cook a couple minutes to cook off raw flour taste. Add milk and whisk in completely – mixture will thicken quickly. Add onion and cook until onion becomes slightly tender. Add deboned and well drained salmon and mash into white sauce mixture. Add pepper and cook for 3 minutes or until thoroughly heated. Mixture will resemble mashed potatoes. Scrape mixture into a large bowl. Place a piece of plastic wrap directly touching the salmon mixture (to eliminate crusting and drying) and place in refrigerator until mixture is completely cool.
In the meantime, using a dough roller, roll crackers that have been placed in a plastic zippered bag until they make fine crumbs and set aside. Beat the egg in a plate with approximately 2 tablespoons of the reserved salmon liquid. Beat until thoroughly mixed, set aside.
Working in batches, spoon salmon mixture by the heaping tablespoonful directly onto the cracker crumbs. Roll salmon croquettes in crumbs, then roll in egg mixture, and roll again in cracker crumbs. Shape in desired shape and set aside.  Repeat until all salmon mixture is used.
Heat vegetable oil or shortening in a large skillet, cast iron preferred, to approximately 350° or medium high heat. Place salmon croquettes in heated oil and cook approximately 2 to 4 minutes per side or until golden brown.  NOTE: Do not over crowd the pan because too many croquettes will cause the heat to drop. Also, watch and make sure that the heat is not too high so that the croquettes will cook completely inside and outside.
Enjoy!  These are good hot or cold.  Serve with buttered grits and make new friends.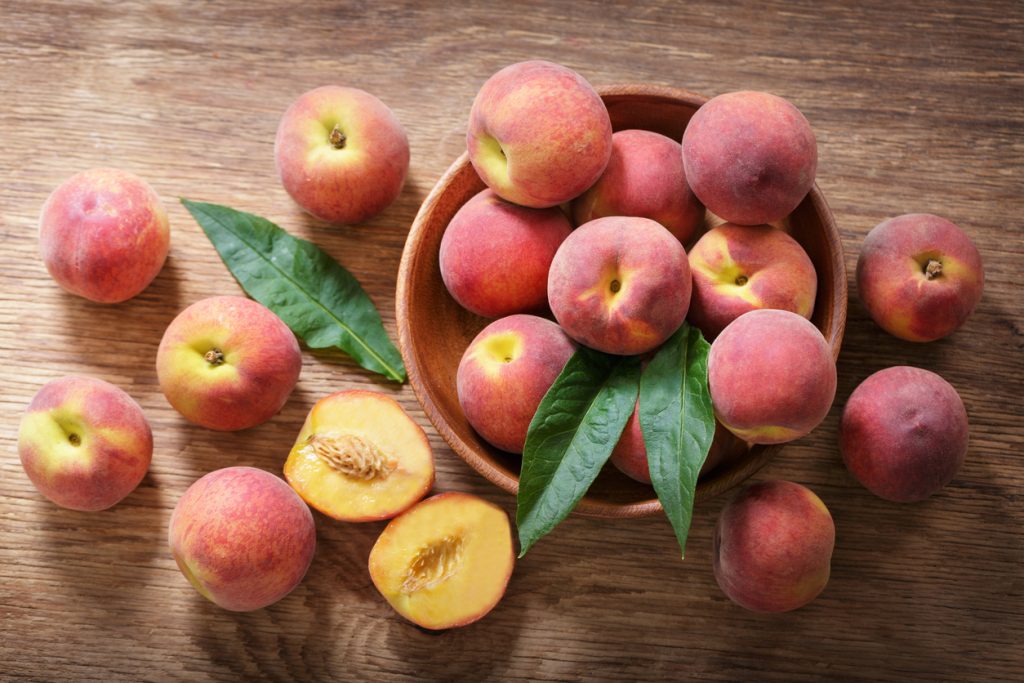 Carrie Lou's Peach Cobbler
Chef Carrie boasts an illustrious 25-year of fine dining experience, serving diners of all backgrounds and palates. Carrie has also been recognized for her partnership with local churches and community centers to feed and help seniors in the greater Fort Worth Community. Carrie Lou's is named after Chef Carrie's great-grandmother and namesake, Carrie Lou Williams, the originator of this delicious cobbler.
Please note, this recipe has been modified for home cooks.
Ingredients
For the filling
4 15-ounce cans peaches, drained
1 teaspoon ground cinnamon
1 teaspoon ground nutmeg
1 ½ cups white sugar (divided use)
Pinch of salt
1 stick unsalted butter (divided use), cubed
For the crust
2 ½ cups all-purpose flour
Pinch teaspoon fine salt
3 tablespoons white sugar
¼ cup vegetable shortening, cold
12 tablespoons cold butter, cubed
¼ cup to ½ cup ice water
Directions
For the filling
Combine the peaches, cinnamon, nutmeg, 1 cup of sugar, and salt.
For the crust
In a large mixing bowl, sift together the flour, salt, and sugar. Add the cold shortening and work it with your fingers, coating it with flour. Add in the cold butter cubes and work into the flour mixture using your hands, a fork, or a pastry cutter. Work quickly so the butter doesn't soften too much. The mixture should be crumbly and look like coarse cornmeal. A little bit at a time, add in the ice water, mixing until a dough is formed.
Once the dough comes together, STOP working it. The dough will get really tough if it's worked too long.
Form a ball with the dough, divide in half, and form each half into a round disc shape. Wrap each disc in plastic and chill for about 30 minutes.
For the cobbler
Preheat the oven to 350°.
Roll the chilled dough discs out on a floured surface into a rectangle that will fit a 9×13 baking dish. Place the first crust into the bottom of the pan. Poke holes in the crust with a fork to keep the dough from bubbling up through the cobbler. Spread the peach mixture over the bottom crust, and top with half the cubed stick of butter. Place the second crust over the peach mixture and poke vent holes. Spread the remaining half of the cubed stick of butter over the crust and sprinkle everything with the remaining sugar.
Bake for 1 hour. Check to see that the crust is nice and golden brown. If not, cook 10 minutes more. Remove from the oven, cool a little, and serve warm with ice cream or whipped cream. Or just eat it out of the pan!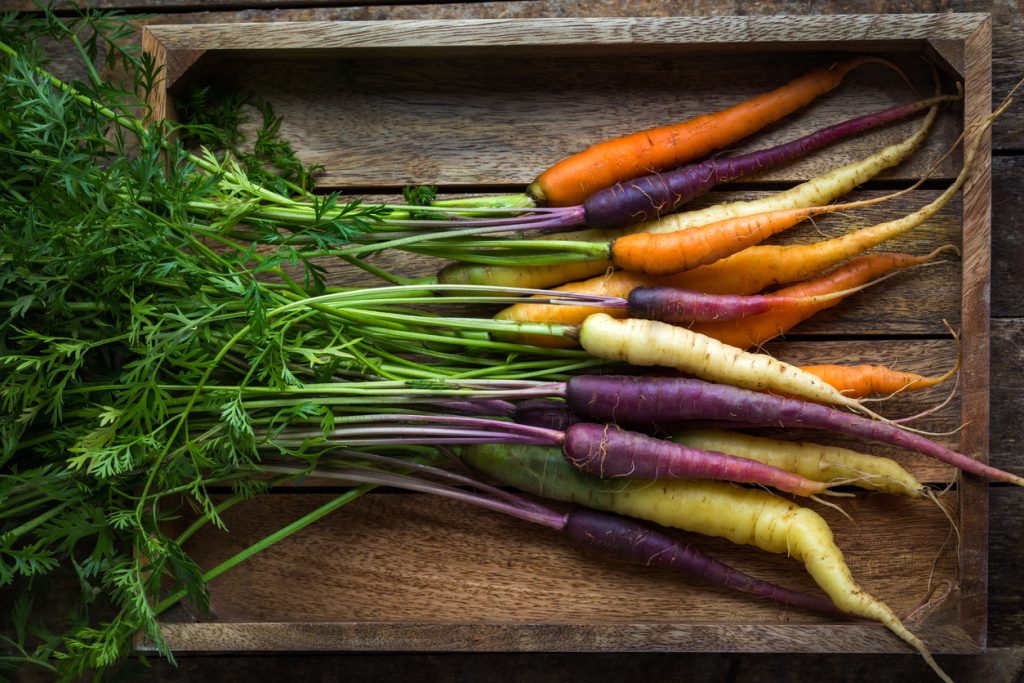 Rainbow Carrots with Harissa and Honey
This recipe from Central Market's cooking school is easy and delicious. It's perfect for a busy night or a dinner party.
Ingredients
1 pound rainbow carrots, peeled and sliced in half lengthwise
2 tablespoons ghee*
1 clove garlic, minced
3 tablespoons harissa paste**
1 tablespoon honey
Juice of 1 lemon
Chopped cilantro and lemon zest for garnish
Directions
In a medium saucepan over medium heat, melt the ghee. Add the carrots and sauté until they are tender but not soft, about 10 to 12 minutes. Add the garlic and cook for about 30 seconds before adding the harissa and honey. Toss the carrots well and then add the lemon juice. Toss again, making sure the carrots are well-coated. Turn the heat down to low and cook for an additional 5 minutes.
Serve with chopped cilantro and lemon zest. Serves 4 as a side.
* Ghee is a clarified butter used in Indian cuisine.
** Harissa is a Moroccan pepper paste. It can be spicy or milder. This recipes is great with the spicier version, if your family can handle it.