Joe Ibarra executed his first drive-by shooting when he was ten. Two years later, when he was in seventh grade, Ibarra officially joined a Northside gang. Upon joining, he dropped out of school.
"I didn't have a father figure," said Ibarra. "People I did have didn't really care about me; I was in the streets."
Ibarra, now 34, stayed in those streets for a long time. Gang-banging. Getting by. Losing his brother in the process.
"Then my wife got pregnant, and when I saw my little girl, that's when I told myself: 'Hey, you gotta change.'"
Becoming a parent immediately changes your perspective on life, says Ibarra. He wanted to be a role model. He wanted to teach his kids to "never give up." But to be able to be a role model and teach his children, he needed to change his life. He decided to enroll in Parent University.
Parent University is a ground-breaking program designed by Fort Worth Independent School District Principal Marta Plata at Manuel Jara Elementary School in Fort Worth's Northside neighborhood. Started in 2013, the program's mission is to empower parents by teaching them the skills they need to become partners in the success of their children, both socially and academically.
For Principal Plata, that mission started with a chase down a residential street in Northside five years ago.
"Watch out for Plata, because I'm going to skip out on tutoring," said a student in the hallway of Manuel Jara Elementary one morning. Unfortunately for that student, Principal Plata happened to overhear him whispering to his friends, and she would not let him go, quite literally. She chased him ten blocks to his house where she was met by his mother at the front door. Plata told the mother that her son had skipped out on his tutoring. Perhaps understandably, the mother took her child's side. Then Principal Plata gave that mother a hard dose of reality.
"I didn't birth your son. You did," said Plata. "And he can't read. He's a fifth grader who reads on a second-grade level. If he can't read, it's a matter of time until he drops out. Then you'll have to support him for the rest of your life."
The mother paused, standing in the doorway, face-to-face with Plata. She then turned to her son and said, "You're never skipping school again." Plata recalls that he never did.
"I didn't change that little boy, his mother changed him," said Plata. "I can't do anything in six hours if the parents won't support it in the other 18."
School is a necessary support system to parents, especially in lower income neighborhoods, explains Plata. But she says, "I have no real power as a principal. Academics begin at home." When Plata developed Parent University, she based it on the Raising Highly Capable Kids® curriculum. This 13-week program is based on the Search Institute's 40 Developmental Assets, which includes research-driven developmental assets that children need to succeed. These include things such as boundaries and expectations, constructive use of time, commitment to learning, positive values, and social competence. Like Raising Highly Capable Kids®, Parent University is aimed at parents, not children.
Parent University teaches that modeling behavior is extremely important. Parents need to model social and academic behaviors for their children to emulate. For example, at Parent University, teachers will teach parents how to read. This allows parents to read to their children at home, using strategies they learned from Parent University to increase literacy.
Parent University classes meet at Manuel Jara Elementary School every Thursday night. Childcare and snacks are provided free of charge. This makes it possible for single parents or larger families to come and learn.
By attending Parent University, Maricela Lara, 31, is modeling the desire to stay in school and the drive to succeed academically to her seven-year-old son, Alex. This is her first year in Parent University, but she has already decided that she will continue learning. She plans on getting her associate degree from Tarrant County College. Lara takes Alex to class with her each Thursday, so he can see his mother working hard, learning, and succeeding.
"I tell Alex, 'I'm a student just like you,"' said Lara. '"And we can both be something big because we're champions.' That's how I guide him to a better future. Even though we make mistakes, we can become better people."
So far, Plata as guided 106 parents to graduating from the Parent University 101 course. Initially, that was the end of the program, but the parents did not want to leave, says Plata. In response to the demand for more, she created a second-year curriculum for parents, which was quickly followed by a third-year program. Not only were the classes helping parents help their students succeed, they were building community and the dreams of parents simultaneously.
The third year of Parent University is PU 301: Parent Leadership Academy. The fifteen parents who have made it this far through the program are working on a college education through a free partnership with Tarrant County College. Parents enrolled in this course get continuing education credit at TCC.
"It gets [these] parents on a college campus. They get a real student ID card. Access to the facility. And a real idea of what it's like going to college," said Plata.
During the last day of the Parent Leadership Academy, parents get to think about their futures and their dreams. For most of their time in Parent University, they have focused on how their actions affect their children. Obviously, better parents are able to raise stronger children. However, becoming better is terribly difficult when living at the poverty line. There is no time or emotional capacity to spare. On the last day of Parent University, they work on becoming better.
"It's survival. It's plain survival," said Plata of living at the poverty line. "We don't talk to our children; we talk at our children. Because it becomes survival. I've never met a parent who doesn't want to do the best for their kids; they just don't know what it is. And if they do, they don't know how to attain it."
According to greatschools.org, at Manual Jara Elementary School, eighty-nine percent of the students are living at or below the Federal Poverty Level. This means many things other children take for granted, such as new uniforms, new textbooks, and even breakfast, are hard to come by. Poverty impacts learning dramatically.
"What seems obvious is that poverty negatively affects learning and academic success in young children," explained Heather Reynolds, CEO and President of Catholic Charities Fort Worth. "As a society, we are well-versed to understand that kids who miss meals have a hard time focusing in school. Kids who are hungry, tired, or neglected in other ways have a near-impossible time freeing their bandwidth to learn. But maybe what's as critical to this story is that children grow up in the context of families, so while it is absolutely necessary to support these children individually in our work, we also have to be helping families rise above poverty to improve child outcomes."
"I wish every kid and every parent had access to this [Parent University]," Plata said. "What I do for Parent University, I do for eternity because I know it's going to change the future. It'll break the cycle of poverty, abuse, and ignorance."
Because of Plata's selflessness and her drive to help her students and families, community business partners and surrounding churches that have stepped up to provide financial resources to support the program. As a result, Parent University is not only thriving at Manuel Jara Elementary, it is spreading to schools across the state. Plata has personally trained over forty administrators at different schools throughout Texas, and approximately thirty schools have implemented the program, including campuses in Corpus Christi, San Angelo, and, nearer to home, the Hurst-Euless-Bedford school district. There is even a school in Chicago that has started Parent University.
"This is what I want with all my heart," said Plata. "This is a God Idea. Any idea is just an idea unless you get the help. We've been doing this for five years for free. I'll gift it to any principal who wants to do it."
Principal Plata's idea, coupled with her hard work and selflessness are making a difference; she is closing the achievement gap. For the last two years, Manuel Jara Elementary School has met standard proficiency on the state's STAAR test. Eighty-one percent of students with parents in Parent University are reading above grade level. The other nineteen percent are reading at grade level. Today, her campus of six hundred twelve students has a ninety-six percent attendance rate, which is far higher than the district or state average.
"If I can empower those parents to become advocates, my babies will be fine for the rest of their lives," Plata said. "When a parent starts feeling good about themselves, the child starts succeeding." She tells parents, "You're it. You are the most important person in your child's life."
Joe Ibarra could not agree more. Show your children the power of education, he says. "Educate yourself first so your kids can see that."
These days, Ibarra has left the streets behind. He is working day shifts at his job in Haltom City and is talking to Principal Plata about getting his GED. He has been attending Parent University for two years, and he says it has given him the opportunity to get closer to his children and really help with their education.
Ibarra's daughter Layla, 12, sees firsthand what attending Parent University has done for her father. "He's doing better in his life now, and it helped him be a better parent," said Layla. She wants her father to be happy, and she wants him to be proud of her and her sisters. Her father wants his daughters to have a better life than he had growing up. Together, they are learning how to achieve that better life.
Give the Gift of Literacy: You can help Parent University by purchasing a Barnes and Noble gift card. This will enable Parent University to purchase hardback books for parents to read to their children at home. You can mail or drop off gift cards to:
Manual Jara Elementary School
attn: Parent University
2100 Lincoln Avenue
Fort Worth, Texas 76164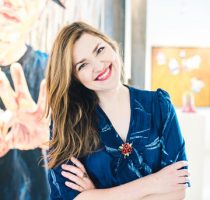 For more than a decade, Sarah Angle has worked as a Texas-based writer. She began her career as a daily newspaper reporter and photographer, and now splits her time between journalism and marketing communications. Since starting her own freelance writing business, Sarah has worked for brands such as: Frito-Lay, RadioShack, Dairy Queen, Honda, Sid Richardson Art Museum, Samsung, and Pizza Inn. As a journalist, her work has been published in the Washington Post, Boys' Life magazine, Texas Observer, Fort Worth Weekly, The Dallas Morning News, and 360 West magazine. In 2014, she won first place from the Association of Alternative Newsmedia for her feature story "From the Land of the Lost." The following year, she earned a fellowship from the Investigative Reporters and Editors organization and became a board member for the Society of Professional Journalists, Fort Worth chapter. Currently, she teaches in the School of Strategic Communication at TCU. Sarah lives in Fort Worth with her darling daughter and a house full of books and mid-century modern décor.