Renovations were well underway when Taco Heads founder Sarah Castillo gave me a tour of the future home of her new venture, the Sidesaddle Saloon. The historic Mule Barns, long known as the vacated buildings that buttress a long parking lot in the Stockyards, are being stripped, cleaned, and refurbished as part of a massive development project that is being headed by Majestic Realty Company and Fort Worth's Hickman family, which owns much of the properties. 
As we traipsed across the dusty construction site, the screech of buzz saws intermittently caused us to pause our conversation. 
"This is where Marcus Paisley's new restaurant will be," she said, referring to the popular chef/owner of Clay Pigeon. "That space will hold retail, and that building is where Second Rodeo Brewing will be." 
As we turned a corner about halfway down the dusty street that once held the parking lot, Castillo pointed toward a large opening in the massive concrete walls. Beginning in November of 2019, Castillo will gain access to the space, and construction of Fort Worth's newest wine bar and cocktail lounge will begin in earnest. She pointed toward a large concrete catwalk. 
"There will be stairs there," she said, gesturing toward the east side of the space. "The bar will be under the catwalk. We're pricing out an antique bar. You'll be able to go upstairs for cafe-type cocktail tables." 
The space, she said, will be a "classy saloon" with mahogany woodwork, a beautiful chandelier, and portraits of famous Fort Worth cowgirls. (Castillo is already in talks with painter Bob Wade for a large commissioned work.) The Stockyards is currently populated with cowboy-themed bars that feature cattle heads, longhorns, walls of cowboy hats, and other Western-themed bric-a-brac that serve a lot of light beer. Sidesaddle Saloon will not be that type of watering hole.  
The idea behind Sidesaddle Saloon began last January when Castillo, chef Marcus Paisley, and a few friends met for drinks in Dallas. Castillo had just expanded, opening her first Taco Heads in Dallas and was spending large parts of her week managing the new locale. Over drinks that evening, Paisley was naming the chefs who would be heading up restaurants when the renovated Stockyards officially opens this November. 
"They were male, male, male," Castillo recalled.  
When she pointed out the incongruity to the group, someone suggested that Castillo pitch her own business idea. More wine was ordered, and Castillo eventually came up with the idea of a cowgirl-themed bar — not a raunchy, Coyote Ugly-type bar but a refined wine and craft cocktail lounge that honored the historic cowgirl and the modern-day female entrepreneur. Castillo sees a common thread between the iconic pioneering women who are honored in the National Cowgirl Museum and Hall of Fame and equally trailblazing women business owners like Kari Crowe, founder of Melt, the twin founders of M2G Ventures, Jessica Miller and Susan Gruppi, and, may I say, Madeworthy's own Victoria Wise.  
"The cowgirl, to me, is beautiful, hard-working, and she has some grit to her," Castillo said. "Fort Worth's modern-day cowgirls are moms, Junior League members, [business owners], and other women who don't mind getting their hands dirty."  
Castillo contacted Miller and Gruppi, who are consultants for Majestic Realty's Stockyards development, the following Monday to formulate a business pitch for the Majestic Realty staff. They were receptive to the idea.  
"I love that Sidesaddle focuses on the female cowgirl," Miller said. "They are just as important as their male counterparts. I love that celebrating the female cowgirl also gives a fresh perspective to the district. Fort Worth needs more elevated 'watering hole' options. This [bar] will be just that for the city and then for tourists. Locals first, tourists second." 
Castillo had a business plan, two business partners in Christian Lehrmann and Glen Keely, and a signed lease, but her concept still needed a name. Over half-price glasses of wine at Clay Pigeon, Paisley presented Castillo with a list of bar names he had drafted. Before he could read the first suggestion, Castillo spontaneously blurted out "Sidesaddle Saloon." 
It was clear to everyone at the table that Castillo hit a zinger. Paisley crumpled the paper and threw it toward Castillo with a laugh. 
After growing up in Fort Worth's South Side and graduating from Paschel High School in 2002, Castillo became the second person in her immediate family to attend college. Her dream of attending The University of Texas at Austin was put on hold for one year when a partial athletics scholarship from The University of Texas-Pan American landed her in the Rio Grande Valley, playing golf for the state university. It was the first of many chance life events that shaped both her business acumen and her culinary tastes.  
In her time off from the classroom and the golf course, Castillo crossed the border and explored Mexico. Her grandparents had owned a diner on West Magnolia Avenue in the 1980s, but Castillo had never delved deeply into Mexican food. 
"I fell in love with this taco stand," she recalled. "That's where I found cabbage marinated in lime and cilantro and big slices of avocado. That's where I began falling in love with food." 
The young college student would order a beer and tacos before taking in the atmosphere. More than a decade later, many of the elements from that far-flung taco stand would be introduced to Fort Worthians when the first Taco Heads food truck opened. In her sophomore year, Castillo transferred to her dream college, UT Austin. Her new crop of girlfriends came from comfortable middle- and upper-middle-class backgrounds. They filled Castillo's head with images of pillowy, snow-capped mountains in Colorado and holidays on the Mediterranean coast. 
After graduating in 2006 with a degree in American Studies and a minor in business, Castillo sold her car and moved to Aspen where she worked at a ski shop. Wealthy and influential business tycoons and CEOs were regulars at the shop, and Castillo used the opportunity to chat with the entrepreneurs about their world. They, in return, asked Castillo what she planned to do with her life. When she wasn't working, Castillo played golf with the female patrons every Tuesday. She remembered being intrigued by the conversations with the female power brokers.  
One year after moving to Aspen, Castillo followed a friend to New York City where she took in an entirely different culture while working at the Hudson Hotel, a boutique hotel that informed Castillo's taste on design and thoughts on customer experience. Then wanderlust called again and Castillo made a subsequent move to Majorca, Spain, when a friend offered her a room in her home there. 
I asked Castillo how those destinations informed her culinary tastes. Her free time, she said, was often spent exploring unique dining experience, but her biggest influence remains her freshman year when she lived near the U.S-Mexico border.  
"Now I look back, living in Edinburg [Texas] and crossing the border was a huge influence," she said. 
The most recent chapter of Castillo's story is familiar to many Fort Worth readers. By 2009, she had settled back in Fort Worth. She was working two service industry jobs: one at Eddie V's Prime Seafood and another at Globe Life Park in Arlington. A typical day involved working at the stadium 9 am to 5 pm before hauling it to the upscale restaurant in her mom's minivan. There, she would do her best to wipe off her sweat before putting on her work uniform and waiting tables. The double shifts and lack of free time to spend her earnings, while exhausting, meant that Castillo was able to save for her first business. 
Her time at Eddie V's informed her vision for Sidesaddle by giving her insight into what true cowboys want. Every January, the Fort Worth Stock Show and Rodeo brought in droves of cowboys, and they weren't ordering Budweiser. 
"They like finer things," she said. "Just because they are hard-working doesn't mean they don't like chardonnay. I served nice wine to them during the Stock Show and Rodeo."  
It was around that time when Castillo and a handful of waitstaff and managers were playing golf at Mira Visa Country Club. Castillo offered to make her friends breakfast tacos the next morning. As unbelievable as it seems, that night she had a dream that she owned a taco truck. She talked about this premonition to her mother the next day.  
"We kept on talking about it," she recalled. She finally told herself, "You can do this."  
In 2009, food trucks were yet to earn the respect they now enjoy. There was a stigma surrounding the supposed lack of cleanliness the motorized kitchens maintained. Castillo knew that the outward appearance of her food truck mattered as much as the inward food quality. Over the next year, she refurbished a small trailer and installed big windows so patrons could gaze inside. While her friends might use their earnings for a night out, Castillo took her cash to retail stores to buy truck parts, sinks, and kitchen equipment.  
"That's what made everything special to me," she said. "I paid for everything." 
Around four years ago, Castillo befriended Jonathan Morris, owner of Fort Worth Barber Shop and the proprietor of a boutique hotel that will open near Taco Heads next year. As a fellow small business owner who is also in his 30s, Morris said he and Castillo often chat about the "trials and tribulations" of business ownership. 
"Sarah creates things that bring people together, products that people fall in love with, and places where people want to gather," he said. "She has a knack for identifying what Fort Worth is missing and [fills] those voids. Back in the day, she identified the need for late-night tacos. Not that she was the first person to do tacos, but she did it in a unique way."  
Those early years, when Castillo was wandering across the United States and Europe while trying to find herself, have shaped her current businesses, he added.  
"That patio at Taco Heads might feel a little like Austin," he said. "When you're at [her upcoming restaurant] Tinie's, it might feel like Mexico. Sidesaddle might feel inspired by her time in New York. All those life experiences inform those spaces, and she is an example of not settling for where Fort Worth has been but trying to infuse those experiences into what people think about Fort Worth now." 
When I asked Castillo what she owes her success to, she redirected the credit toward the network of women business owners who have supported her. Women continue to be underrepresented among food and beverage business owners, but Fort Worth's tightknit group of female restaurant and bar owners use that reality to motivate and encourage each other.  
"The women entrepreneurs [in] Fort Worth are truly amazing," Miller said. "They astound me with their brilliance, dedication, and resilience, but we can always benefit from more women in leadership positions. Sarah is one of the pioneers." 
Echoing Morris' thoughts, Castillo said that, at the time, she didn't see how her travels would inform her current ventures. She's humbled when people describe her as a role model or community leader. For her, the journey has been about collaborating with like-minded creatives in our community.  
"We push each other and try to create something beautiful for Fort Worth," she said.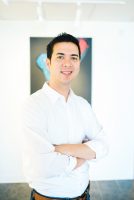 Edward Brown is a writing tutor and piano teacher. He is also an award-winning writer for the Fort Worth Weekly and volunteers for numerous Fort Worth nonprofits.