Madeworthy
POP UP BAR Makes Cocktail Dreams Come True: Made in Fort Worth
Pam Moncrief has long, honey-blonde hair that frames her picture-perfect face. When I meet with her to talk, she's makeup-free, revealing a natural beauty paired with laser-focused blue eyes. She has a light that shines from inside that has no need for makeup. This single mom of two young kids left her job at the Usual, the popular Magnolia Avenue gathering spot, to launch POP UP BAR last year to great success. No matter how nicely I ask or how hard I prod her, Pam won't tell me her favorite drink to make because every drink she makes is curated specially for a certain event, taking into account the guests and the location. No matter what the event or space, she's making cocktail dreams come true — and her own dreams a reality.
Madeworthy sat down with this fascinating Fort Worth native to talk cocktails, single parenting, and how to run a small business with small kids without losing yourself along the way.
Madeworthy: How did you get started in the bar business?
Pam Moncrief: Well, I worked for American Food and Beverage for many years and then later at The Usual off Magnolia Avenue. I was trained to spare no expense when it comes to hospitality and to give the highest level of respect to every person who walks in the door, staff or customer.
MW: Good bartenders in Fort Worth now have their own reputation and following. How would you describe The Pam Brand?
PM: Cocktail Queen! Growing up working at The Usual, we cultivated a reputation of making interesting and high-quality drinks. By combining things most people assume wouldn't go together, I became a leader in that space. We all did.
MW: Why did you start POP UP BAR?
PM: In January 2018, I felt a shift. People started asking me to do side work and parties. I'd been wanting to open a traditional bar, but the funding just wasn't there. I decided to start my own thing and prove just how valuable I am. There was no turning back at that point. I had to be successful; I knew it was going to be hard.
MW: Who are you as a person today?
PM: Determined. It's been a long road. I've had to overcome a lot of things and learn to grow and change with each obstacle.
MW: What all does POP UP BAR do?
PM: We do consulting, private instruction, events, creative cocktail concepts, private parties, and event production. There's not anything we won't do. If I'm capable of it, then we'll make it happen. It's creativity at every level.
MW: What's a signature "Pam Cocktail"?
PM: It's just delicious! We use really interesting ingredients like turmeric and cumin syrup. Or a butter wash combined with a spirit. But I don't have a signature; it's all different. Our stuff is so outside of the box.
MW: How do you manage single motherhood and running a business?
PM: I ask myself that every day. It's just survival mode. I knew starting a business now would be hard. My kids are with me four days a week. I try to bring them along for some of the stuff I have to do for the business. It all adds up to very long days, not a lot of sleep, and a messy house!
MW: What does it feel like to be starting a business now in Fort Worth?
PM: The community of creatives in Fort Worth is so strong. And there's so many authentic and real people out there. We have hard conversations that are inspiring and stir the soul. I have a job that puts me in the middle of the community. And I see people trying to live a life that's similar to how I want to live: authentically.
MW: What do you want for the future?
PM: I want so many things. I want to own a hotel. I want to buy a house to turn into a short-term rental. I want to have tons of stuff going on. A strong background in hospitality can open doors to so many different things. I want it all. Whatever my path leads me to greater success is where I want to go. But I do fantasize about the day when I can buy a $100 jar of face cream like it's no big deal.
Learn more about POP UP BAR by following @wearepopupbar on Instagram.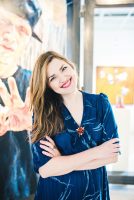 For more than a decade, Sarah Angle has worked as a Texas-based writer. She began her career as a daily newspaper reporter and photographer, and now splits her time between journalism and marketing communications. In 2014, she won first place from the Association of Alternative Newsmedia for her feature story "From the Land of the Lost." The following year, she earned a fellowship from the Investigative Reporters and Editors organization and became a board member for the Society of Professional Journalists, Fort Worth chapter. Currently, she teaches in the School of Strategic Communication at TCU. Sarah lives in Fort Worth with her darling daughter and a house full of books and mid-century modern décor.