When I was a little girl, I dreamed of becoming a ballerina. I danced my little feet off until it became clear that I was not destined to join the Joffrey Ballet or the American Ballet Theatre as a member of the corps de ballet, much less as a prima ballerina.

How many little children have dreamed of becoming a ballet dancer while watching Texas Ballet Theater's (TBT) annual production of The Nutcracker? Generations, I'm sure.
Fort Worth is fortunate to have a local-yet-internationally-recognized ballet company that provides all levels of ballet instruction as well as professional productions of classics from the ballet repertoire and world premiere performances of new ballets.
In 2022, longtime Artistic Director Ben Stevenson, OBE, transitioned to Artistic Director Emeritus. Stevenson led TBT since 2004, choreographing numerous ballets and premiering many new works. Tim O'Keefe, who has been with TBT from 2002, was named Artistic Director in 2023. O'Keefe joined TBT from the Houston Ballet and has taught classes with Texas Ballet Theater School and choreographed for the company.
Vanessa Logan, TBT's Executive Director, said, "We are thrilled to have Tim's artistic vision as he moves into this new role. His leadership reinforces Texas Ballet Theater's mission of providing the highest caliber productions and education in our communities."
The 2023-2024 season will start with an annual production of Dracula, which runs at Bass Performance Hall from October 6th through October 8th. Choreographed by Stevenson, the ballet follows the eponymous Count. Stevenson premiered this ballet in 1997 at the Houston Ballet, and O'Keefe danced the role of Dracula.
"Having the opportunity to present Dracula is a full-circle moment for Texas Ballet Theater," said O'Keefe. "Many of our artistic and productions staff worked on the world premiere 25 years ago [sic], myself included. I'm looking forward to working on this ballet with Ben [Stevenson] again and sharing it with our audiences, who have been eager to see it again."
In March of 2024, TBT will present Brilliants, an evening of four short ballets. "Rubies" is a movement from the longer ballet Jewels. Jewels was created by George Balanchine for the New York City Ballet and debuted in 1967. Balanchine is lauded as the father of American ballet, the choreographer who moved ballet from the highly stylized, overly-romantic productions of the late 19th and early 20th century to a sleeker, bolder style. "Rubies" has been described as "crisp and witty" and features dancers in bold, red costumes.
"Grand Pas Classique" and "Le Corsaire Pas de Deux" are both classical pas de deux movements featuring two dancers. Each of these highlights the technical and artistic brilliance of the dancers. "Grand Pas Classique" was choreographed by Victor Gsovsky and debuted in 1949. Rudolf Nureyev choreographed the pas de deux from Le Corsaire to perform with Margot Fonteyne in 1962.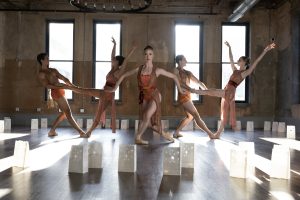 Originally created for TBT in 2016, "Without Borders" was choreographed by Val Caniparoli. This ballet features music by Yo-Yo Ma and the Silk Road Ensemble. The ballet smasheds the barrier between neoclassical and contemporary ballet and examines the individual and the power of perspective.
Brilliants will run from February 23rd through 25th at Bass Performance Hall.
The 2023-2024 season ends with Beauty and the Beast. Choreographed for the San Francisco Ballet by Lew Christensen, this production premiered in 1959 and tells the beloved story of a young woman who learns not to judge a book by its cover and a beast who learns the transformative power of love. Christensen said of his ballet, "The old moral reads that beauty is only skin deep. So, in this ballet, is beastliness. To love is to be human, and it is no less, to humanize." Beauty and the Beast will be performed at Bass Performance Hall from May 17th through 19th.
Of course, no season of any ballet company could be considered complete without a production of The Nutcracker. First performed in St. Petersburg in 1892 and not considered a success (!), this beloved ballet is based on E.T.A. Hoffman's short story "The Nutcracker and the Mouse King." TBT's version was choreographed by Stevenson. While TBT will not present "The Nutty Nutcracker" as in years past, they do have a few tricks up their sleeve to delight patrons. The Nutcracker runs from December 8th through 24th at Bass Performance Hall.
When asked about the upcoming season, Carl Coomer, principal dancer with TBT said, "This season has a bit of everything in it. You go from the dark and sinister Dracula to the romance of Beauty and the Beast with the sparkle of The Nutcracker in between."