It took 19 trials to perfect the spicy red, slightly sour salt lining the rim of the Smokey Bloody Mary at Bird Café in Sundance Square. Scott Hackler knows; he's the mind behind the great taste of Halo del Santo salt products.
"Eight years ago, you didn't see chile salt everywhere." said Hackler. "The idea came to me from a trip I took with my brother."
During that trip, Hackler and his younger brother, Matt, traveled down to Guadalajara in Jalisco, Mexico, where they took an excursion to a tequila distillery. By the end of their outing, both brothers had a frozen strawberry margarita frosting in hand, and hovering above it in a halo of salt was a chile-lime flavor that made a life-changing impression. Later, when Hackler returned to the States, he set his sights on creating and distributing the highest-quality chile salt product on the market. His company, Halo del Santo, sells to specialty grocers and shops in 20 states and counting – with regular distribution chains established throughout Texas and Oklahoma – but his business remains based out of Fort Worth.
Getting Salty
Salt is deceptively complex. Ask Hackler about how he crafts chile salts, and you will have an entirely new subject to add to your existing repertoire of cocktail conversation topics. Few people realize the haste with which manufacturers produce such tiny tasty morsels. In fact, many commercially-available chile-lime salts include some seriously unsavory additions in otherwise harmless-looking sprinkles.
"The other chile salt you find in stores – the one sold on the shelf next to the normal salt – it was really meant to sprinkle on fruit, and it was mainly manufactured in Mexico," explained Hackler. "But it has impurities in it, like pieces of hay or grass… You don't want to give someone a really nice drink where there's visible grass in the rim." As Hackler explains this cocktail foul, it is frighteningly easy to recall all the margaritas I have met that have been rimmed with now-suspicious green specs. He goes on to explain how it is impossible to know whether that grass or hay has been sprayed with pesticides, and how his company goes to great lengths to eliminate these unwanted party crashers, right down to ingredients used to preserve freshness. Rice concentrate, which is derived from finely ground rice hulls, is used in place of tricalcium phosphate or silicon dioxide, the latter being a common anti-clumping and anti-caking agent that some experts have been wary of in years past. Although there is no confirmed link between silicon dioxide and cancer, the Food and Drug Administration advises consumers to avoid products that use silicon dioxide in excess of two percent of the product's weight.
"I wanted to bring a high-end, top-shelf, all-natural product to market, and I wanted to frame it and sell it as a souvenir." said Hackler. "So I began selling [the glass salt] product in little tins as hostess gifts for a while or [as] something you could put in a gift basket. And now I sell it in 30-ounce canisters to specialty grocers, restaurants, on our website, or on Amazon."
The all-natural salts are available in round, five-ounce gift tins for $14 that make it easy to unscrew and swirl a lime-wetted glass anytime, anywhere, up to 177 times. The larger bar canister weighs in at 29.5 ounces, retails for $19, and offers up to 1,045 salted rims. Both products are carried at most Spec's Wine, Spirits, & Finer Foods locations.
"One rim of my salt is eight cents, and I promise you that the eight cents you spend on a rim of spicy salt will change the taste of your cocktail more than anything." Hackler said. He enjoys telling potential buyers and regular clients this, adding that a delicious salt sets the stage for how the rest of the drink will perform. He said that it matters less whether you mix with Grand Marnier or "the cheap stuff." Halo del Santo salts add flavor that would not otherwise be there. For that reason, too, Hackler advocates for the use of rice concentrate as a safer and less-invasive ingredient preservative. What is more, the first flavor influencing the tongue rests on the rim. Most seasoned mixologists know this to be true, so they aim to please the palettes of customers and friends with higher-quality salts.
With such a saintly approach to ingredient curation, Halo del Santo seemed like a fitting name for Hackler's company. He shared that when he was trying to think of a brand name, he was envisioning someone with the perfect drink in hand, with a luminous hoop of delight glowing overhead, mirrored by the ring around the top of his glass.
"When I was trying to think of a name, I knew I wanted something Spanish, but something that wasn't difficult for someone who [knows little] Spanish to say or understand." said Hackler. "So I thought of the name Halo del Santo; that's why on the label you see there's a saint or a monk with a brick red halo around his head, the same color as the salt."

Turning Sweet
As his book of business has grown, Hackler has trekked into new foodie territory: confectionery. Halo del Santo's Paletas con Chile are sweet, spicy lollipops made in the Mexican tradition. Once again, the idea to foray into candy making was one that Hackler started churning over while spending time south of the border.
He remembers one trip he took to Juárez, the hometown of a former flame. "I remember her taking me to a candy shop called Gota de Miel [or] Honey Drop, which sold piñatas and big bags of candy made with chile to fill them." explained Hackler. He added that similar candy stores can be found in some local Hispanic communities, but Gota de Miel was his initiation into a new culinary trend, one he wanted to bring to Fort Worth.
"I found a candy maker in West Texas, who was making bank." explained Hackler. "I called him up, looked at his catalog of flavors, and saw that he made some that were traditionally done with chile salts in México. Now my company is the only one in the country that is making traditional Mexican lollipops."
The two largest candy makers in the world – The Hershey Company and Mars, Incorporated – have not tapped into the chile candy market yet, and most of Halo del Santo's competitors take a very different approach to creation. That is, imported Mexican candies you can find at Fiesta or HEB do not blend sweet with spicy in the actual candy; they dip and roll, instead.
"Most of the imported products you'll find have taken pineapple or watermelon or whatever flavor and dipped it in chile salt, and that's all you taste really is the pepperiness of the salt." Hackler explained. "What we do differently is we… take the chile and the sweet and the salt and mix it all together. If you don't, some people will wash it off under the tap because there's too much salt on it."
When the candy comes out of the kettle after cooking, the confectioners pull the sticky-sweet heap down onto a large table, where they begin to work on it, massaging it by hand before cutting the mix into sucker-sized discs. In every package of six, curious taste buds can pucker up to three flavors. In the first set of flavors to hit the market in spring of 2015, watermelon, pineapple, and mango were featured. Not long after, the second pack of flavors included strawberry, orange, and tamarind. For special clients, Hackler will create special flavors upon request. For the West of the Pecos Museum in Pecos, Texas, he created a cantaloupe candy. The West Texas town is famous for an abundant and juicy cantaloupe crop, so visitors and locals have indulged heartily in Halo del Santo's one-of-a-kind sweets.
Of course, not every fruit can stand up to the flavors of chile and salt. The company has experimented with other flavors, such as cherry, only to arrive at unpleasant aftertastes. However, Hackler keeps turning over the idea of adding new fruity flavors, some less sweet than others. A cucumber, for example, is not a plant widely thought of as a fruit, but it is, and it offers a subtle hint of flavor that pairs nicely with chile salts.
Not long ago, Hackler left a lunch counter with a Mexican competitor's spicy cucumber pop in hand, swirling the stick in hand while the natural sugariness of the treat melted in his mouth. In that moment, he lingered over the idea of how our neighbors to the south seek out the most interesting, universally-appreciated flavor combinations.
"No matter if you're black or white, Hispanic or Asian, people tend to have the same palette. People like chile, lime, cilantro, and the Mexican cheeses, like asadero and Cotija." he shared. "And spicy Mexican lollipops are no different." Hackler went on to say he finds joy in making a product that little children and older people alike can enjoy. "It's a great business to be in because you make people happy. People get excited to tell you what kind of margarita they like to drink with your product or what drink they had with your lollipop. These are interesting and fun conversations to have."
Presentation Tip:
If you've got a wide-mouth glass, just run a lime wedge around the rim, do a 45-degree tilt, and rotate the outer edge of the glass in Halo de Santo. That will give your margarita glass a nice, deep rim of deliciousness – but with no salt floating in your drink, for a better presentation.
Margarita
Halo del Santo Salt
1.5 oz tequila
0.75 oz Cointreau
0.5 oz lime juice
Wedge of lime
Splash of orange juice
1. Use the lime wedge to coat the rim of a glass in liquid. Dip glass in salt. Set aside.
2. Combine tequila, Cointreau, and lime juice in a cocktail shaker. Fill with ice, and shake the mixture thoroughly until chilled or the bottom of the shaker has frosted over.
3. Fill glass with new ice and strain the shaken ingredients into the glass. Garnish with extra fruit slices.
Paloma
Halo del Santo Salt
2 oz grapefruit juice
0.5 oz lime juice
1 tsp sugar
2 oz tequila
2 oz Topo Chico
Grapefruit wheel
1. Using the wheel of fruit, wet the rim of the glass before twisting the top of the glass in salt. Set aside.
2. Mix juices and sugar in the glass. Then, stir in tequila before adding ice and topping off the Paloma with Topo Chico.
3. Garnish with a grapefruit wheel and serve immediately.
Cucumber Shot
(Recipe courtesy of the Black Orchid Lounge in El Paso, Texas.)
Halo del Santo Salt
1 oz EFFEN Cucumber Vodka
0.25 oz lime juice
0.5 oz simple syrup
Dash of Halo del Santo
Cucumber wheel
1. Combine vodka, lime juice, and syrup in a shaker filled with ice. Strain into shot glass.
2. Dip cucumber wheel in Halo del Santo salts, and place on rim of the shot glass.
Paleta Shot
(Recipe courtesy of the Black Orchid Lounge in El Paso, Texas.)
0.5 oz tequila reposado
0.5 oz DeKuyper Pucker watermelon schnapps
0.25 oz lime juice
0.25 oz mango juice
0.25 simple syrup
Dash of Tabasco
Dash of Halo del Santo Salt
Halo del Santo watermelon lollipop
1. Add tequila, schnapps, juices, simple syrup, Tabasco, and salt to a cocktail shaker filled with ice. Shake thoroughly.
2. Pour all shaken ingredients into a Halo del Santo-rimmed shot glass. Garnish with a Halo del Santo watermelon lollipop.
This article originally appeared in the July/August issue of Madeworthy.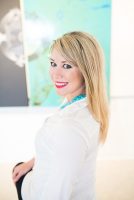 Jackie Hoermann-Elliott is the Assistant Director of TCU's New Media Writing Studio, where she teaches digital composing to Horned Frogs needing to create videos, infographics, blogs, and much more. She also was recently awarded her PhD. by TCU. She wrote for newspapers and magazines around the Midwest before settling down in the Lone Star State. Since she moved here in 2013, she's written for The Fort Worth Star-Telegram, Indulge, K Magazine, The Dallas Morning News, and GuideLive. Currently, she writes for those fun guys running The Fort Worth Weekly and is a valuable member of the TanglewoodMoms.com team. For fun, she cheers on her husband, Mansfield ISD football coach Buck Elliott, teaches yoga at Yogali off E. Lancaster, practices poses with her amazing bonus daughter, "E," and enjoys the newest addition to the Elliot family, "Baby B."