The first time my uncle Jim Angle let me try some of his red wine, I promptly spat it in the kitchen sink.
My immature palate and unaccustomed mind could not understand why people voluntary drank that stuff. Uncle Jim is a true oenophile; his knowledge and appreciation of wine is vast and deep. Fortunately for me, he has a bit of the teacher in him, as well. Uncle Jim did not give up on my wine education, and over the past decade, he has slowly introduced me to different grapes, wineries, and food pairings.
We started, as many people do, with white wines. First, we tried riesling. We then worked our way up through sauvignon blanc and chardonnay, before finally getting into red wines like pinot noir and malbec. I have learned to hold a glass of wine by just the stem so as not to allow the heat of your hand to warm the wine. I have learned that you do not have to spend a huge amount of money to get a very good bottle wine. I have learned that letting wine breathe before drinking is key to opening up more flavors and softening the harsh tannins in a young wine. I have learned how to pair food with wine, harmonizing the flavors for a complete dining experience.
Last year, Uncle Jim and his younger brother, my father George Angle, embarked on a new wine adventure. They headed down to the Texas Hill Country and then circled up to East Texas to visit the three wineries that would make up the pilot episode in their upcoming wine reality show, "Winemakers Uncorked." Not wanting to miss the education and the fun, I invited myself along for the ride and got to experience the trip through Texas, the intricacies of filming a reality television series, and the brothers' shenanigans — all with a glass of Texas wine heavy in my hand.
Jim and George are like "Car Talk's" Click and Clack of wine shows. Jim is a wine connoisseur and a highly-regarded, retired broadcast news political correspondent. My dad is a retired public-school teacher and the "smarter younger brother." He also has a highly-developed sense of humor. Together, these two Texans, ages 71 and 69, take their viewers with them on a trip through their home state that makes exploring the world of vino delightfully funny.
After the filming was over and we were back home, I sat down with my dad to talk about his favorite wineries in Texas and California, what he feels are the best vineyards are to visit with families, and how becoming a wine connoisseur has enriched his life.
Q: What is one of your favorite wineries in Texas?
A: Wineries are sort of like friends; it's hard to nail down a favorite. Out of the three vineyards we visited in Texas, Messina Hof [the original winery is in Bryan, with locations in Fredericksburg and Grapevine], Kiepersol Winery and Distillery [south of Tyler], and Wines of Dotson Cervantes [on the shores of Lake Buchanan in Tow], each produced its own unique wines with distinct personalities.
Because of my background as high school tennis coach and sportscaster, I found Alphonse Dotson, a former National Football League defensive tackler, to have the best story. One of his wines that I really enjoyed was Perseverance. Alphonse says that years ago his vineyard was decimated by wild hogs, deer, birds, and a hailstorm. He thought all the grapes had been wiped out. "A few vines survived nature's onslaught, and from those few surviving vines became that wine." That's Perseverance.
Q: What is the best kid-friendly winery you've visited?
A: For families, it would probably be the De La Montanya Estate Vineyards and Winery in Sonoma County, California. At Dennis De La Montanya's winery and vineyard, there's beautiful gardens where kids can wonder around, pitch horseshoes, and play bocce ball. The estate is big enough to host parties and close to a larger city. The location is so fun that people forget it's a winery that's won numerous awards over the years, like its Double Gold Medal 2015 Pinot Noir.
Q: What do you love most about wine now that you've become more of a connoisseur?
A: I like tasting the culmination of adversity and creativity. As you walk through the vineyards and get to know the wine makers personally — or even help them bottle wine and get your shoes muddy — you understand the struggles they overcame that lead to their successes. That knowledge makes the wine taste even better to me because I know its history. The wineries are in partnership and competition with nature. Just like brothers sometimes, we're competing against each other but we're always the ultimate partners in life.
Wine lovers have a reputation for being full of esoteric knowledge and being, well, a little stuffy. "Winemakers Uncorked" is anything but stuffy. Unlike other food or wine series, with their use of baroque language describing costly wines and extravagant restaurants, the Angle brothers' series is approachable and witty.
When asked to summarize the series, my dad said, "My brother is the 'epicurious' and I'm just the curious one, more interested in the science and personalities of the people we meet. Jim is primarily interested in the taste. I'm the Curious George." The temperaments of the brothers balance each other beautifully, making for a wonderfully fun, highly informative television show.
You can learn more about "Winemakers Uncorked" and the journey of Jim and George through Texas at www.winemakersuncorked.com. The pilot episode of the series (with a cameo of me) is available on YouTube. Find it by searching "Winemakers Uncorked Pilot."
Cheers to summer sipping.
Sip and See
Messina Hof Winery and Resort, with locations in Fredericksburg, Bryan, and Grapevine, Texas
www.messinahof.com
Wines of Dotson-Cervantes, located in Tow, Texas, twenty minutes from Llano
www.dotsoncervanteswines.com
Kiepersol Winery and Distillery, located in Tyler, Texas
www.kiepersol.com
De La Montanya Estate Vineyards & Winery, located in Sonoma County, California
www.dlmwine.com
This article originally appeared in the May/June issue of Madeworthy.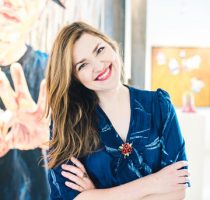 For more than a decade, Sarah Angle has worked as a Texas-based writer. She began her career as a daily newspaper reporter and photographer, and now splits her time between journalism and marketing communications. Since starting her own freelance writing business, Sarah has worked for brands such as: Frito-Lay, RadioShack, Dairy Queen, Honda, Sid Richardson Art Museum, Samsung, and Pizza Inn. As a journalist, her work has been published in the Washington Post, Boys' Life magazine, Texas Observer, Fort Worth Weekly, The Dallas Morning News, and 360 West magazine. In 2014, she won first place from the Association of Alternative Newsmedia for her feature story "From the Land of the Lost." The following year, she earned a fellowship from the Investigative Reporters and Editors organization and became a board member for the Society of Professional Journalists, Fort Worth chapter. Currently, she teaches in the School of Strategic Communication at TCU. Sarah lives in Fort Worth with her darling daughter and a house full of books and mid-century modern décor.