North Texas
Pulling the Curtain Back: Behind the Scenes on Beauty and the Beast
Ah, the magic of the theater. What joy. What enchantment. What a ton of work! Audiences, God bless 'em, might think it all comes together like just-add-water pancake mix. But in fact, a show must be shoved, heaved, and thrust over about three hundred insurmountable hills before it's even recognizable as an art form.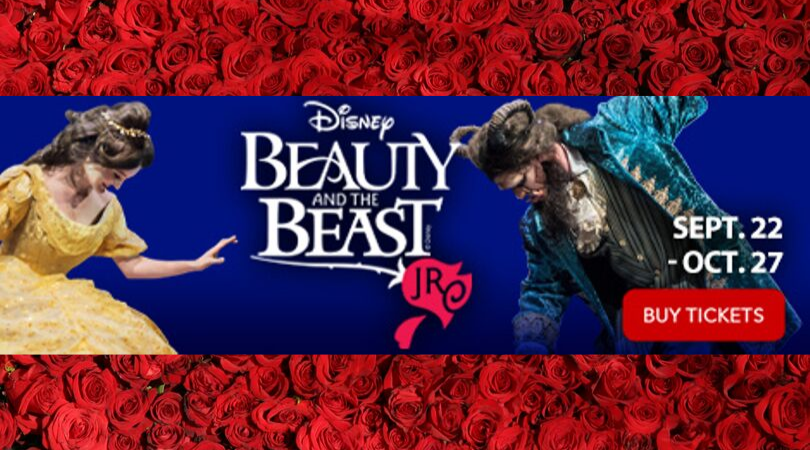 Through October 27, Dallas Children's Theater is presenting, Beauty and the Beast, and I've had the privilege of being part of it. You'll catch glimpses of me throughout, first playing the Enchantress who casts the spell which makes everything beastly; then as a villager wielding shovels and baskets; then, finally, as a PLATE who is very intent on NOT knocking Belle down during "Be Our Guest" #lifegoals #pleaseLord.
I get to (literally) pull back the curtain a teeny bit for you right here. I hope the magic is only made more, well, magical, and that it's not like seeing Santa Claus buying toys at Target or something.
Theater first starts with a bunch of strangers in a room reading words off a page. No costumes, sets, lights. Not really acting, even. Just Styrofoam QT cups on plastic tables, hands in laps, feeling the words in our mouths. Then the layers are added, onion-like: memorization, blocking. Then the set is added, then various costume pieces (Lumiere's big ol' candle hands made an early appearance). Then you shine bright lights on the whole thing, and…well, you get the idea.
Rehearsal also involves a lot of waiting. Waiting for your scene to be blocked, waiting for the stage manager and director to time a sound cue, waiting for YOUR cue. And while you wait, you review your lines, music, and Facebook status (clearly). But you're also watching the brilliance of your fellow castmates in real time, all while trying to read the text on the ironic t-shirts they wear to rehearsal. Which is HARD since they're always frolicking around.
But once the waiting and watching are over, it's hard to describe the jolt you get from finally putting on an actual costume and running the show without stops and starts. In Beauty and the Beast, especially, costumes are king, and DCT costume designer Lyle Huchton and his team (plus the lovelies over at Harris Costumes in Fort Worth — I see you, Corey!) are some of the best in the biz. So long, lululemon leggings, hello hoop skirts!
Once costumes, hair (mucho hair, in my case) and makeup are introduced, we move into the dressing rooms. This is like getting to sit at your new desk on the first day of school! The dressing room is a place to change clothes and shellac baby hairs, but it's mostly a sisterly hive of honesty and hilarity. We tell each other all about the bad things we ate that day, about our fights with our husbands and boyfriends, about our bloating. It's a big commiseration love-fest, sprinkled with pep talks and shenanigans. Because we are actors, everything must be as entertaining as possible.
It may come as a surprise to you, but actors are not the most important part of a show. Gasp and clutch your pearls! We just get all the attention. In a Disney show — in THIS Disney show, especially — we are building on so much LORE; on the lines and songs and characters made famous by writers and musicians and animators that came well before we were doing JAZZ HANDS. Then we're made visible by lighting designers, made audible by sound designers, and made believable by production designers, set designers, costume designers, seamstresses, painters, carpenters and a host of backstage crew. But yay, actors! Go, us! Actors win!
Every time I'm cast in a show, I consider it a medium-to-astronomical-size miracle. It's like being summoned to Hogwarts from the realm of Muggles to make magic with the other weirdos. (I got this analogy from Gena Loe, our Babette.) This whole process is truly a feat of logistical diligence, creative effort, and hours of locking details together — with handfuls of fairy dust dumped liberally throughout. It's a gift to look around at so many committed people and realize, hey! I'm part of this team! I get paid to do this! I better not mess it up, for all that is good and holy!
I hope you'll come check us out this month, and bring your kiddos. It's a tale as old as time — or at least it's a tale as old as August 26th, when we started rehearsing. For tickets, visit https://www.dct.org/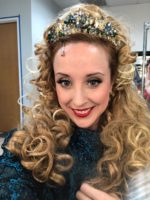 Julie Rhodes has performed on many Fort Worth stages, including Casa Manana, Circle Theatre, Amphibian Stage Productions, and Stolen Shakespeare Guild. She is mom to Drew (11) and Madeline (8), and to Eloise, the family pug. Visit juliekrhodes.com.