Recipes
Healthy Meals for After Halloween
It's Halloween, and you know what that means! Tomorrow, you will give anything – an arm, a leg, a child – for something that isn't SWEET. Heck, your kids might even ask for a salad! Okay, probably not, but I know I'll be cooking healthy foods this coming week to try to detox from the deluge of sucrose. Here are some ideas for you!
Asian Fish and Vegetables en Papillote
This is a fish that your child will eat. Promise! My younger, who is rather picky, loves it. And it's full of good things to counter all that sugar!
Ingredients
Mild, white fish like cod, catfish, mahi mahi, or grouper, approximately 4 ounces per person
Grated or julienned carrots, approximately ½ carrot per person
Baby broccoli, thinly sliced on the bias, 1 to 2 stalks per person (you can substitute thinly sliced asparagus or shredded zucchini)
Fresh ginger, peeled and grated, approximately 1/8 to ¼ teaspoon per person (to choose good ginger, look for a hand that is smooth and heavy for its size; just like in people, wrinkles indicate age)
Shallot, peeled and sliced into thin rings, 3 to 4 rings per person
Cilantro, stems removed, approximately 10 leaves per person
Lime, juice of approximately ¼ per person
Soy sauce or tamari, a couple of dashes per person
Toasted sesame oil, a couple of dashes per person (be sure to get the toasted, which is a lovely dark brown; the untoasted doesn't really have any flavor, and we're going for flavor here)
Noodles, cooked al denteaccording to package directions, ½ cup cooked per person (were I making this for guests, I would have used rice noodles, but the Girlchildren aren't real fans, so we used some whole wheat angel hair)
Salt and pepper to taste
Okay, I hear you all saying, "Wait a minute, what's with this "per person" thing? Just wait. All will be revealed…
Directions
Preheat the oven to 375°.
Bring a pot of water to the boil, and prepare the noodles to al dente, according to the package directions. Drain, rinse with cold water, and set aside.
While the water is coming to the boil, prepare your ingredients. Grate the carrots and ginger. Slice the baby broccoli and shallots. Quarter the limes and pick off the cilantro leaves. Portion out the cod. Put each of these into their own bowl or on their own plate, and line them up. This is going to be assembly line cooking here, and the kids will love to help.
Prepare the parchment paper or foil. In the interest of this post about family meals, I'm going describe the foil method. If you want to learn how to use parchment paper for cooking en papillote, there are some great YouTube videos out there.
You will need a piece of foil approximately 12 inches by 15 inches per person. Either use the nonstick foil, or the middle of one side of each sheet with nonstick cooking spray.
And now, the assembly line! Put 1 portion of noodles in the middle of the foil, followed by the cod, the carrots, the baby broccoli, the ginger, the shallots, and the cilantro leaves. Sprinkle with salt and pepper and with the soy sauce or tamari and the toasted sesame oil. Pull up the edges of the foil and fold over several times, allowing some space for the steam to expand. Fold the sides as well, making sure that the seals are tight.
Place the foil packets on a baking sheet and cook in the preheated oven for about 25 minutes. The great thing about cooking en papillote is that even if you overcook the fish a little, the steam keeps it from drying out!
To serve, place a packet on everyone's plate. Moms and dads, you should probably open the packets for your littlest ones because steam burns are awful.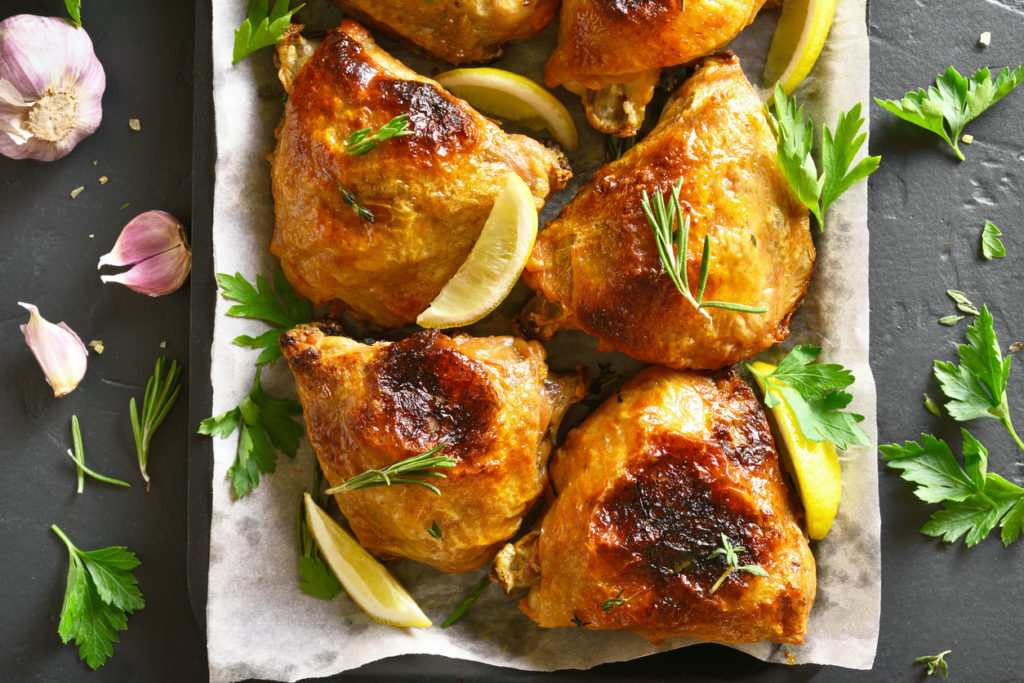 Sheet Pan Chicken and Root Vegetables
This is one of our favorites. It's savory and hearty without being heavy.
Ingredients
2 pounds bone-in, skin-on chicken thighs
1 large onion, peeled and quartered
1 head garlic, cloves separated and peeled
4 carrots, peeled and cut into chunks
1 bulb fennel, stems removed and cut into quarters
1 pound Brussels sprouts, outer leaves removed and cut in half
Half a bunch each of fresh thyme and rosemary
1 large lemon, cut into thin slices
Salt and pepper to tastes
Directions
Preheat oven to 400°.
Scatter the onion, garlic, carrots, fennel, and Brussels sprouts over a large sheet pan. Place the chicken thighs over the vegetables. Scatter the lemon slices and herbs over everything and season with salt and pepper
Bake for about 45 minutes, or until a thermometer inserted into the meat reaches 165°. Serves 4.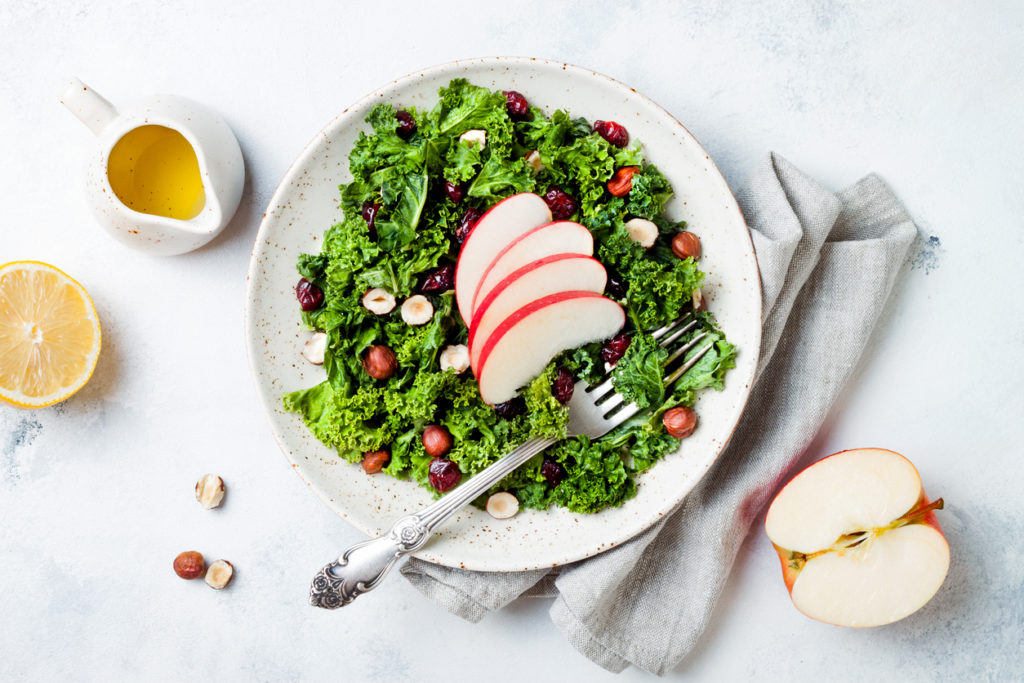 Autumn Kale Salad
If you need a little sweetness to help with the sugar crash, this is a great salad.
Ingredients
For the salad
2 bunches kale, washed, tough stems removed, and torn into bite-sized pieces
1 large fennel bulb, stems removed and thinly sliced (or shaved on a mandoline)
½ red onion, cut into thin slices
2 apples (Honeycrisp, Pink Lady, or Braeburn are what I like), cut into bite-sized pieces
½ cup dried cherries or dried cranberries
½ cup nuts and/or seeds (I like pepitas, sunflower seeds, or almonds)
6 ounces goat cheese or gorgonzola, crumbled
For the dressing
Juice and zest of 1 large lemon
2 tablespoons maple syrup
2 tablespoons whole-grained or Creole mustard
Salt and pepper to taste
½ cup extra-virgin olive oil
Directions
For the dressing:
Place all ingredients in a jar with a tight-fitting lid and shake well until the salt is dissolved.
For the salad:
Combine all the ingredients except the cheese in a large bowl. Add in about half the dressing and toss well. Taste to see if you need more dressing. (If you have any left over, it keeps in the fridge for up to a week.) Serve topped with the goat cheese or gorgonzola crumbles. Makes 4 entrée salads.