Buddha knits with her heart and the lovely result is a job she is proud to have.
If you're looking at the picture above Buddha is the one radiating with a gorgeous smile and appropriate heart adorned sweater. Across it lies the necklace that she makes for Worn, a non-profit company whose product sales provides the income in which refugee women receive to support themselves and in Buddha's case her daughter. She beamed when she talked about her 19 month old daughter, Ballerina, with whom she stays home with to raise and is able to work during off hours knitting products for Worn. She has been a master knitter for Worn since 2011, but her life before arriving lies in stark contrast.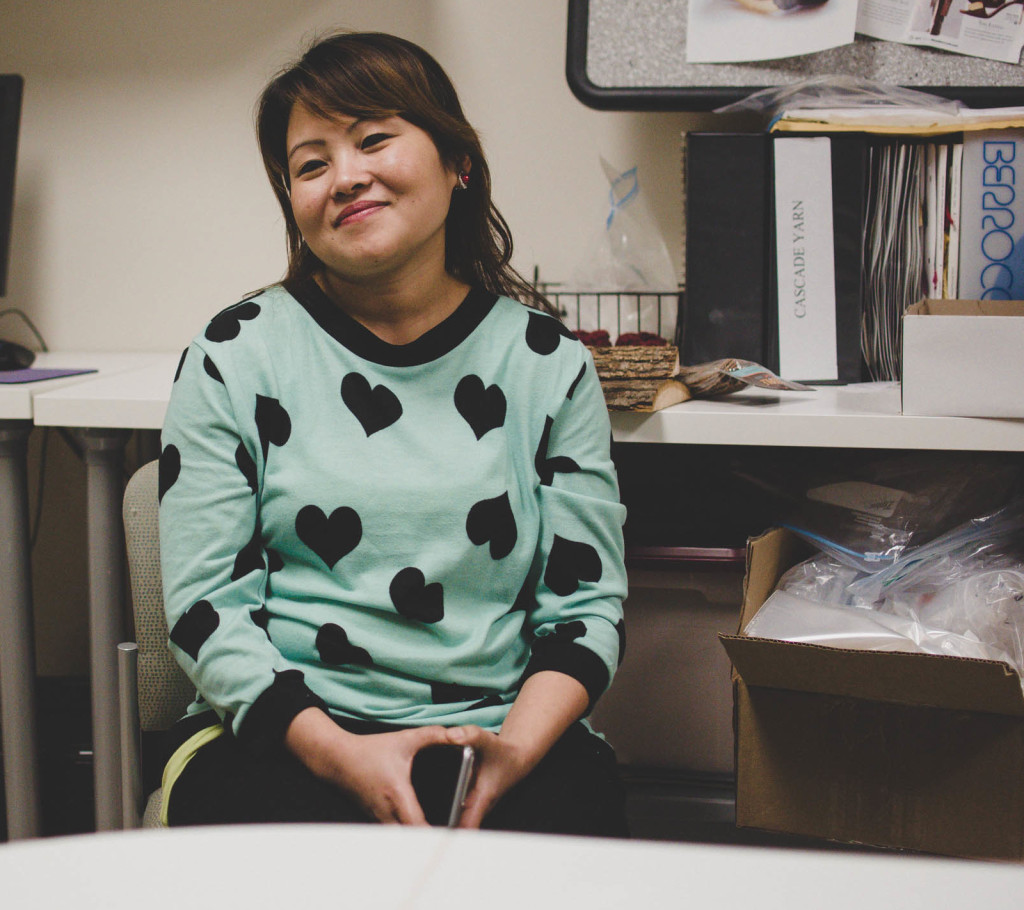 Buddha lived in a refugee camp in Nepal since she was 3 years old. She is Bhutanese and spent most of her life in a large refugee camp located in eastern Nepal with her family. Life was not easy as you can imagine, but it was all she knew. She grew up there and met her husband in the camp and traveled with him and her father-in-law to the US in June of 2010. Nepal, although granting asylum, cannot support the large refugee population and therefore countries such as the US step up to allow them an opportunity to have a dignified and safe home. This is where Catholic Charities steps in.
On the Worn website, they highlight, "Refugees from all over the world come to the United States for resettlement, leaving behind the affliction and persecution they faced in their home countries. Catholic Charities Fort Worth, along with other resettlement agencies, help the refugees transition into American culture which includes setting up apartments, English as a Second Language classes, enrolling children in schools, and help with integration into the American employment system. The vision of Catholic Charities Fort Worth is to provide the necessary skills that allow these refugees to be self-sufficient and regain a sense of both self and dignity."
Worn is the brainchild of Abbi Ice. She was a case manager for refugee services and while visiting the homes of the newly relocated refugees began to notice the incredible handiwork of the women she was helping. She had an a-ha moment and brought the idea to the attention of the Catholic Charities CEO, Heather Reynolds. Heather a phenom herself taking helm of the entire organization at the young age of 25 immediately green-lighted the idea and the first products launched in Fall 2011. Abby has since left the organization, but I was able to meet with the ladies running the program who are skilled in helping lead the company with a focus on fashion. Katelin Cortney who graduated with a fashion merchandising degree from TCU brings a keen eye to the product development process, and creates trend boards prior to beginning a new collection. Not only does she run this initiative but she is also the Communications Director for Catholic Charities. I'm not sure companies, non-profits or otherwise understand what kind of an endeavor it is to manage multiple initiatives. Typically overseeing a brand is a job in and of itself, but she and Kathryn Arnold who oversees digital PR for both Worn and Catholic Charities are pulling double duty and doing a fantastic job.
We at Tanglewood Moms would like to suggest that you make a purchase from Worn this holiday season to give back to our amazing community. By purchasing a scarf, necklace, or bracelet lovingly crafted by women who are thankful beyond measure to be able to live in Fort Worth, will not only be an amazing gift to the recipient but will also warm your own heart for supporting such a worthy cause.
Worn is offering our readers a giveaway. Bree Perez, the TanglewoodMoms.com photographer, and I were able to get a tour of the offices to meet Buddha and we decided you might love the Foxtrot Circle Scarf in stone. Please comment below with what you are thankful for this Thanksgiving to be entered for a chance to win. Winner announced Wednesday afternoon.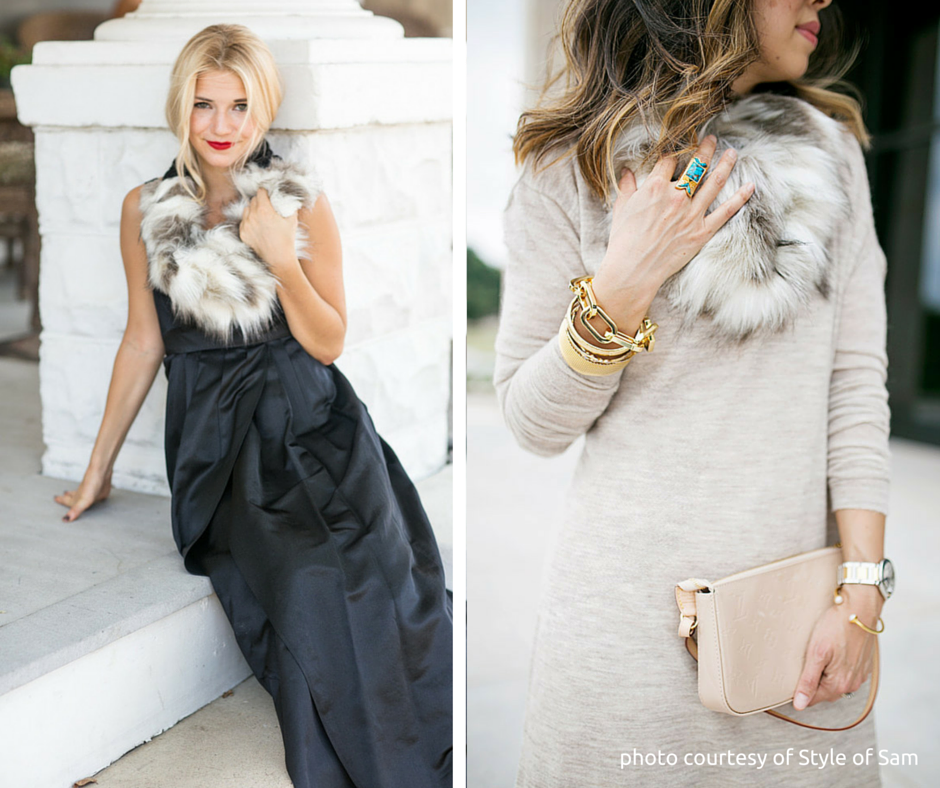 Some other items available for purchase on the site that we love. Please honor a friend by gifting a piece from their collection this holiday.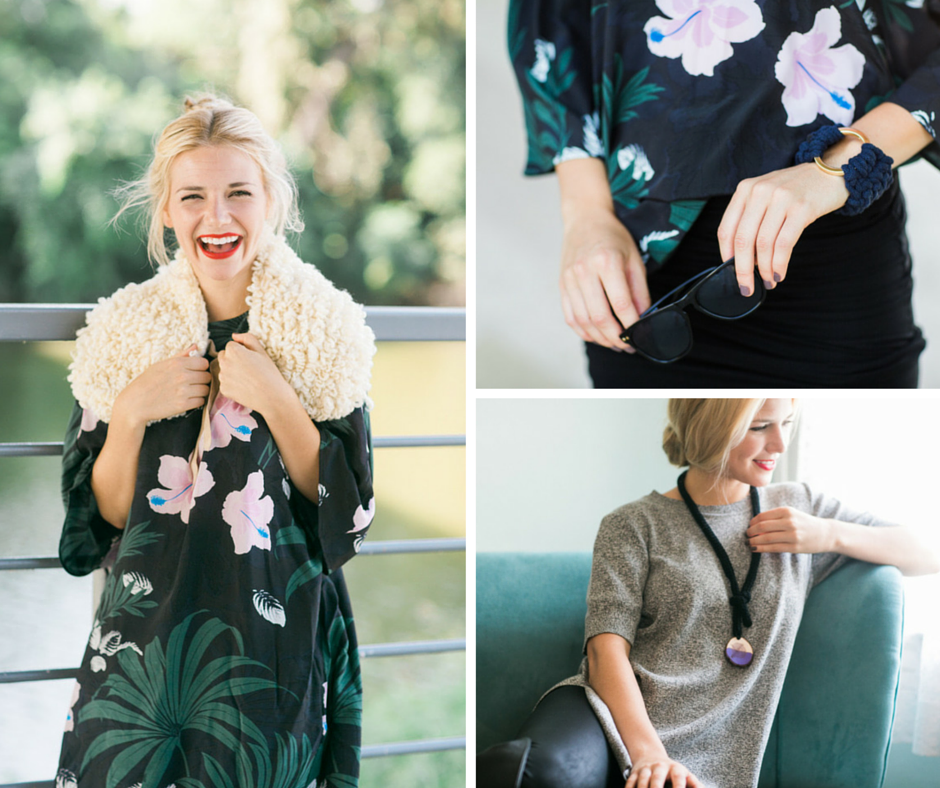 Thank you Katelin and Kathyrn for allowing me to learn more about your team, services, and the women of Worn.
---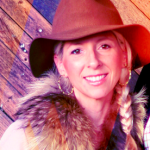 Embarking on her 7th venture, Victoria Wise has blatantly ignored the adage "3rd times a charm". Tanglewood Moms stemmed from a love of the community and a desire to connect more of us together. She's travelled to 24 countries on 5 continents but not after having 4 kiddos and spending quality time with her husband raising her first generation Americans and Texans.
You can find Vic on her Mac pounding out any number of social media posts for her businesses and clients, streaming Spotify, in some FW establishment that has decent wi-fi and quiet patrons.