Yesterday, we introduced you to a new feature that we will be running from time to time: Tanglewood Dads Cook. These are recipes that the Tanglewood Dads, aka the editorial staff's hubbies, make for our families.

In keeping with the Mediterranean theme of yesterday's post, today's features those staples of Mediterranean and Middle Eastern cuisines: flatbread/pita and hummus. We make these a LOT in our house because 1) they're easy, 2) they're delicious, and 3) they're inexpensive. Win, win, WIN!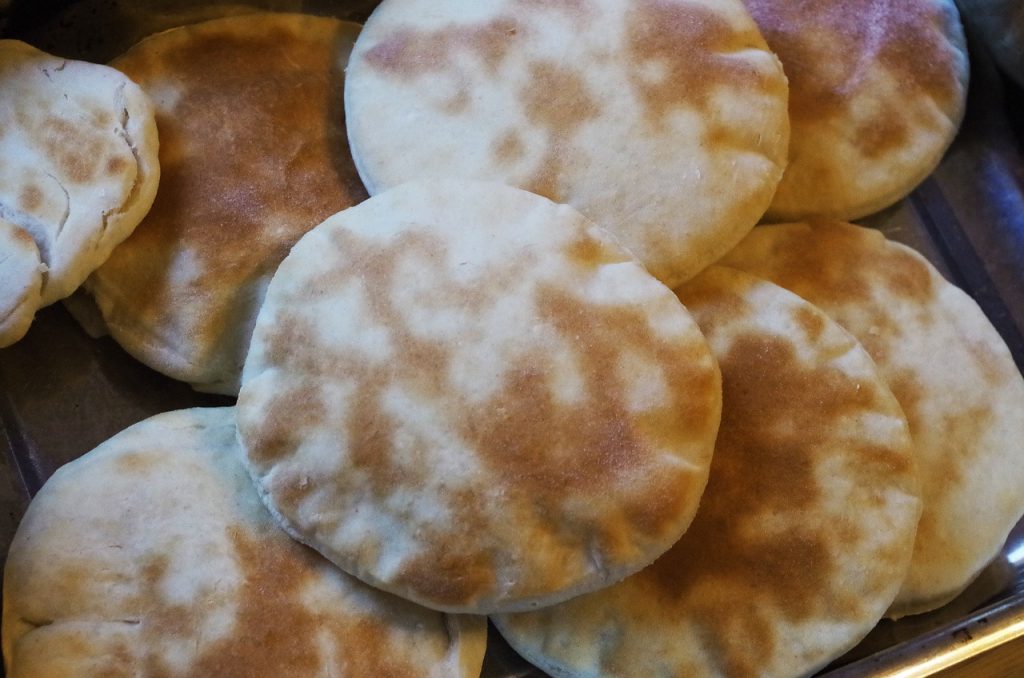 Easy Flatbread/Pita
The measurements are in grams because the Tanglewood Dad who wrote this is a baker and like fiddling around with the new scale (a toy!) I got him. 🙂
Ingredients
500g (approx. 4 c.) bread flour
50g (approx. ½ c.) whole wheat flour (we use white whole wheat flour, but you can use whatever you have/can find in the store!)
7g (2 ¼ tsp.) active dry yeast
7g (1 tsp.) salt 1 c. water
⅓ c. greek yogurt 3 tbsp. olive oil
Directions
Mix the dry ingredients in the bowl of a stand mixer. In another bowl, combine the wet ingredients until homogenized and add to the dry ingredients. Put the bowl onto the stand mixer and attach the dough hook.
Knead the dough with the dough hook for 9 minutes or until smooth and pliable. (Note: This may all be done by hand, just add 5 minutes kneading time. Bonus: You will build up your arm muscles if you do it by hand!)
Scrape the dough from the sides of the mixing bowl to form a rough ball. Cover the bowl and let the dough rest and rise for at least 1 hour or until it doubles in volume.
Remove the dough from the bowl onto a well-floured work surface. Knead for a couple of minutes to smooth out the dough. Divide the dough into 12 equal balls and place the balls back onto the well-floured surface with at least 1 inch space in between each ball. Cover and let rise for 1 hour.
Once the dough is risen, place a heavy pan, skillet, or griddle (cast iron is great) on the stovetop and pre-heat to 350 degrees F. Roll out each dough ball to approximately ¼ inch thick.
Cook flatbreads one at a time. The first side should could for 30 seconds (bubbles will appear. Flip and cook the second side for another 30 seconds. If the bread is going to puff, it will start now. Flip one more time and cook for 20 to 30 more seconds. Remove the cooked flatbread from pan onto a clean kitchen towel and cover with another clean kitchen towel. Continue until all 12 flatbreads are cooked. Flatbread may be served with hummus (recipe follows), shakshouka/shakshuka, peanut butter, chicken salad… you get the idea. They're good. They will keep in an airtight container for up to 4 days, but I promise they won't last that long!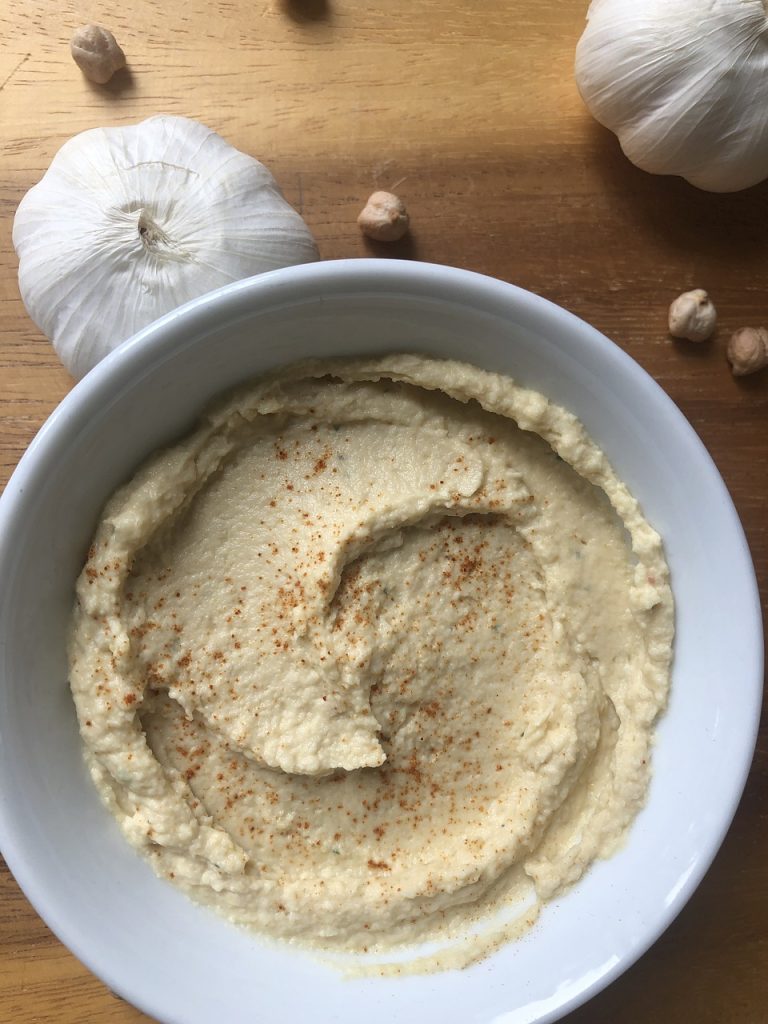 Simple, Smooth Hummus 
This is another constant in our house. It's hard to keep it in stock because the kids eat it with a spoon! I like mixing it with a little extra lemon juice to make a salad dressing for my lunchtime salads, and it's great as a sandwich spread.
Ingredients 
1 can (15.5 oz./439g) garbanzos/chickpeas
1 large or 2 small cloves of garlic
¼ c. tahini (more to taste)
Juice of 1 lemon
¼ tsp cumin
½ c. extra virgin olive oil (more to taste)
salt to taste
¼ c. of water (or more for consistency, see below)
Directions
Place all the ingredients, minus the water, into the bowl of a food processor fitted with the steel blade. Blend, scraping down the sides of the work bowl periodically, until a thick paste is formed. At this point, stop and taste the mixture, adjusting the tahini and oil as wanted/needed.
With the processor motor running, slowly add the water to smooth out the mixture to the desired consistency. The longer you blend the hummus at this point, the "fluffier" and smoother it gets. This makes about about 3 cups of hummus which will keep in the fridge for up to a week.
Possible add-ins (pulse to incorporate):
¼ tsp sumac or za'taar, whole chickpeas, roasted red peppers, roasted garlic, sundried tomatoes, fresh herbs (oregano, basil, chives, thyme, lemon verbena, rosemary, sage, parsley, cilantro, mint…), pitted kalamata olives, chipotles, or whatever you think you might taste good!