Please welcome guest blogger Mary Jensen Brezik, a speech pathologist at Monkey Mouths Pediatric Speech Therapy here in Fort Worth.
"How do I help my child learn to talk?" You don't have to have a 'late talker' to wonder what would be ways to help stimulate your child's language and encourage talking. As a speech pathologist and a mom, here are some tips I share with my families and use at home. The best part is – they are free, easy, and FUN!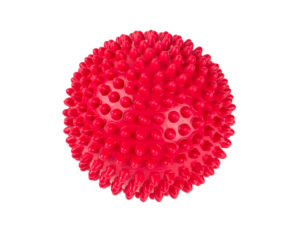 Use the "Plus 1 Rule."Being surrounded with lots of language is very important. But for a little one, hearing complex sentences and picking out the key words to focus in on and then imitate is often too much.  Whenever you want your child to imitate you, model one more word than what he or she is currently saying. So if your child is not yet saying true words, model one word "ball." Or if he or she is not combining words yet, say "red ball" or "bumpy ball" instead of "This is a big red ball. It is so bumpy."
Get Creative with Music.The general appeal, structure, and repetitive nature of music make it very conducive to language learning. We get a little crazy with music at our house. In addition to farm animals, there are all kinds of insects and construction tools that we sing about in "Old MacDonald Had a Farm." An entire orchestra with all kinds of fun instruments gets on our "Wheels on the Bus" song. It came about honestly on a car trip that just about did us in! Favorites are the crashing cymbals, the high-pitched piccolo, the chirping crickets, and the banging hammer.  Music is a great opportunity to model non-speech sounds in a fun way that's bound to get some laughs!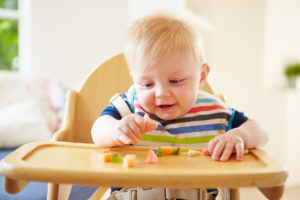 Have Fun with Food Mealtime is a great time to model language and provide a social opportunity. Either your child (or just you!) is eating lots of different flavors, textures, colors, shapes, and temperatures. Talking about food characteristics opens up great vocabulary like 'bumpy, smooth, slimy, hot.' It is important to let children explore new foods in an unstructured, hands-on way just like they explore toys. Finger painting with yogurt, making a tower of cubed cheese (and of course watching it crash), and quickly crunching an apple like a rabbit not only give you new nouns, verbs, and adjectives… it might just help get a few more foods accepted as well!
Use Storage Solutions for Toys One of the number one confessions parents admit to me is that they know they anticipate their child's needs before their child has the chance to ask. One powerful solution is storing toys, remotes, etc. in bins where assistance is needed. This creates the need for your child to get your attention, maybe call you by name, point, and say or imitate the word of the item they want. Everyone's space is different, but in general boxes with lids (think clear plastic shoe boxes) work wonderfully for this.
Play Imitation Games One of my daughter's favorite games is putting objects on my husband's head and watching him shake it off. So we turned it into a turn-taking game that continues to evolve. Some days we add the sound effect of "aaaaah!" to shake or "uh-oh" when it falls off, and other days we change it up with different actions of rolling or bouncing. What starts out as a silly laugh can become a fun game that practices reciprocation, socialization, motor imitation, and speech imitation. So take a break from talking and have fun playing! Take turns putting trains on a track, pretend feeding stuffed animals, or break out the Snapchat filters and take turns making cheesy smiles and faces for added fun!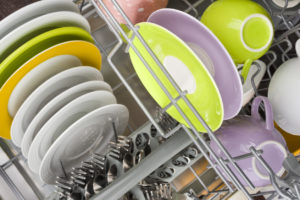 Narrate What You are Doing If my daughter was able, she would tell you exactly how we wash the dishes. Even the simplest of chores like loading the dishwasher models core vocabulary such as 'on/off, open/close, in/ out, wash, water, cup, plate,' and so forth. Talking out loud and explaining the simplest things like buckling in the car, getting the mail, or picking up the toys model a wealth of vocabulary.
Fun in Fort Worth As if you needed another excuse to get out and do something fun in our city! Playtime with peers is invaluable for learning. My family's new favorite spot is Studio A at the Kimbell. It's free, air conditioned, and we always meet new families and children of all ages. There are lots of fun new toys, and we all love it. Whether it's story time at the library, swim classes, visiting a new park, mother's day out, or a play date at the Happy Lark, Fort Worth has so many fun opportunities to have your child play with other children his or her age.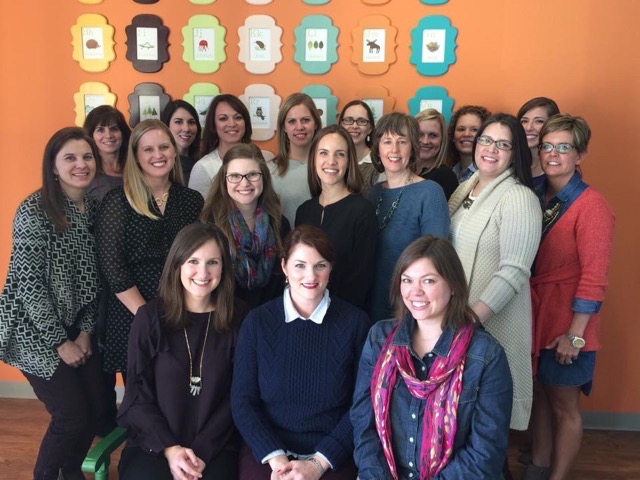 Helping your child's language growth should be a fun, easy, and rewarding experience. Sometimes a little help from a speech pathologist can go a long way in making communication a lot easier. If you or a professional have concerns about your child's language, a speech-language evaluation is warranted. To schedule an evaluation with an experienced speech-language pathologist at Monkey Mouths Pediatric Speech Therapy, please call 817-479-7019.
Mary Jensen Brezik, MS, CCC-SLP is a Fort Worth native, Tanglewood mom, and speech-language pathologist at Monkey Mouths Pediatric Speech Therapy.  In addition to evaluating and treating speech and language, Mary specializes in voice and feeding disorders. She is passionate about her patients, family, and Fort Worth community.